If your real talent is finding talent and your best skill is active listening, this may be the job for you.
Productive's aim is to provide agencies with a complete and real-time overview of their business.
Someone who's ready to join our team in navigating talent acquisition in a very competitive market. We need a person that understands the challenges of finding the best person for each new job.
This role pays a range of:
The challenges and learning opportunities are endless. Productive is the perfect place for you if you're not into following established processes, but instead, you want to create them. 


This is not just another Recruitment Specialist role. You'll be included in defining HR strategy, employer branding activities, and finally—creating our company culture.

DAY TO DAY RESPONSIBILITIES
Participating in the HR team's daily operations
Managing the entire recruitment process: from posting jobs, sourcing and screening candidates to coordinating interviews, gathering feedback, and facilitating the selection process 
Taking part in employer branding activities and building our company's narrative, participating in delivering employee-focused events 
Collaborating with the Marketing team in order to set up effective recruitment and employer branding campaigns 
Maintaining a database of candidates for current and future job openings
Tracking hiring metrics including time-to-hire, time-to-fill, and source of hire
Coordinating and supporting HR projects related to hiring, such as collaboration with universities
Keeping up-to-date with the latest HR trends and best practices
A competitive salary and benefits which you can find here
A great work environment where your ideas are more than welcome, your effort is always rewarded, and thinking outside of the box is encouraged 
The possibility to improve existing processes and create new ones 
Even though this is a Zagreb-based role, you can occasionally work remotely 
Let's See If We're
a Match
The ideal candidate has at least 2 years of experience in recruitment, preferably in the IT industry.

If you recognize yourself in some of the following characteristics, we'll be happy to meet you:
A bachelor's degree in social sciences with an interest in HR
2+ years of experience working as a recruiter or in a relevant human resources position 
Ability to demonstrate a high degree of trustworthiness in handling confidential and sensitive information
Eagerness to improve our hiring process and take recruitment to the next level
Ability to effectively prioritize
Team orientation with strong influencing skills
Proactivity and enthusiasm about sharing new ideas and creating solutions for HR initiatives and challenges
Strong verbal and written communication skills
Capability to manage difficult conversations and stressful situations
Ability to speak effectively in interpersonal situations and in front of groups of associates
Excellent command of English
Experience working in an IT company will be considered an advantage, but it's not mandatory
If you think we can live up to your expectations and you're willing to share your experience and knowledge, you can apply using the form below. Please send us your CV and cover letter.

During our hiring process, we will get to know you and assess your skills through two interviews and a live assignment.

If you have any questions, you can contact us by sending an email to careers@productive.io.
Here's a Sneak Peek of What You'll Be Working On
Curious about the look and feel of Productive? If you made it here, we know you are.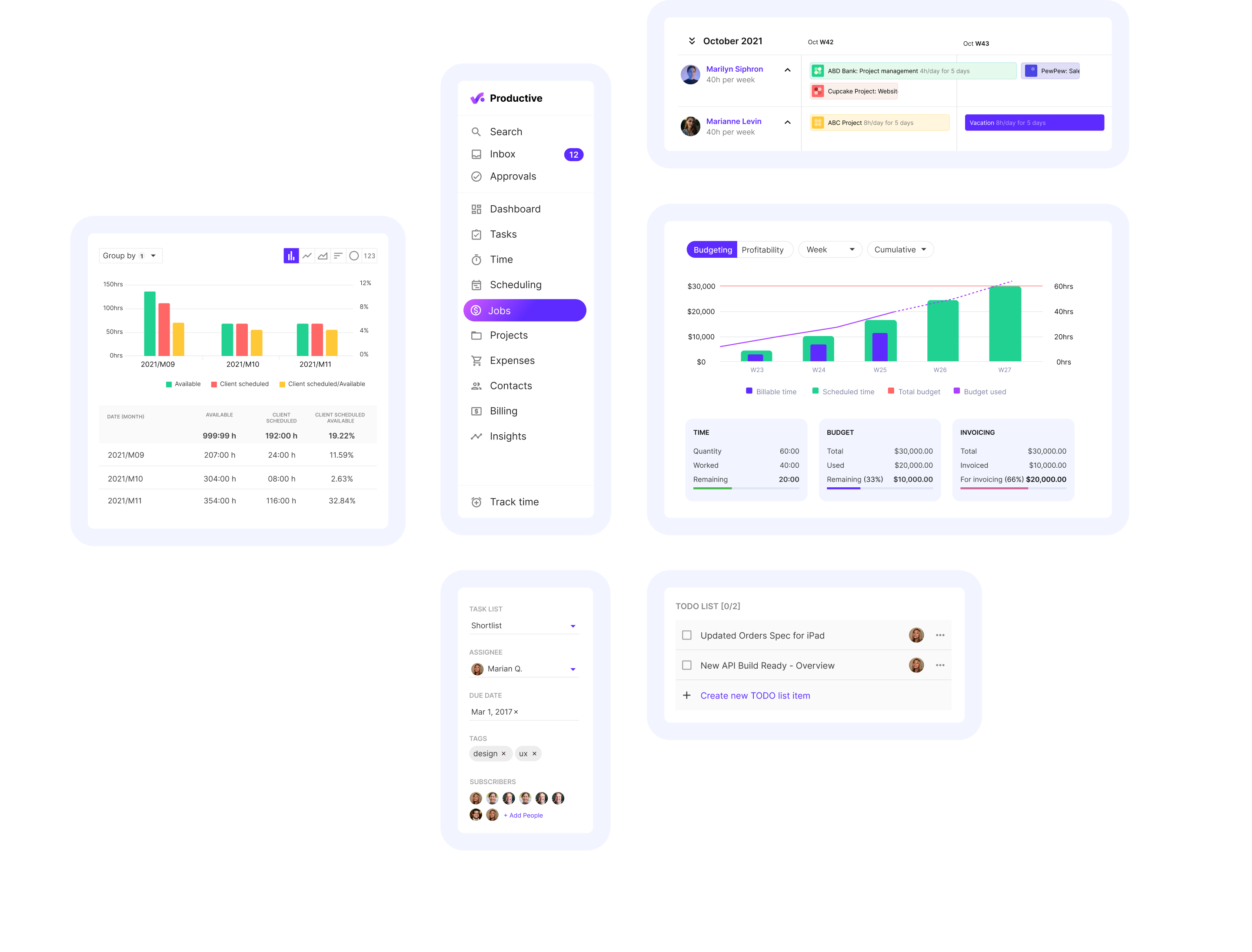 Honest, two-way feedback is the foundation of our growth. Every six months, we do 360 reviews to discuss what's good and what could be better.
We're on a mission to be the best tool for running an agency – in the world.
Join us in developing one product.
If you're eager to learn, we're eager to help. Each teammate gets an educational budget to buy books, attend courses or visit conferences.
Tailor Work Hours and Your Location
We're flexible with your working hours and where you work, as long as you align with your team's priorities.
Each year you get a full check-up at a private clinic. It's on us.
Each month, your team gets a new budget to hang out and have fun.
Free Snacks at the Office
Coffee, tea, fresh fruit, sweet and savory snacks galore at the office.
We wouldn't have it any other way.