12 Best Resource Management Software Solutions
We Help Your Agency Reach New Heights
Switch from multiple tools and spreadsheets to one scalable agency management system.
Resource planning and management are crucial aspects of any business strategy.
Still, sometimes it can be overwhelming when you have to plan months ahead and take into account any future project you might have.

This is where resource management software solutions come in handy. Tools like these are designed to optimize the utilization of resources within organizations and ensure that the right resources are available at the right time to meet project demands. By using these tools, companies can address various challenges such as resource shortage, team capacity, and team scheduling.

From gaining insights into current capacity and achieving uniform workload throughout your agency to tracking billable utilization, resource management tools can help improve your overall business performance and maximize the productivity of your resources.

But there's so many resource management tools you can choose from. Which one would suit your agency best? We've prepared a handy list with the 12 best resource management software solutions out there, from tools that focus mostly on resources to tools with additional features and even a few all-in-one tools that are meant to help you run your entire business.

Let's dive in!
1. Productive – The Best Resource Management Software
Productive is a single-platform agency management tool that helps you run a profitable business. From resource planning and setting up complex projects to creating powerful reports and tracking project financials, it's more than your everyday project management tool. It's a tool that can be used by agency CEO's, project managers and entire project or product teams.

With Productive you can be sure you have 360-degree visibility of your agency. It serves as a single source of truth for your business.

Some of the key features include:
Knowing who can take on more work or who might need help with their workload can play a crucial role in your employees happiness and overall performance. With Productive's Resource Planning feature, you can schedule resources on ongoing projects, project managers can check availability of resources for upcoming projects, you can even schedule time-off and vacations through the feature. Having an overview of resource availability can help you maximize your billable utilization and achieve optimal utilization rates.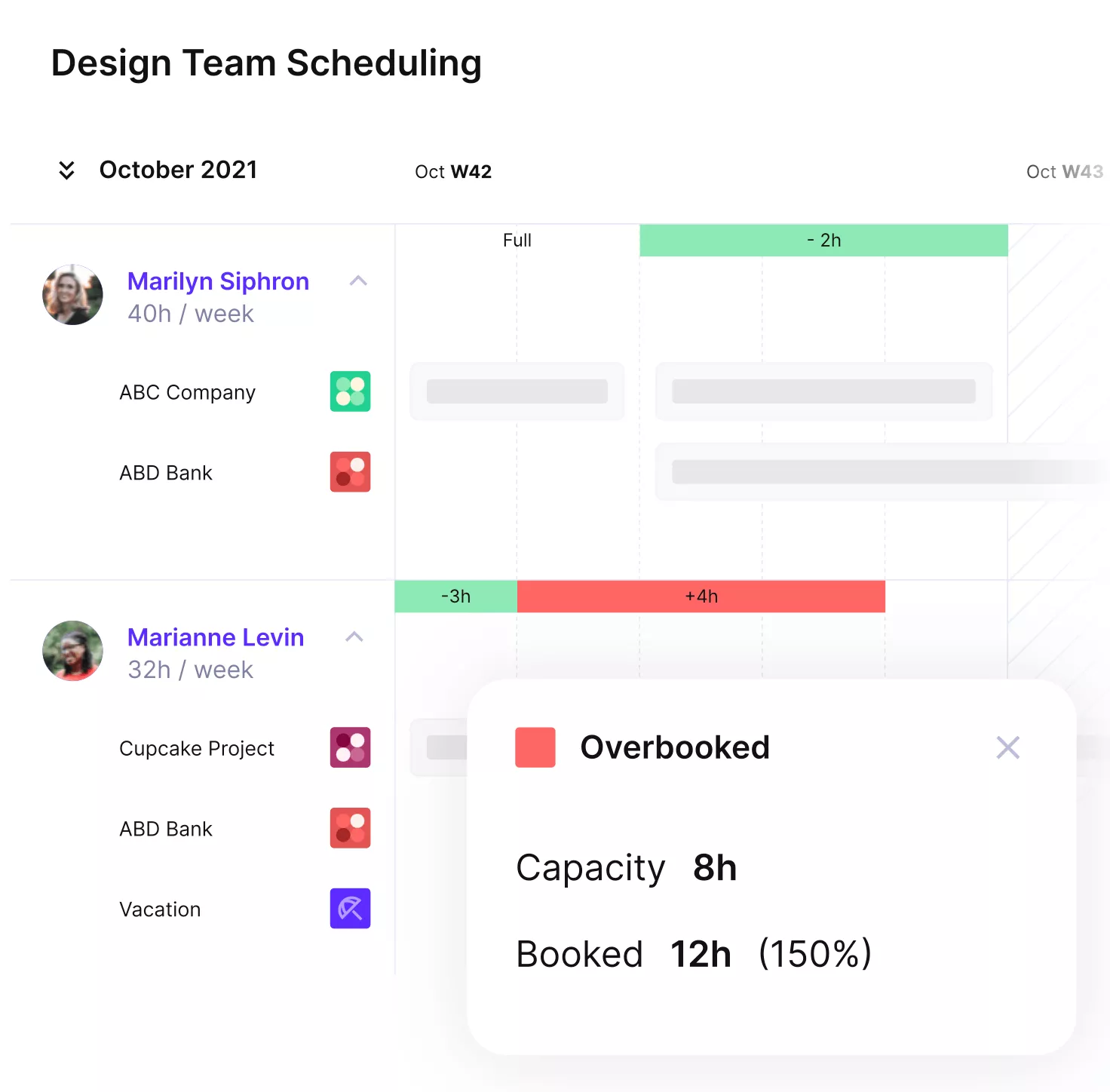 Using Productive's Project Management feature, you can be sure your project schedules are on track. Projects can be broken down into tasks and to-dos that are then assigned to people that need to do them. You also have the option to set up repetitive tasks for anything that needs to be done on a daily, weekly of monthly basis.
Task-level time tracking lets you see the actual time that has been spent on a task. You can just start the timer and get to work. You can also track time by filling out your time sheet at the end of the day. Billable hours are then automatically transferred to invoices for your clients.
With the Reporting feature you'll be able to create powerful reports and gain actionable insights from real-time data that will help you make informed decisions. With real-time insights, budget tracking and budget management will be a lot easier. You can create reports from available templates, but you also have the option to create customizable reports that suit the needs of your agency.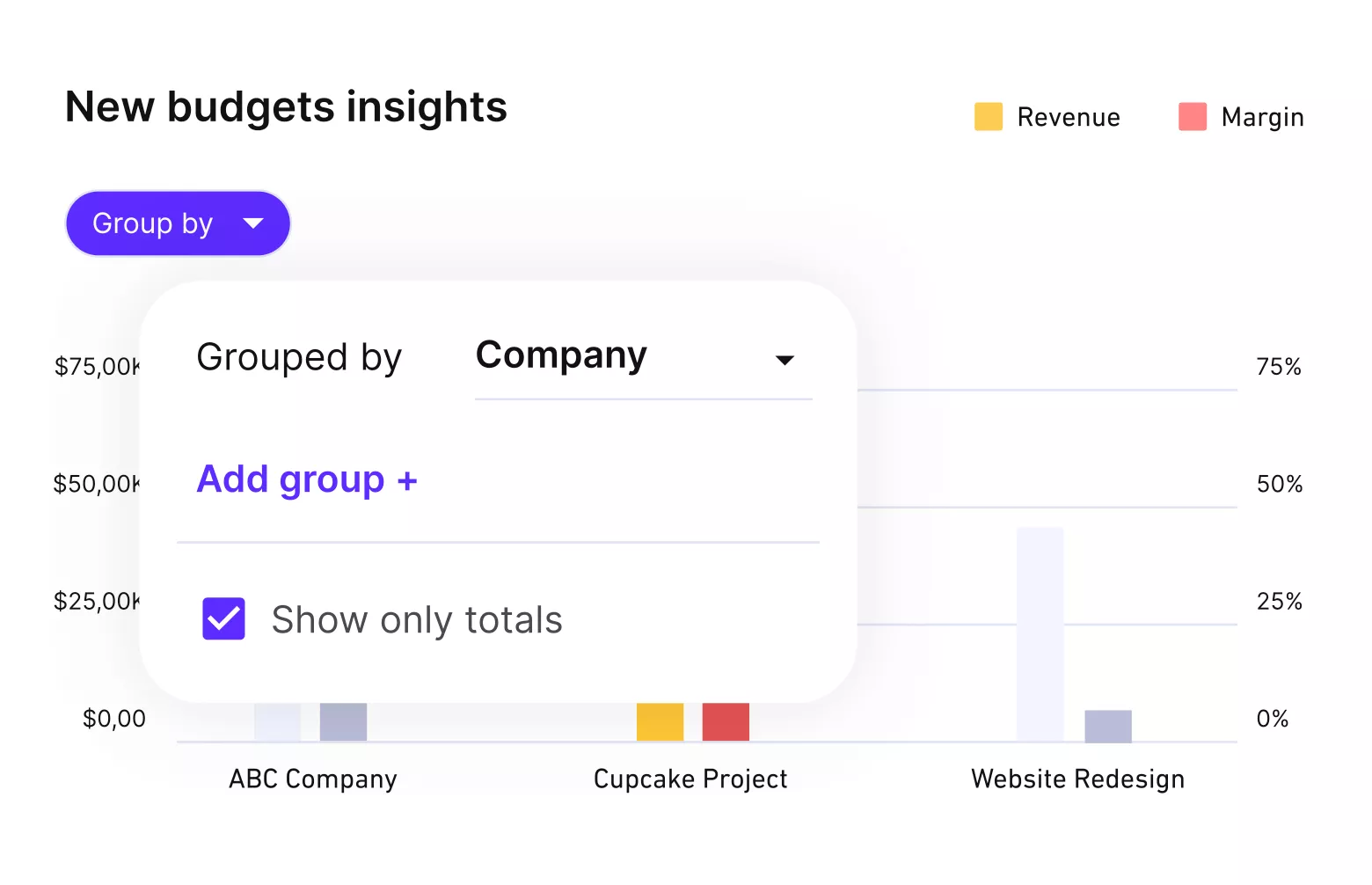 With Budgeting, you can set up project budgets, track profitability across projects, and forecast when you're about to go over budget. 
Docs are a new collaboration feature that aims to make collaboration easier in Productive. You can work with your entire team in one document, get feedback from colleagues in the comments and make sure that all of your important project information is held in one place and regularly updated.

Additional features include Billing and Sales. Productive also has active integrations with Xero, QuickBooks, Harvest, Jira, Slack and many more.
Pricing plans start with Essential at $9 per user per month for a single user, which includes all the notable features mentioned above.
The Professional plan includes custom fields, recurring budgets, advanced reports, billable time approvals and many more for the price of $24 monthly per user per month.
The Ultimate plan has everything that Essential and Professional offer, along with the HubSpot integration, advanced forecasting, advanced custom fields, overhead calculations and more for $32 per user per month
You can also check out the Enterprise Pricing Plan for companies that would include more than 50 active users.
You can go for a free 14-day trial before you decide to check out a paid plan.
2. Smartsheet – A Fair Resource Tracking Software
Smartsheet is a versatile resource allocation tool and project management solution that empowers teams to collaborate, plan, and execute projects seamlessly. It offers intuitive spreadsheets, interactive Gantt charts, and automated workflows, enabling real-time visibility and streamlined project management.

Features:
Dynamic Gantt charts for visual project planning
Automated alerts and reminders for task management
Resource tracking and allocation for efficient utilization
Time tracking

Smartsheet provides a user-friendly interface that allows teams to quickly adapt and begin managing resources effectively. The software's advanced features and customization options may require a steeper learning curve for some users.
3. Asana – A Good Option for Agencies Looking for Resource Management Solutions
Asana is a popular resource management tool known for its simplicity and collaborative features. It enables teams to prioritize tasks, track progress, and manage resources effectively, enhancing overall productivity and coordination. It's a good choice for enterprise resource planning.

Features:
Task management with due dates and assignees
Project level timelines and progress tracking for improved visibility
Team communication and file sharing within tasks
Time tracking
Customizable dashboards and project templates for streamlined workflows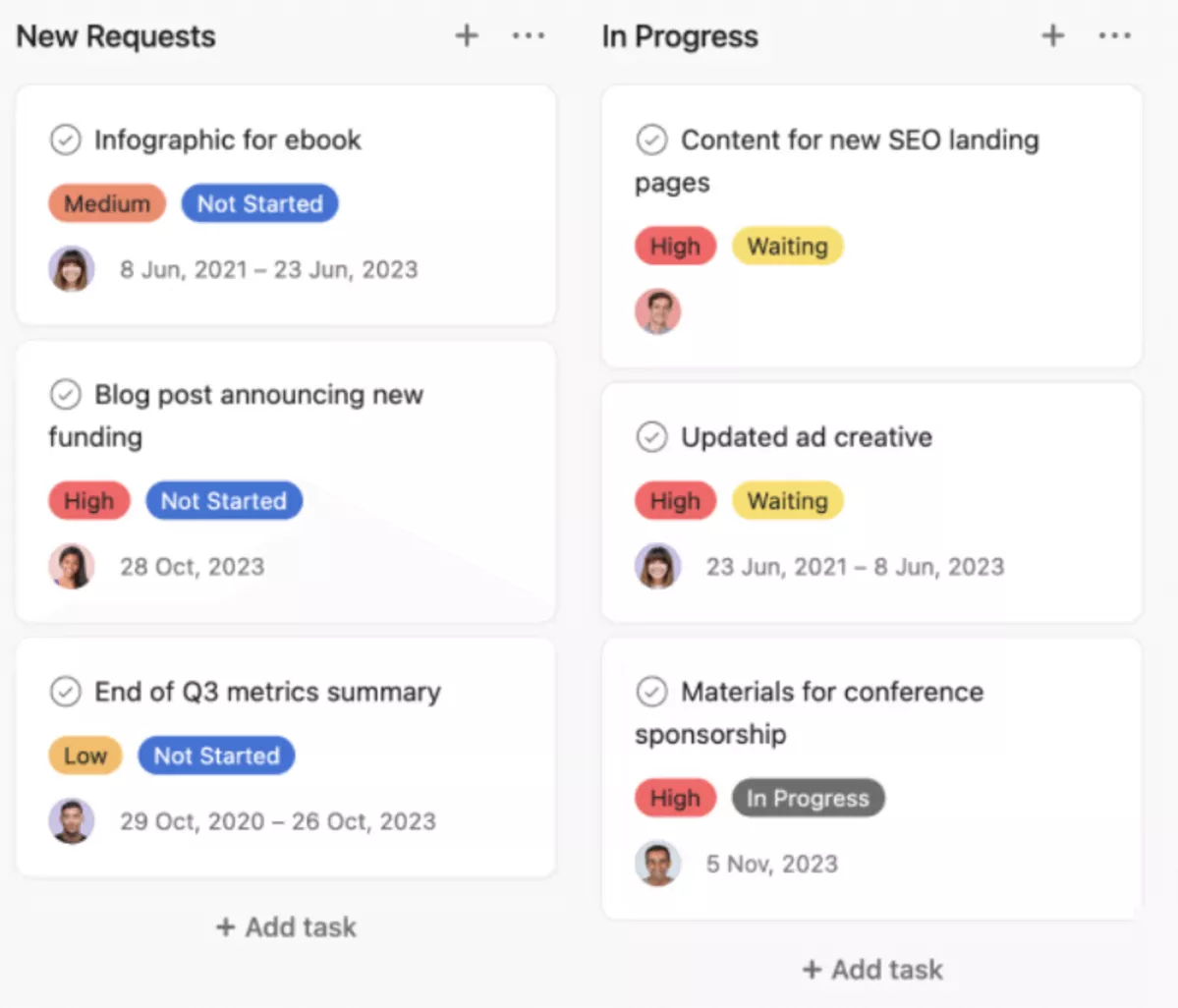 Asana's clean and intuitive interface promotes easy adoption among team members, fostering better collaboration. The free version of Asana lacks some advanced features, which may require upgrading to a paid plan for a more comprehensive resource management tool.
4. Microsoft Planner – A Good Resource Management Software
Microsoft Planner is an integrated resource management tool within the Microsoft 365 suite. It simplifies task organization and team coordination, providing a visual and user-friendly platform for efficient resource management.

Features:
Kanban-style task boards for visual organization
Due date tracking and task assignment
File attachments and team communication within tasks
Seamless integration with other Microsoft 365 applications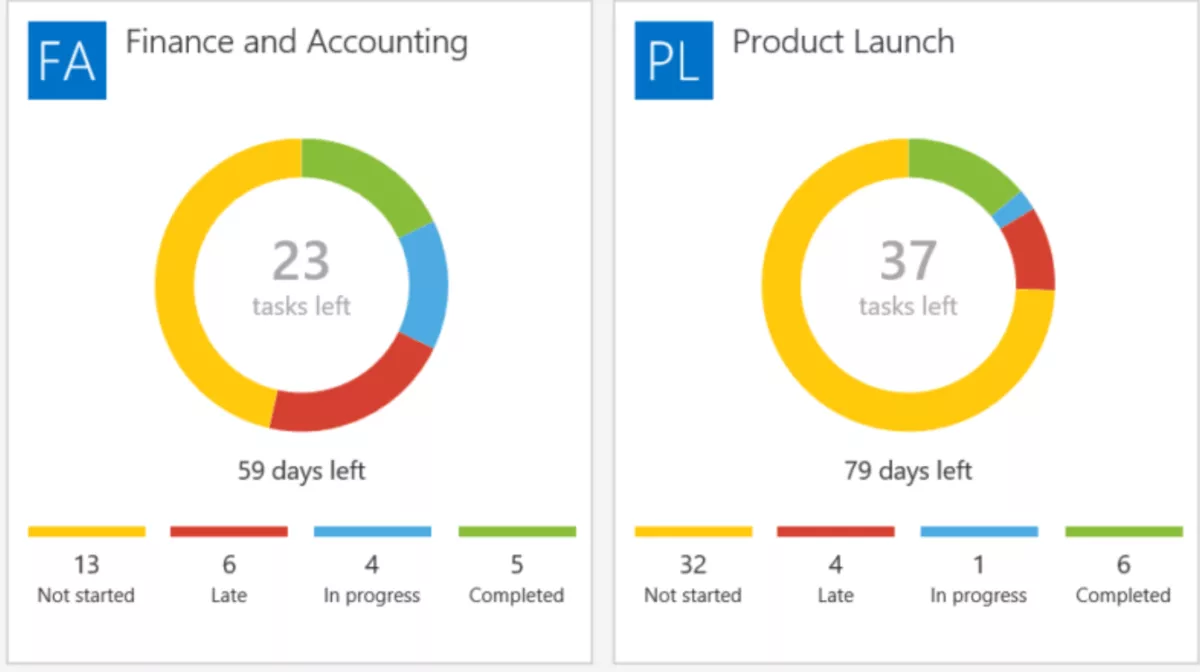 Microsoft Planner's integration with other Microsoft 365 tools allows for a seamless workflow, facilitating effective resource management within a familiar ecosystem. The tool's reporting and analytics capabilities are relatively limited compared to standalone resource management software.
5. LiquidPlanner – A Solid Choice for Agencies Looking for Project Resource Management Software
LiquidPlanner is a comprehensive resource planning software that emphasizes dynamic scheduling and intelligent resource allocation. It provides accurate project forecasting and helps teams optimize their resources for maximum efficiency.

Features:
Dynamic project scheduling based on priority and resource availability
Time tracking and estimation for improved project planning
Real-time resource utilization and workload management with time tracking
Project analytics and reporting for data-driven decision-making

LiquidPlanner's intelligent scheduling algorithms ensure optimal resource allocation, maximizing productivity and project success. The tool's advanced features and functionality may make it overwhelming for users who require a more simplified resource management solution.
6. Saviom – A Powerful Resource Allocation Software
Saviom is a powerful resource allocation and management software designed to assist organizations in effectively managing their workforce and project resources. It offers comprehensive planning, scheduling, and reporting capabilities, empowering businesses to optimize resource utilization.

Features:
Capacity planning and resource allocation based on skills and availability
Real-time project monitoring and progress tracking
Multidimensional resource scheduler with time tracking
Integrations with HR systems for seamless workforce management
Saviom's robust reporting and analytics features enable data-driven decision-making, leading to improved resource utilization and project outcomes. The initial setup and configuration process of Saviom may require technical expertise or assistance.
7. Wrike – A Good Resource Planning Software for Creative Agencies
Wrike is a versatile resource planning solution and project management software that combines project management capabilities with collaborative features. It offers comprehensive task management, real-time communication, and customizable workflows, making it ideal for teams of all sizes.

Features:
Daily task and project tracking with visual timelines
Resource allocation and workload management
Personal dashboards and time tracking
Team collaboration, discussions, and file sharing within tasks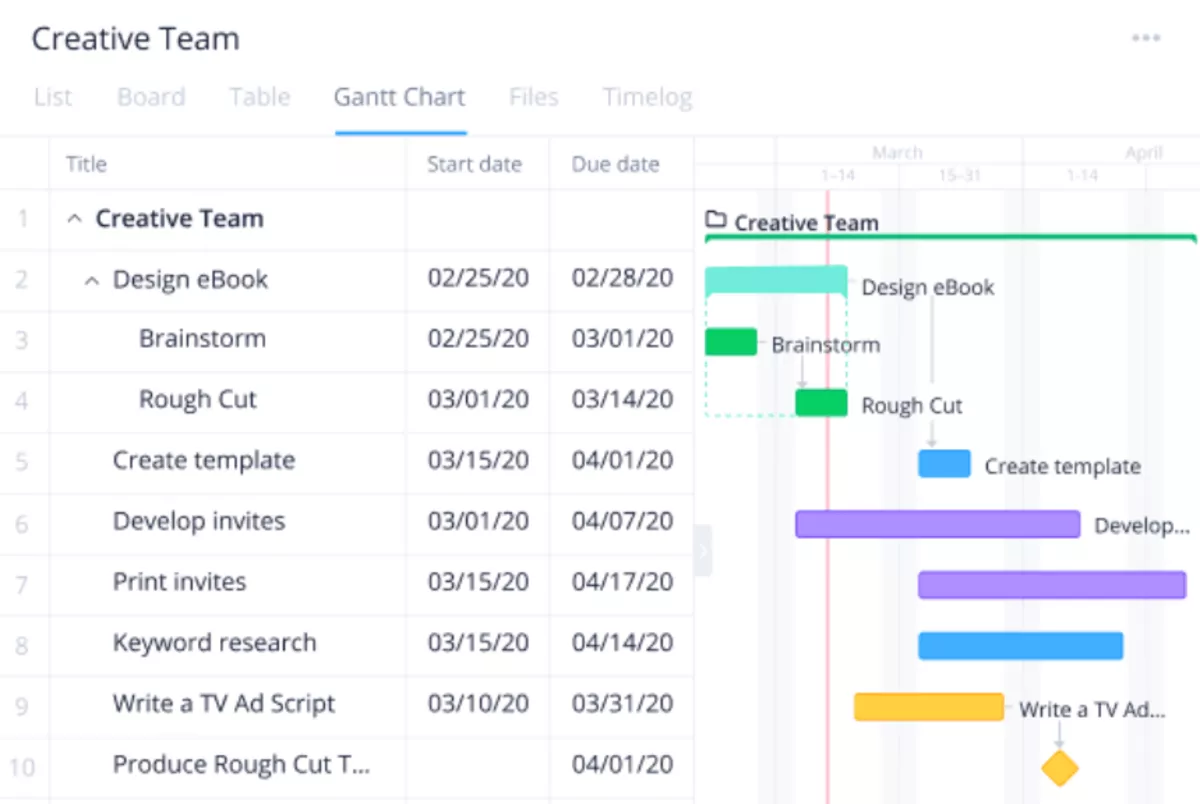 Wrike's flexibility and scalability make it suitable for both small teams and large enterprises, ensuring efficient resource management across different organizational levels. On the other hand the learning curve for mastering advanced features and customization options in Wrike may be steep for some users.
8. Jira – A Popular Software for Resource Management
Jira is a popular resource planning tool primarily used for agile project management. It offers a range of features for planning, tracking, and releasing software projects, making it a preferred choice for software development teams.

Features:
Agile project management with scrum and kanban boards
Issue tracking and bug reporting
Customizable workflows and project templates
Integrations with development tools for seamless collaboration
Time tracking plugins available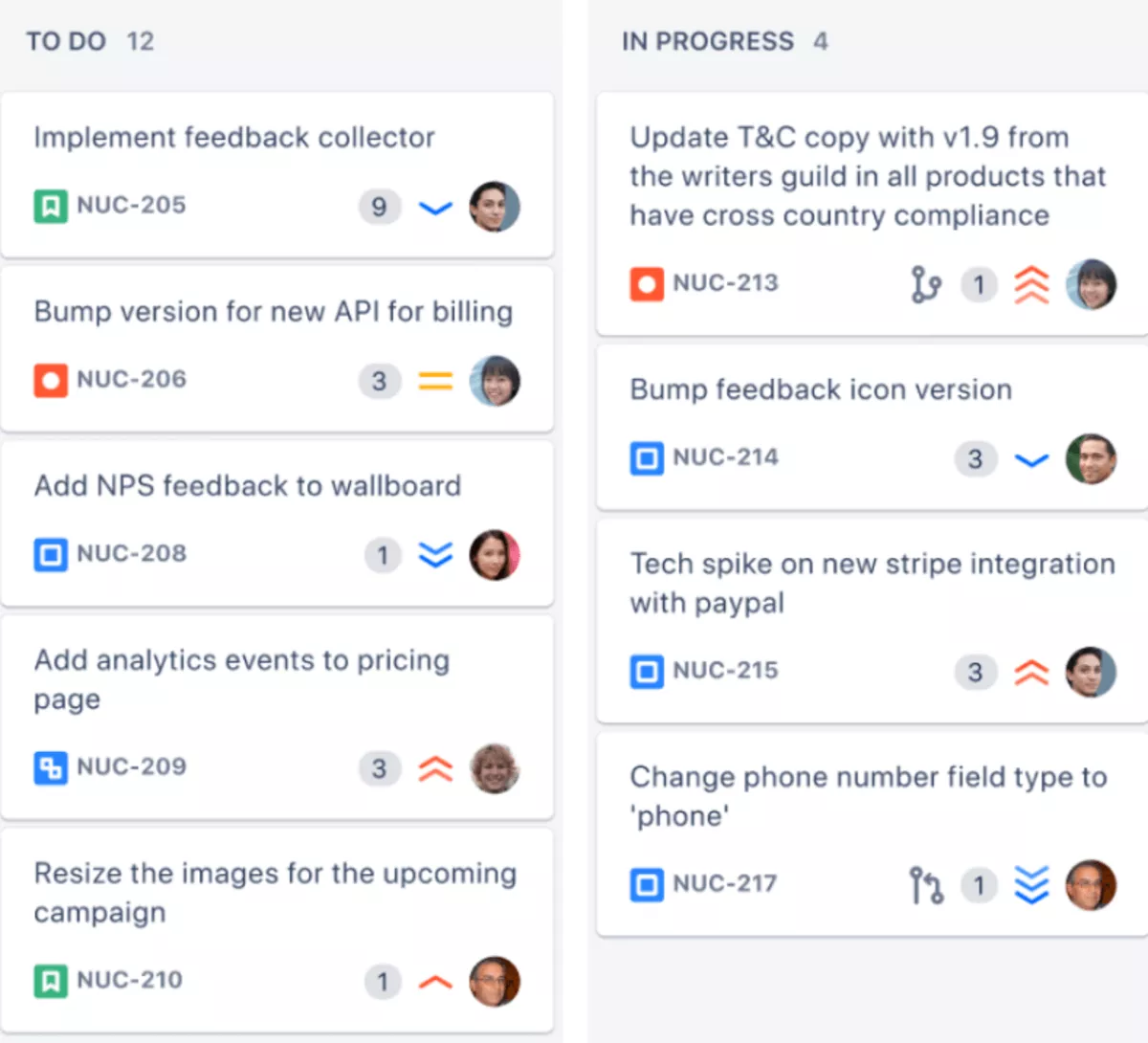 It's robust features and integration capabilities make it a powerful resource management tool specifically tailored for software development projects. The complexity of the interface and the abundance of features can make it overwhelming for non-technical users or teams outside the software development realm.
9. Ganttic – A Solid Resource Manager Software
Ganttic is a visual resource scheduling software that simplifies resource allocation and capacity planning. It offers an intuitive Gantt chart interface, drag-and-drop functionality, and real-time collaboration, enabling effective resource management across projects.

Features:
Interactive Gantt charts for visual planning and scheduling
Resource allocation and workload balancing with time tracking
Customizable views and filters for easy data organization
Team collaboration and real-time updates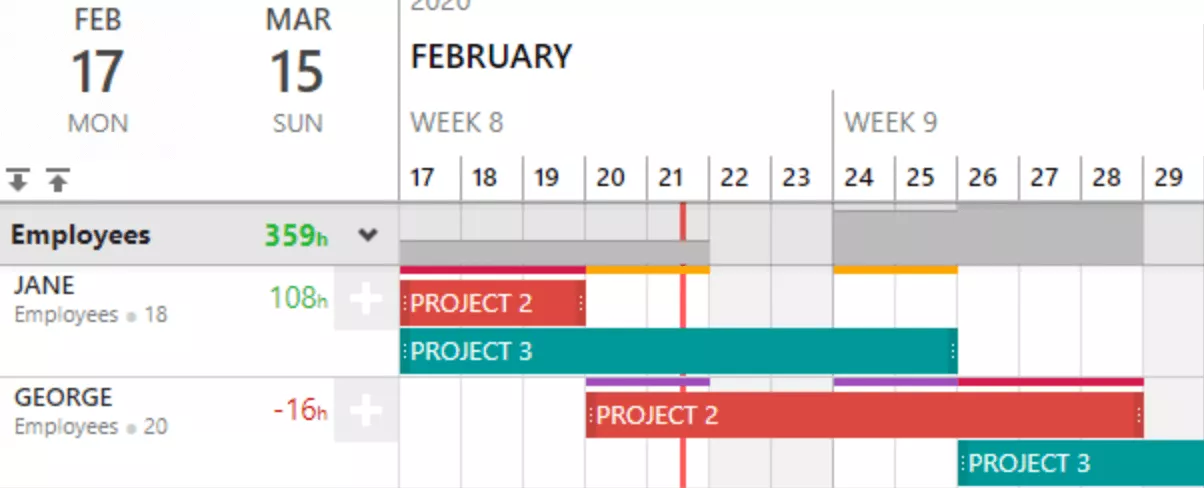 Ganttic's user-friendly interface and intuitive drag-and-drop functionality make it easy to create and adjust resource plans, enhancing efficiency and project coordination. Some users may find the reporting and analytics capabilities of Ganttic to be less comprehensive compared to other resource management tools.
10. Celoxis – A Fair Resource Management Solution
Celoxis is a comprehensive project management and resource planning tool that caters to diverse industries. It provides end-to-end project visibility, resource tracking, and collaborative features, enabling teams to manage resources effectively and deliver projects on time.

Features:
Project planning, tracking, and reporting
Resource allocation and capacity management
Time and expense tracking for accurate project costing
Team collaboration and document management
Active integrations with other tools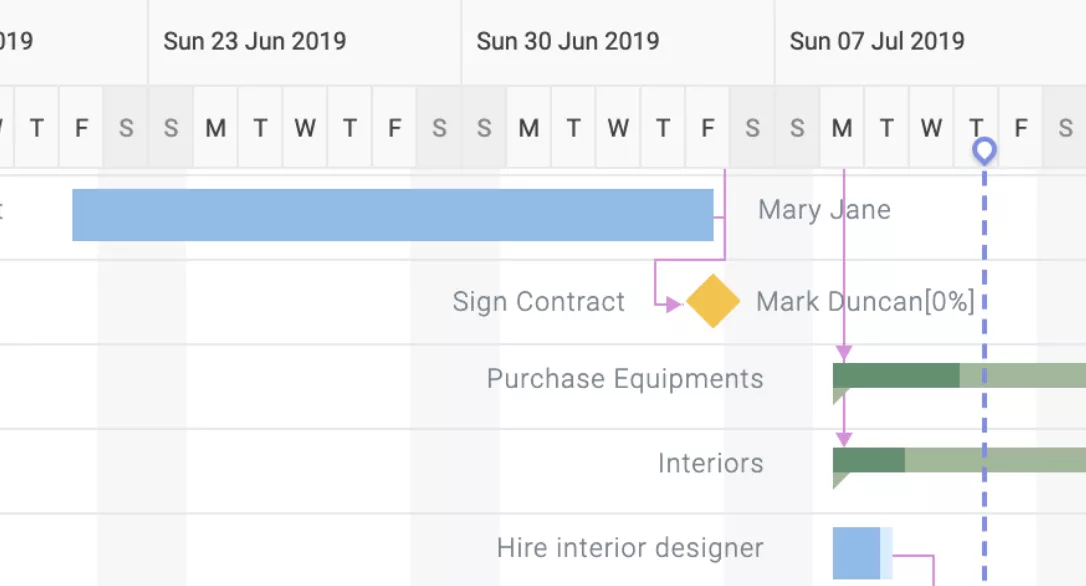 The robust feature set and scalability of Celoxis make it suitable for various industries, facilitating efficient resource management and project execution. The extensive range of features in Celoxis may require additional time and effort for onboarding and training team members.
11. Workfront – A Good Software for Resource Management
Workfront (formerly known as AtTask) is a comprehensive work management platform that offers powerful resource management capabilities. It combines project planning, resource allocation, and collaboration features, allowing teams to optimize resource utilization and improve productivity.

Features:
Project planning and portfolio management
Resource scheduling and workload balancing with time tracking
Customizable workflows and approval processes
Document sharing and collaboration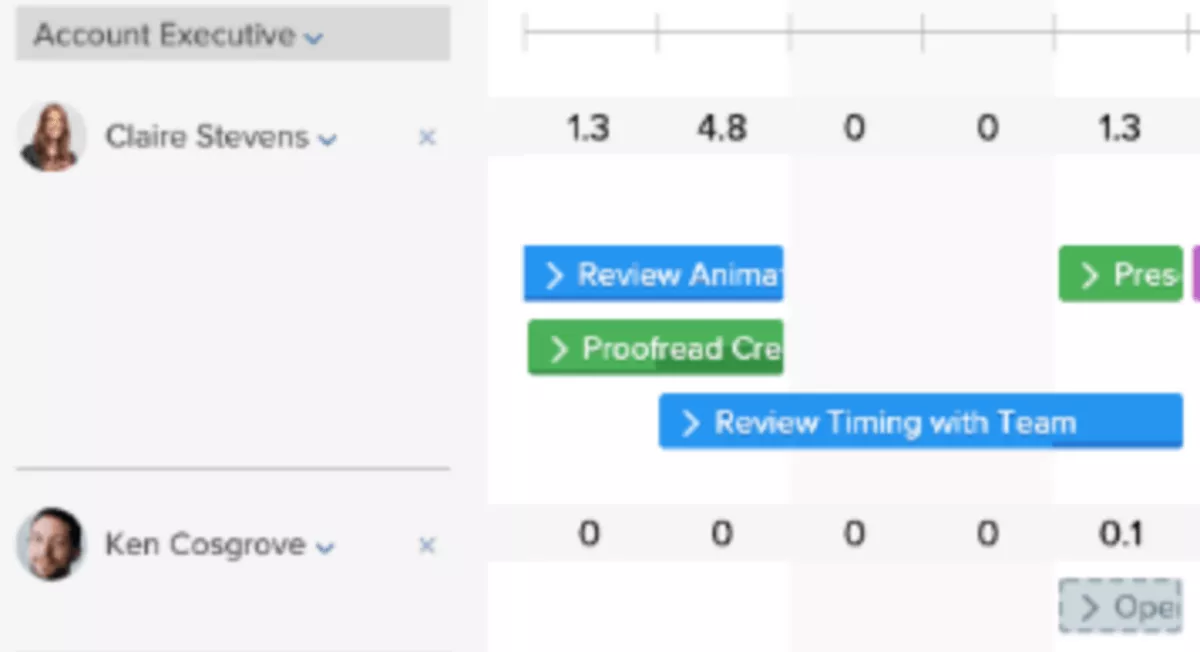 Workfront's all-in-one platform provides a holistic solution for resource management. This allows teams to streamline their operations and achieve better project outcomes. The complexity of Workfront's feature set may require dedicated training and ongoing administration to maximize its potential.
12. Clarizen – A Solid Project and Resource Management Software
Clarizen is a robust resource allocation tool that combines project management, collaboration, and resource optimization capabilities. It provides a centralized platform for planning, executing, and tracking projects while effectively managing and allocating resources.

Features:
Project planning and scheduling with interactive Gantt charts
Resource allocation and capacity planning based on skills and availability
Collaboration tools for seamless team communication and file sharing
Advanced analytics and reporting for data-driven insights
Time tracking and active integrations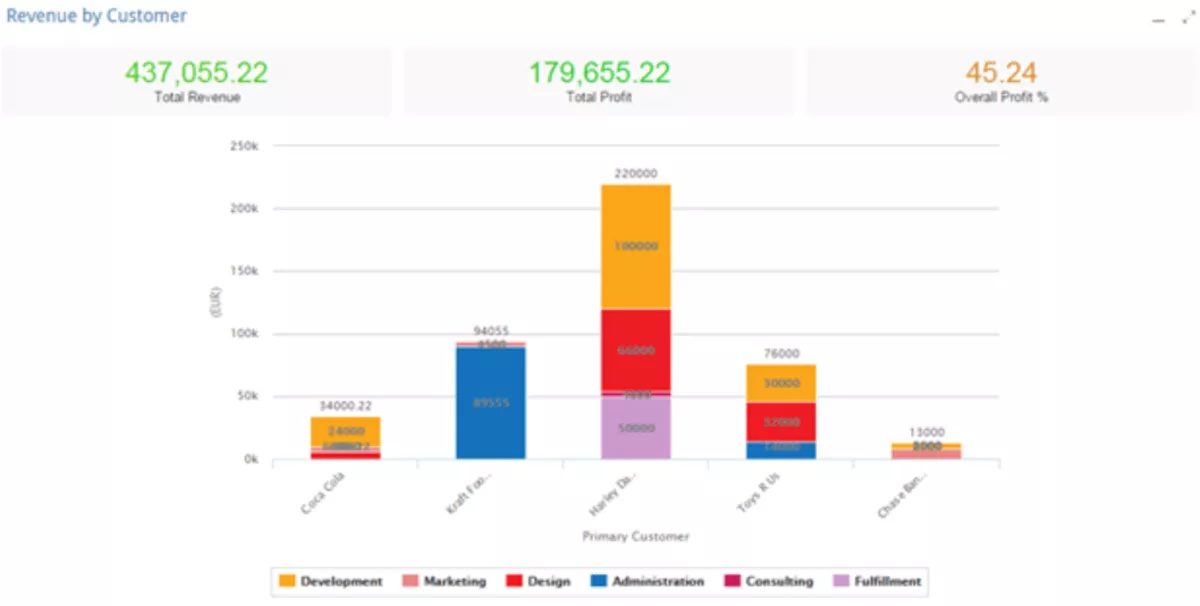 Clarizen's comprehensive feature set empowers agencies to manage projects and resources efficiently while facilitating collaboration and enhancing decision-making through its robust analytics capabilities. Some users may find the learning curve for fully utilizing Clarizen's extensive features to be slightly steep, requiring initial training and familiarization to maximize its potential.
Effective resource management is vital for any agency looking to optimize productivity and streamline operations. Project managers can achieve better resource utilization and gain real-time business intelligence by using the right project resource management software. Resource management tools offer a range of benefits, including optimized resource utilization, improved project planning, and streamlined collaboration.

Related: Top 14 Agency Management Software

With many options available out there, it's important to choose a tool that suits your agency's specific needs. You should consider your agency's requirements and explore the features and pricing options of the top solutions to find the best fit for your organization.

If you're looking for a comprehensive agency management tool, consider booking a demo with Productive.