Customer Support Specialist
If you want to work in a dynamic SaaS team and support a diverse customer base, maybe this is the job for you!
Productive's aim is to provide agencies with a complete and real-time overview of their operations.

Generally speaking, this is not the typical call center / customer support role that you might think it is. Customers ask for help with their daily business challenges, often asking how to tackle various use cases with the help of Productive. Your role will be to efficiently manage these queries, but also praises and (unfortunately) occasional complaints through various (mostly written) communication channels: e-mails and live chats.

Your mission (should you choose to accept it) will revolve around three main objectives:

Developing our user-training materials (Help pages, videos and more)
Testing out new Productive features and reporting issues to our Product team
This role pays a range of:
Since we have customers from all over the world, we're looking for someone with top-notch written and spoken English skills (seriously, this is a must).

Your Day-to-day Responsibilities Will Include:

Maintaining a positive, empathetic and professional attitude toward customers at all times
Building sustainable relationships with customers through open and interactive communication
Promptly responding to customer inquiries and providing product information
Knowing our product inside out so you're able to answer all questions
Handling customer complaints, providing appropriate solutions and alternatives within a given time frame; following up to ensure resolution
Communicating and coordinating with your colleagues as necessary
Identifying and assessing customer needs to achieve satisfaction
Providing feedback on the efficiency of the customer support service processes
Creating educational materials (videos, Help docs, blog posts, etc.)
Helping with product testing and hunting down bugs (QA type of work)
Let's See If We're
a Match
Ideally, you're working or have worked as a Customer Support Agent in a customer-oriented company or have some degree of experience in an agency
You have excellent (C1, C2) English communication skills, both written and verbal
You have the ability to show empathy and stay calm when customers are stressed or upset
You're skilled at explaining complicated concepts in simple language terms
Experience in software testing will be considered an advantage
Your working hours are 10 AM – 6 PM Mon – Fri. We have customers all over the world, so a lot of our US customers reach out in their morning hours, typically between 4-6 PM our time
The chance to communicate your own ideas, bring them to life and see them have a real impact on the company
Working in a successful company that's growing and changing every day
Working with customers from all over the world
Sharing your knowledge with others
Subsidized car and motorbike parking, free bike parking
Health checks paid in full 
Subsidized gym membership
If you think we can live up to your expectations, and you're willing to share your experience and knowledge, apply using the form below. Please send us:

your CV and cover letter (.pdf)
If you have any questions, you can contact us by sending an email to careers@productive.io.
Here's a Sneak Peek of What You'll Be Working On
Curious about the look and feel of Productive? If you made it here, we know you are.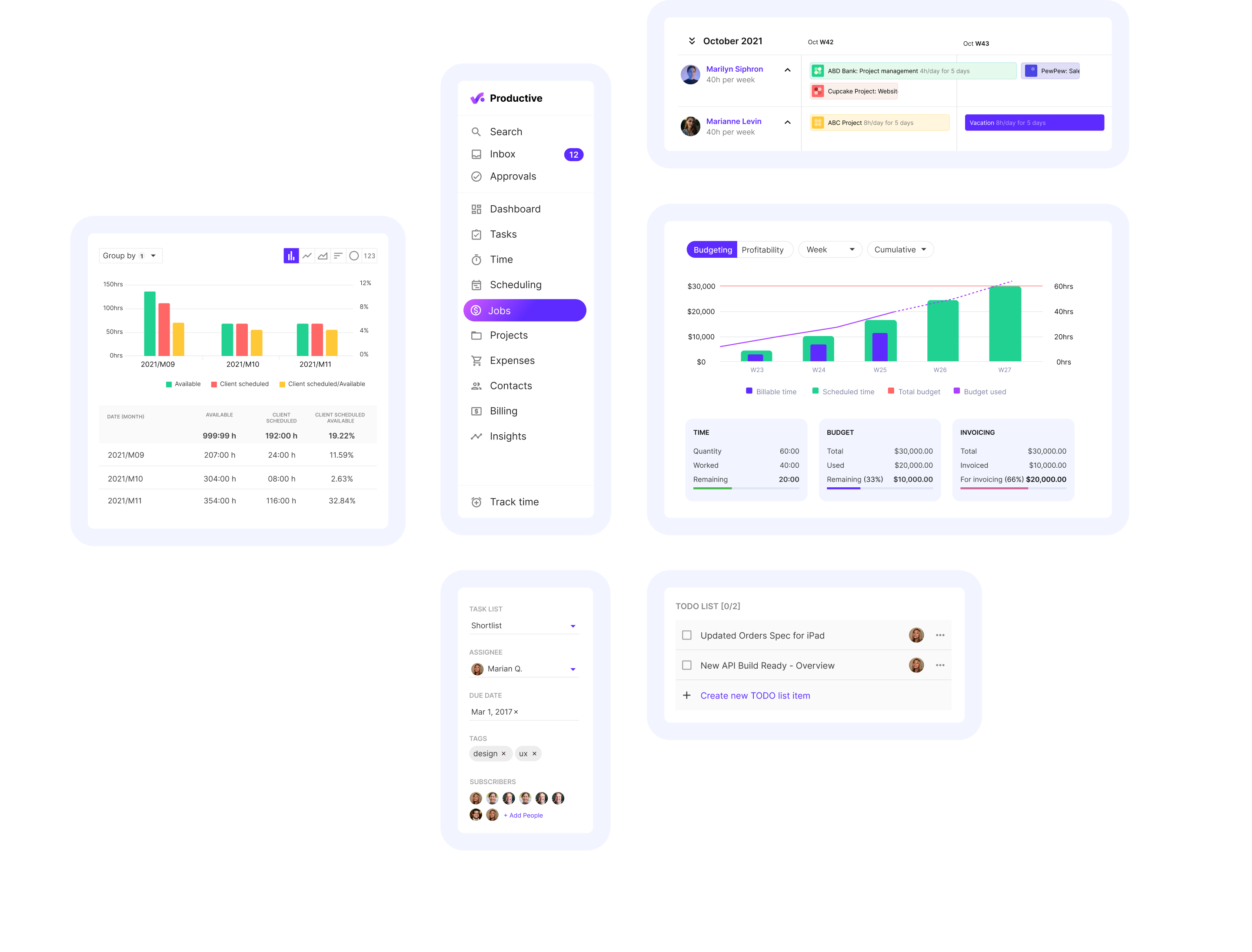 Honest, two-way feedback is the foundation of our growth. Every six months, we do 360 reviews to discuss what's good and what could be better.
We're on a mission to be the best tool for running an agency – in the world.
Join us in developing one product.
If you're eager to learn, we're eager to help. Each teammate gets an educational budget to buy books, attend courses, or visit conferences.
Our product is in English and our customers are based all over the world. Paid courses help us master foreign languages.
We support career switches from one position to another.
Depending on the role, our teammates hop on a plane from time to time to help our clients out with onboarding.
Each quarter you choose where you want your office to be.
Tailor Your Working Hours
Productive syncs your work every moment, in whichever app you choose.
Each year you get a full check-up at a private clinic. It's on us.
Free Snacks at the Office
Coffee, tea, fresh fruit, sweet and savory snacks galore at the office.
We wouldn't have it any other way.
Each month, your team gets a new budget to hang out and have fun.