The Best Productive Integrations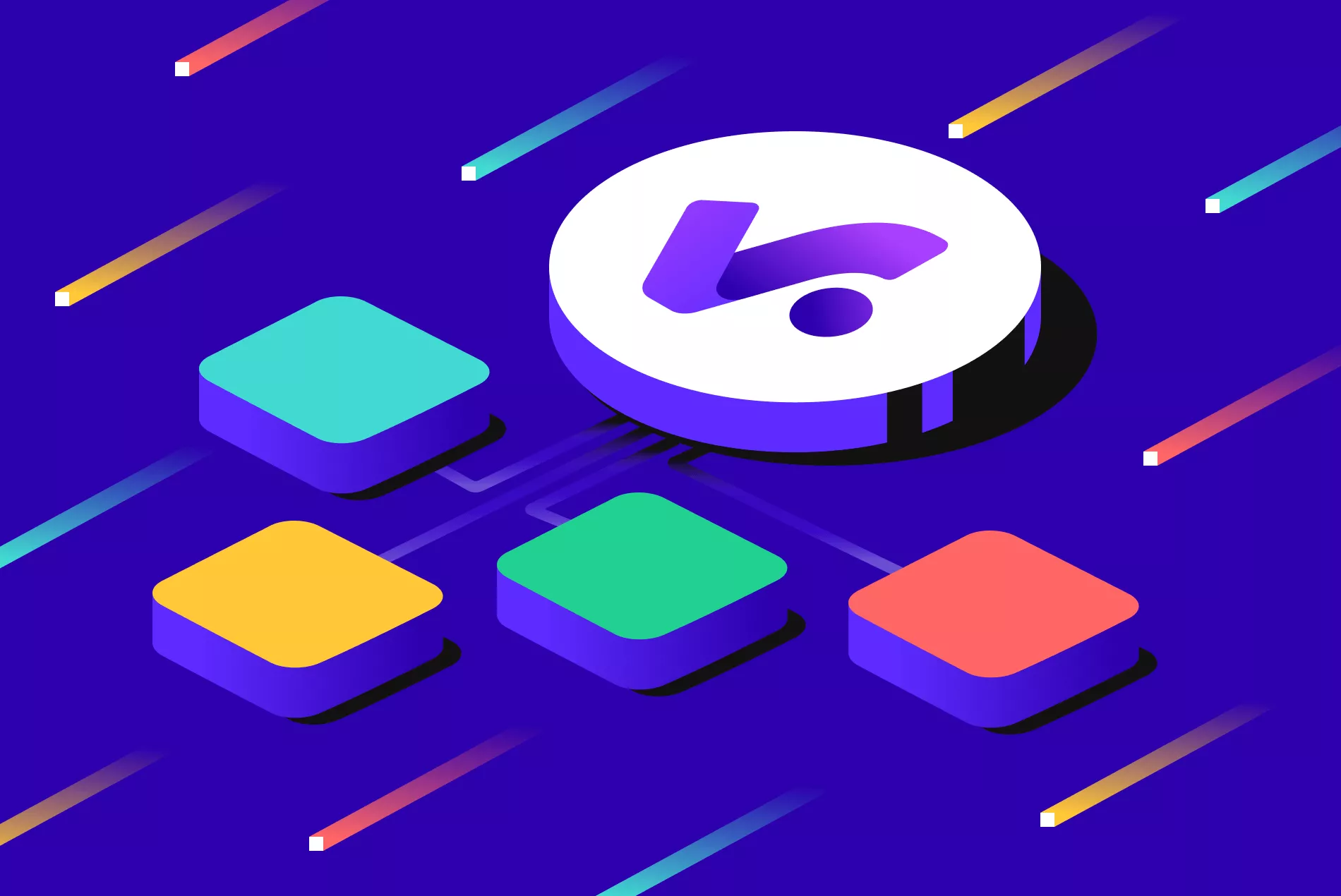 We Help Your Agency Reach New Heights
Switch from multiple tools and spreadsheets to one scalable agency management system.
Do you ever consciously think about how many tools you use throughout a single workday?

Probably not.
Can You Manage Your Agency Using Just One Tool?
Whether you're an agency project manager, the head of operations, or the CEO—one of the most important things that you need is to be able to access real-time data. That basically means all the most important KPIs to keep your agency profitable.

To do this, you're constantly on the lookout for that one tool or a specific tool stack for the many different areas of work that agency management includes. That would be everything from business development, resource planning, and human resource management to operations, client servicing, project management, financial forecasting… The list goes on.
The Benefits of Integrating With Other Tools
Productive is an end-to-end agency management system. It lets you connect with other tools to help improve your agency's workflow and efficiency. 

Integrating Productive with other tools can improve:
The consolidation of data, by bringing all databases into one core tool
The likeliness of human error when manually entering information into multiple tools that are disconnected
Efficiency by saving time when toggling between different systems when performing tasks
1. Productive and Google Calendar
We all know that a lot of time and resource management happens in an agency—no matter the role you have. Google Calendar is a Google service ideal for planning out your work schedule. When it comes to the benefits of integrating your Google Calendar and Productive, there are two life-altering use cases.

The first case has to do with saving time and consolidating your work schedule. Let's say you're a business development representative or an account manager at an agency. You'll have tons of meetings throughout the week. By integrating the two tools, once you book a meeting or block off time for a call in Google Calendar as an event, those same calendar events will become automatically tracked time in Productive.

The second use case is basically going vice versa. Events that are booked in Productive's Scheduling can automatically be booked in your Google Calendar, too. That way, there's no need to remember to edit your schedule in two places. 

Connect your Google Calendar with Productive.
2. Productive and MS Outlook
Microsoft Outlook, an email service that's part of the Microsoft Office suite, also includes calendar features and task management options. Just like the benefits you'll find when integrating your Google Calendar with Productive, when you sync your Microsoft Outlook Calendar with Productive, time management will run smoother. Again, calendar events booked in your MS Outlook Calendar can be displayed as automatically tracked time in Productive—and events in Productive's Scheduling will be in sync with your MS Outlook.

Integrate your MS Outlook account with Productive.
3. Productive and Popular Accounting Tools
Productive offers integrations with some of the world's most popular accounting tools: Xero, QuickBooks, Exact, and Visma e-conomic.

The biggest benefit that comes with integrating these tools with Productive is exporting and easily copying invoices that were created in Productive to your accounting system for further processing—that way reducing the chance of human error and saving time for your team.
Productive and QuickBooks
QuickBooks is an accounting tool that offers on-premises accounting solutions and cloud-based tools, through which you can accept payments, manage and pay bills, and manage payroll. If QuickBooks is the accounting tool your agency uses, you can integrate QuickBooks Online with Productive.
Many agencies rely on Exact to manage their business finances. If your agency uses Exact as its accounting tool, streamline your workflow by integrating Exact with Productive.
Productive and Visma e-conomic
Jira was originally built as a bug and issue tracker. Today, it's used for software teams to plan, track, and release software. If your agency does a lot of development work and your teams are used to using Jira for tasks and time tracking, you can integrate your Jira account with your Productive organization and streamline work. 

The benefits of syncing Jira and Productive are:
Having your teammates track time in just one place
Saving time for your teammates
Getting clearer utilization and profitability data
Slack is a collaboration app that connects people, information, and other tools so that work can be done more efficiently. Today, most businesses spend their days talking about work in their Slack organizations. 

The main benefit of integrating the two is streamlining task and project management through Slack towards Productive, and vice versa. 

For example, you can get Productive notifications in Slack, or send quick replies to comments in Productive without leaving your agency's Slack organization.

Create new tasks directly in Slack: create a new Productive Task directly within a Slack message, perform quick actions like closing Tasks and changing Assignees, Task lists, or Due dates.
Perform changes in Productive without leaving Slack: close a task, change its assignee, or edit due dates without going back and forth through apps.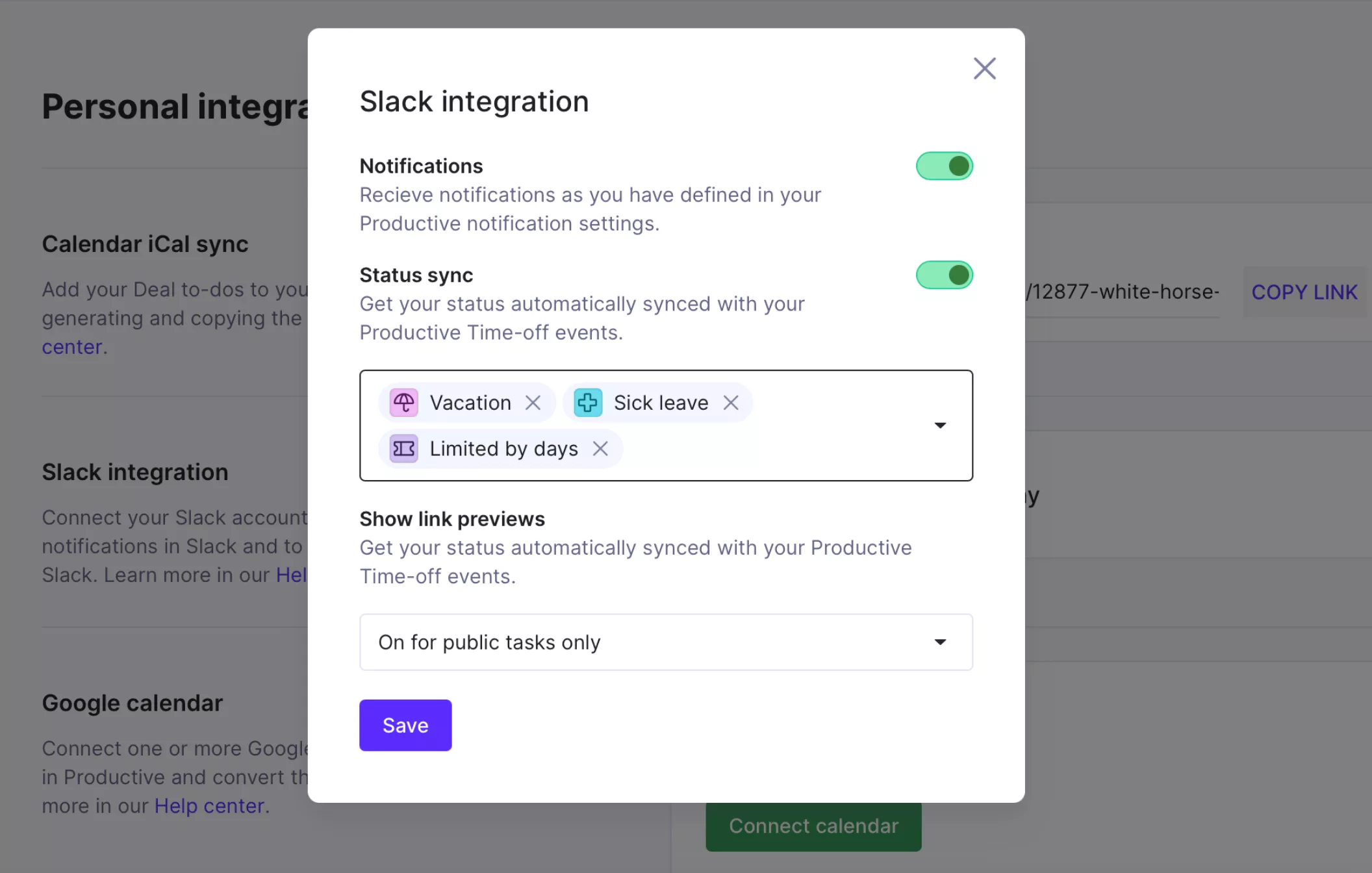 Another benefit is syncing Slack statuses with your Productive organization and calendar of choice. That way, your time off status and calendar events are all in sync. When a teammate is on vacation, their status will automatically sync with Slack without them having to update it manually. Once the person is back from vacation, their status will update in Slack once again. Read how we synchronized Productive's Time off categories with Slack and integrate Slack with Productive.
Zapier is an online automation tool that connects to popular apps such as Gmail, Slack, Mailchimp, and more. You can connect two or more apps to automate repetitive tasks without needing to rely on developers to build the integration. Integrate your Zapier account with Productive.
Unlock Your Agency's Potential by Integrating Productive With Popular Apps
You can't run all your agency work in one tool, but with features ranging from Sales to Billing, agencies use Productive as their core agency management tool. Depending on the type of agency you run, connecting Productive with other tools will only speed up and automate your day-to-day work.

To learn how to get the most out of integrations with your favorite communication, task management, and organizational tools like Slack, Jira, or Google Calendar—simply reach out to our Sales Team.