What is Accelo? Review 2021: Is Accelo the Right Choice for Your Agency?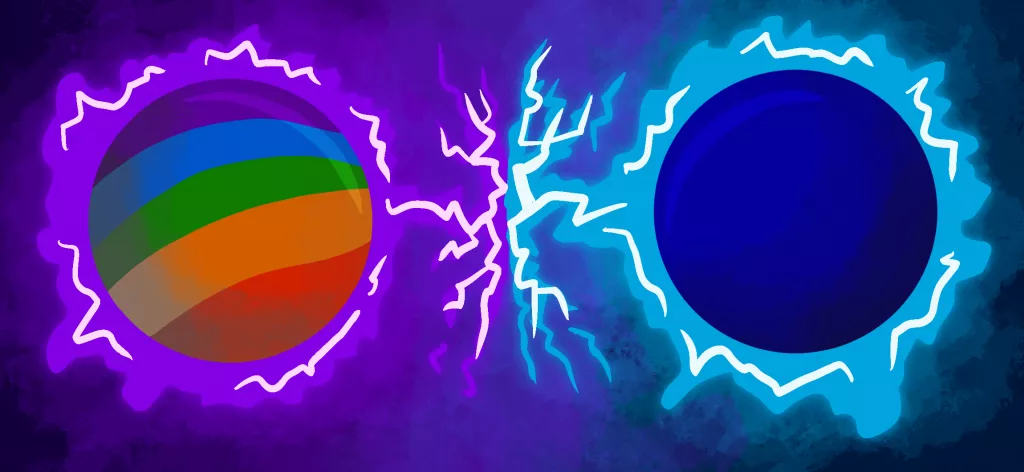 We Help Your Agency Reach New Heights
Switch from multiple tools and spreadsheets to one scalable agency management system.
Looking for the right tool to manage your service business or agency?
Your search has led you to Accelo, an agency management tool that promises to seamlessly organize all (yes, even the toughest) aspects of your business in a single place. But is Accelo up to this ambitious task? As an Accelo alternative, we reviewed this project management tool, as well as many more in our article titled The Top 10 Agency Management Software.

In this post, though, we focus just on one. We looked at some of Accelo main features, as well as the pros and cons of adopting it as a single solution for your agency business. Let's dive in!
Accelo makes a big promise from the get-go, deeming itself as an all-in-one solution for agency project management and agency operations that can be used by a plethora of different types of businesses. These businesses include digital marketing agencies, consulting and management firms, software and web development companies, accounting and bookkeeping businesses, as well as engineering teams and communications specialists.

This service operations automation software is cloud-based and packs plenty of powerful tools to flexibly respond to the needs of different firms and companies. While it was initially developed with a focus on sales and billing management, it grew to include customer relationship management, project management, and client services. 

Accelo promises plenty of features and great flexibility—but is it that easy to blend such a robust software with the flexibility required by different types of service businesses? 
What Are the Key Features of Accelo?
As we already mentioned, Accelo packs more than 20 simple and complex features, from billing and reporting to managing retainers and sales pipelines. When it comes to classic project management features important for agencies and software development teams, you'll find project planning, tracking and collaboration, activity stream, task management, and time tracking. On the service side of things, there are sales modules, client records, expenses, invoicing, a client portal, issues dashboard, and various integrations.

So, what is Accelo? We'll focus on the core, most versatile features Accelo offers for service businesses and agency management.

See also: 15 Top Accelo Alternatives & Competitors for Agencies
The sales pipeline looks quite complex and may intimidate inexperienced users. It does not sport a classic sales pipeline view—instead, it shows a deal list, making it somewhat harder to properly overview the entire process. 

The sales section consists of a sales dashboard, where you can see a complete pipeline forecast and visualized sales funnel, and a sales stream, where you can see all your sales activities.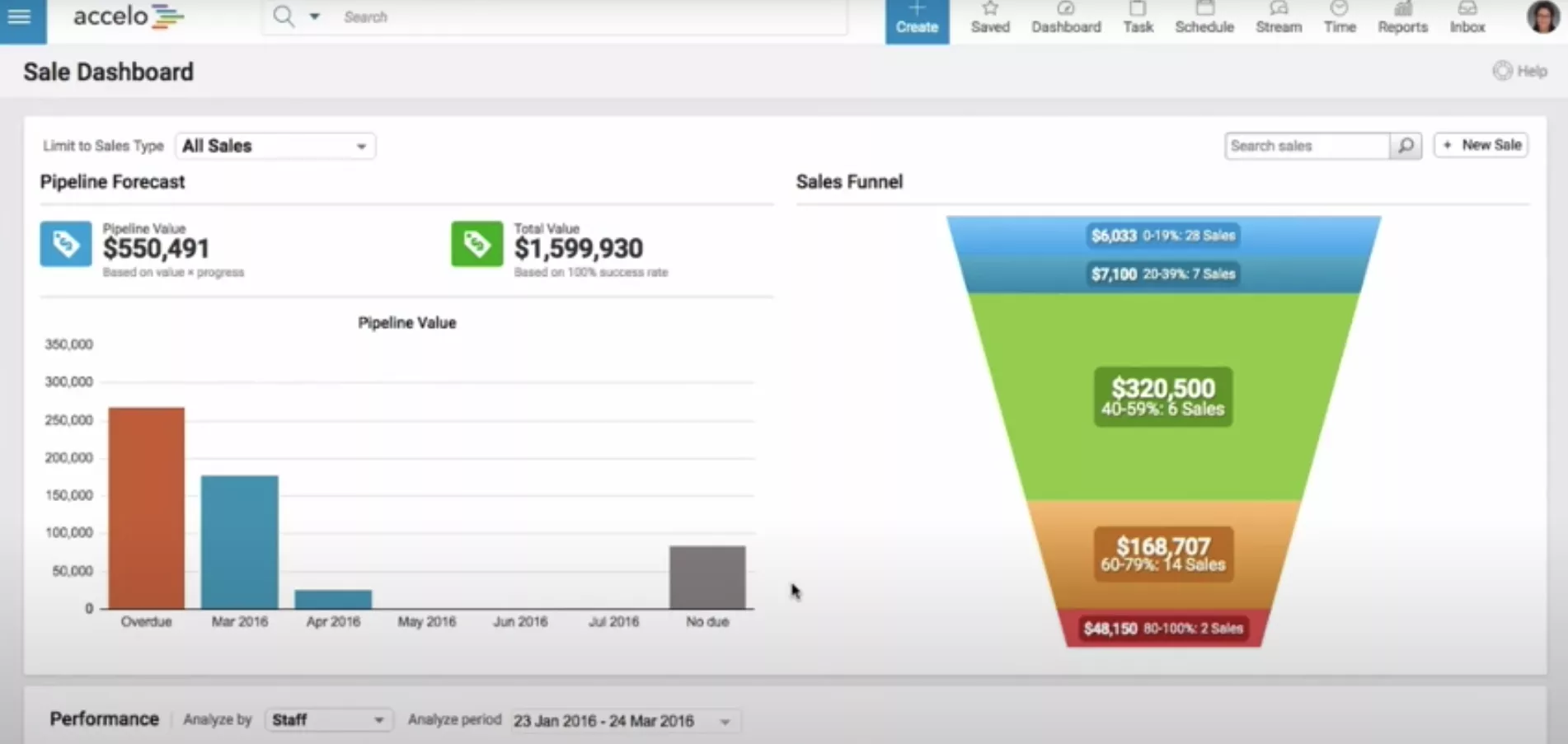 Accelo's sales module allows you to manage new and active clients, as well as track your sales efforts, including emails, meetings, documents, and the time it took you to close the deal. Via integrations with Outlook and Gmail, your team can schedule meetings using the sales module—as their correspondence continues, it becomes visible in the Sale Stream. Using Timers, you and your team members can track time from the first email to a closed deal. With Activities, team members can manually log their sales and work. 

To optimize the whole process for efficiency, there's also a Quoting Tool, which allows you and your team members to create quotes using templates and an automated step-by-step process. Quotes approved by clients are transformed into projects in one click, with a budget, times, and tasks automatically built into your new project.
Once your project is created, Accelo takes you to a Project module that incorporates drag and drop Gantt charts, allowing you to outline project structure and schedules. In this module, you can manage project plans, create budgets, and assign tasks.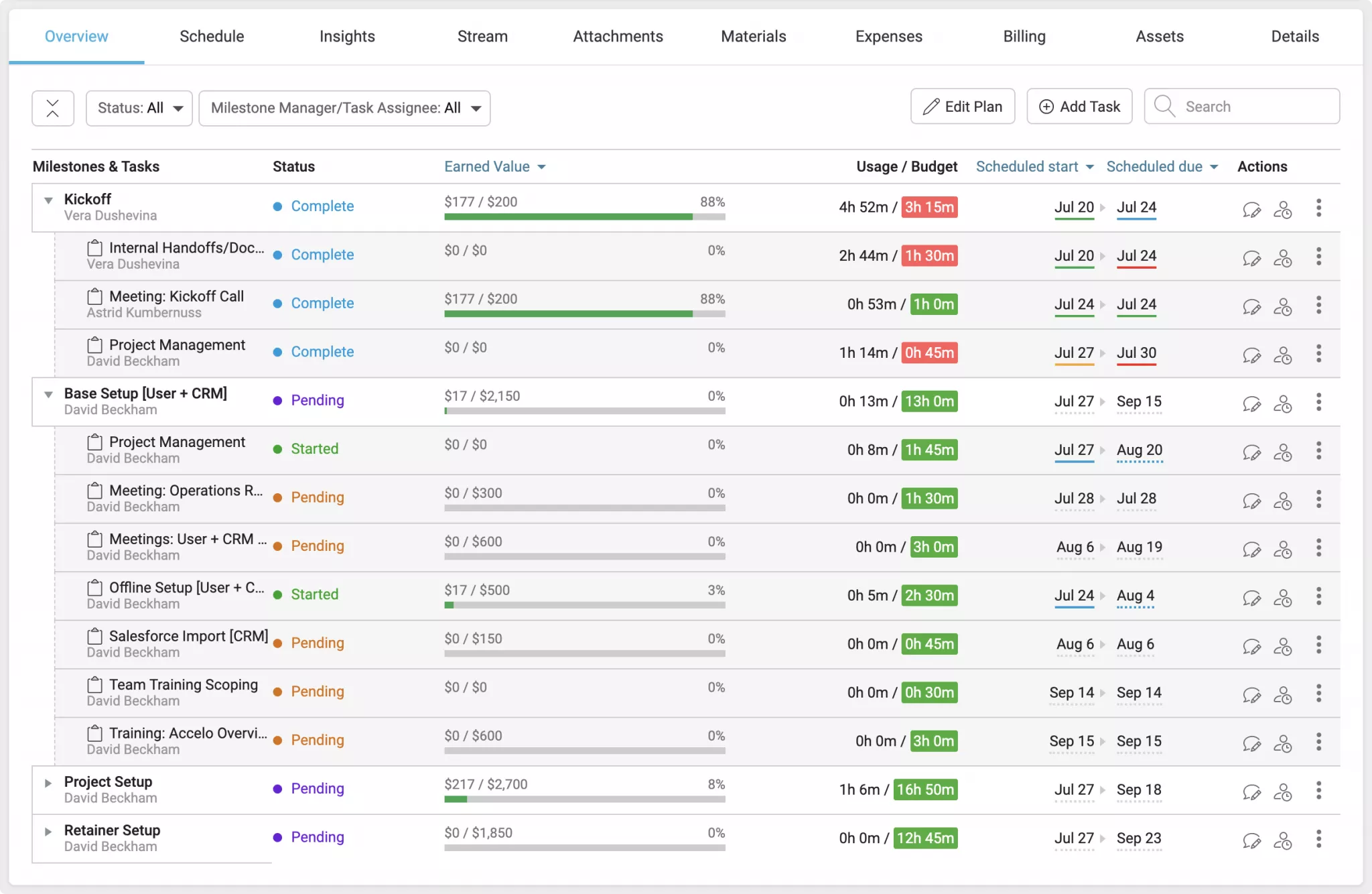 A project plan can consist of milestones, timelines, tasks, and dependencies. The team's progress and project expenses can be tracked in real time. Projects can also be combined with the rest of the work you're doing for a specific client, allowing you to access service tickets and retainer tracking. 
3. Retainers and Contracts
If there's a moment where Accelo gets to shine, it happens within the Retainer and Contracts Module. This feature allows you to streamline plenty of the administrative work with your team and existing clients, including payroll and bookkeeping for various digital marketing, web hosting, IT, and support services.

Retainers auto-populate contracts, recurring tasks and materials, billable rates, and allowances for periods you can set based on your billing cycle. Time and work will be tracked within each period. Usage Summary offers the option to show you these metrics divided by tasks, tickers, and projects. 

There's an extra perk—your clients can be up to date with the progress of your project via the Client Portal.
Accelo's Reporting feature not only allows you to track single projects or specific reporting periods, but also lets you make informed decisions based on your team's performance and data.

Firstly, you can review the profitability of your own team's work, analyzing time, budget, type of work, specific client or team member, and status on your projects and tickets. It will also help you create more realistic and efficient quotes in the future.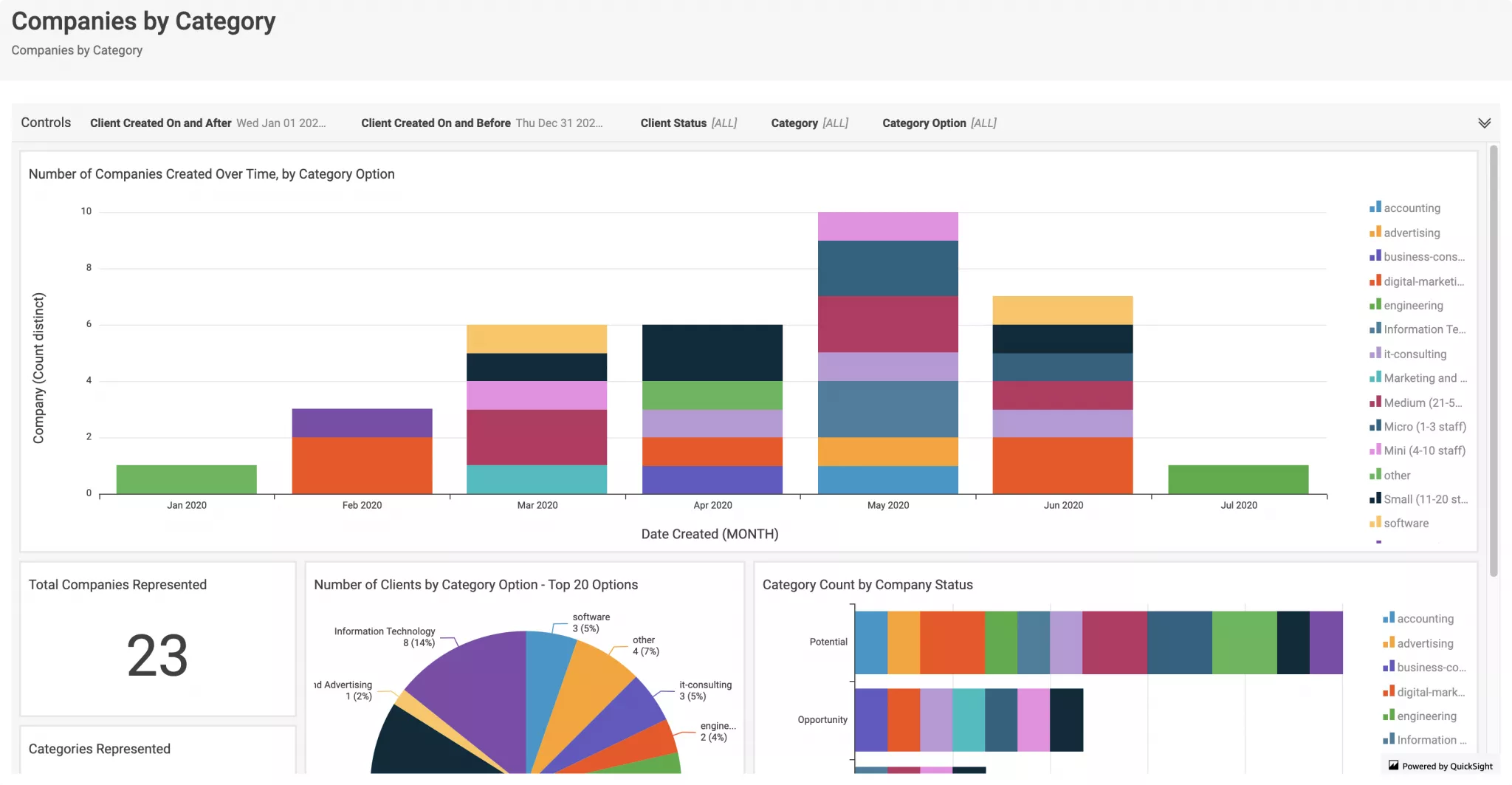 Similarly, you can use the Reporting feature to analyze which Clients are the most valuable for your business, based on sales type, status, date, and salesperson.
Accelo Limitations and Possible Solutions 
It's clear—Accelo is an incredibly versatile, complex management software that can create a lot of value for your service business. However, at some points, Accelo becomes a victim of its ambition to adjust to every type of business and take upon every feature required in the agency management process. 

1. Complex Interface and User Experience
Since Accelo packs a lot of power in the feature department, user-friendly design was sacrificed along the way. While there are options to view certain features in the form of Kanban boards, calendars, and visualized data, most of the software sticks to the list views with tabs and menus which quickly become overwhelming. Project management tracking and task assignment features leave a lot to be desired in the visual department.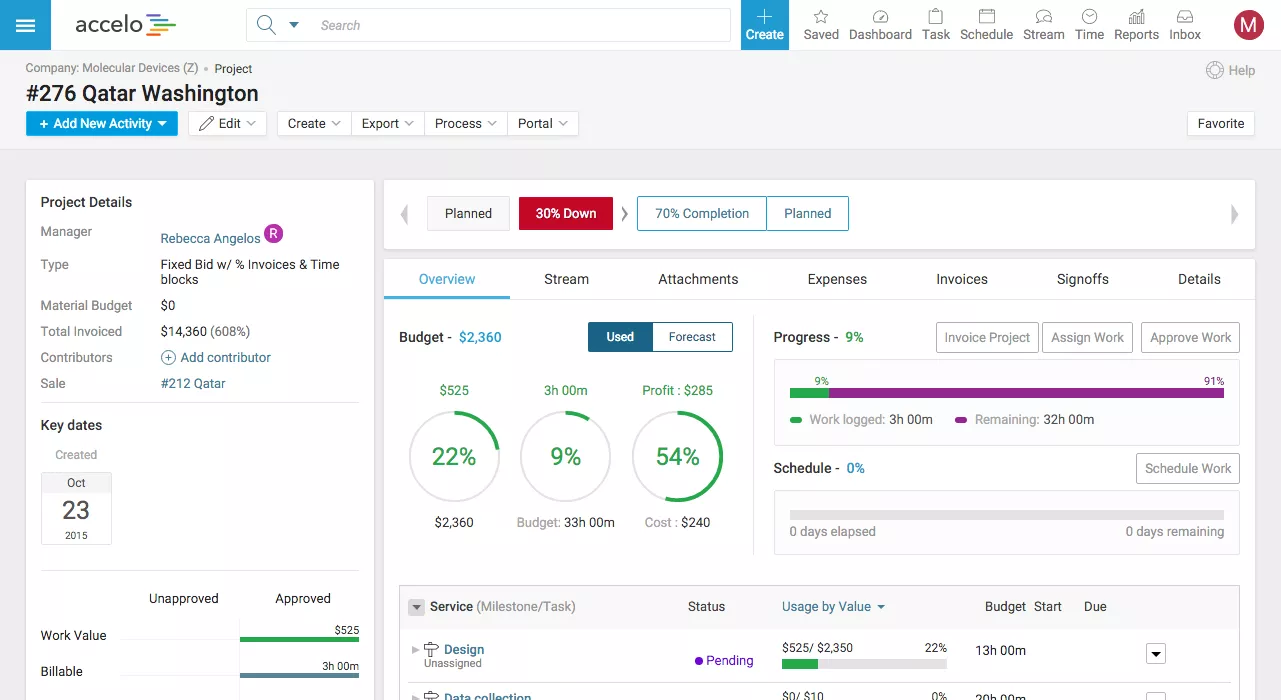 Consequently, the tool's design is not very intuitive and some simple tasks may turn into a daunting and time-wasting process as you're learning to master the tool. So, while its primary purpose is to simplify things and provide clarity, connecting the dots between data and various processes in your organization may not be as simple as the tool promises. 

In that sense, Accelo definitely shouldn't be the first choice for agencies and businesses heavily focused on project management. There are plenty of smaller, laser-focused tools that offer well-thought out, user-friendly solutions that will allow you to plan your projects and track them with less hassle and more insight.
The same robustness that hampers the visual user experience in Accelo also spills over to its implementation. This agency management tool takes quite a lot of time to master, so in a way, it can defeat its purpose to save your time. While various setups, templates, and integrations are built to make your life easier, getting to the point where all these elements work in single-click, default harmony takes a lot of time, work, and patience. 

This may be an issue with service businesses whose personnel isn't too tech-savvy, as well as with agencies with no dedicated IT team. Accelo isn't only complicated to implement, it also requires a well-trained team for its daily operations. Some users complain that even after several months of using the tool, they still feel they are not sufficiently acquainted with all of its features and the way it functions. Other users also mentioned frequent updates which sometimes create overhauls in certain features, requiring additional training to master.

Accelo's complexity and lack of cloud storage space can also result in slow loading times and additionally complicate your daily tasks. Small service businesses with time constraints and limited capacities in their IT departments simply cannot afford the long onboarding process with Accelo. Wome smaller, more scalable solutions focused on billing and bookkeeping may be a better choice.

3. Not Infinitely Customizable
While the one-size-fits-all motto is Accelo's selling point, once you try it, you may find that your business has to move bits and pieces around to conform to it. Although this project management tool offers plenty of customizable templates, filters, and features, they are not infinitely customizable as they still heavily lean into its initial purpose—sales management. 

If you're running an IT business or digital marketing agency, you'll probably have to adjust your workflow to fit it into Accelo's definitions of workflow elements. If you're not ready to do that and have a very specific way of doing things – you're better off with a tool devised for your area of expertise specifically. 

At this point, you have enough information to make a decision whether Accelo is the right agency management tool for your business. Still indecisive? That's all right—choosing how to streamline your workflow is a serious investment in terms of finances, your onboarding process, and human resources. If successful, it will help you achieve better time management and make well-informed decisions resulting in greater profits. If not – it can be a huge waste of time, money, and opportunities. 

So, if you feel that Accelo is an overkill for your business or simply stretched out too thin across too many features, explore some alternative options. If your agency's focus is on effective time tracking and ease of use, check out Productive. Apart from sporting a sleek user interface ensuring a smooth user experience, our features are compatible with both small teams and large organizations. Before deciding, here's a list of 21 key questions to ask yourself before buying an agency management tool!