How To Prepare Your Digital Agency for a Strategic M&A Exit — Q&A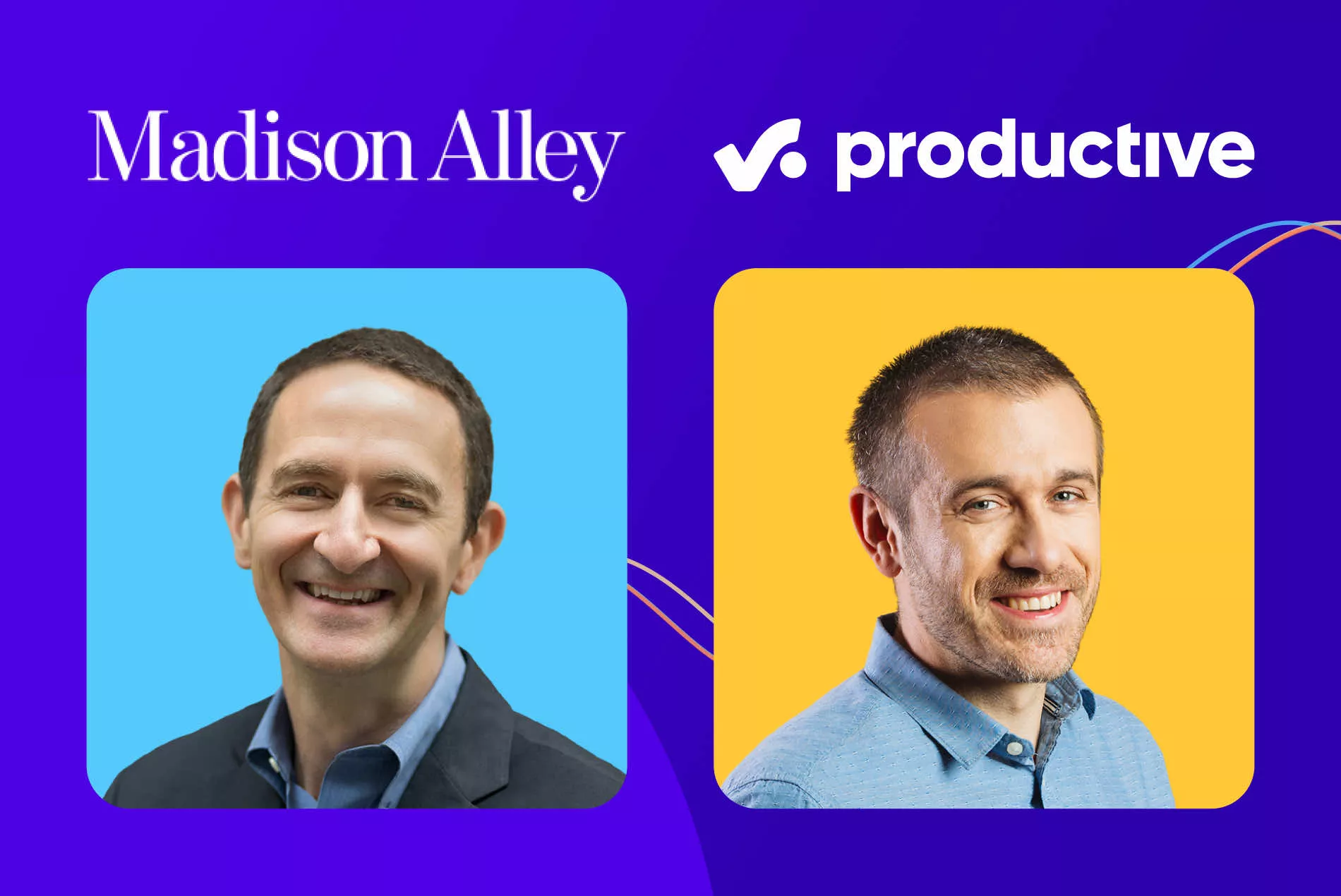 We Help Your Agency Reach New Heights
Switch from multiple tools and spreadsheets to one scalable agency management system.
There's a great interest in M&A topics in the digital agency space.
Strategic buyers of technology and marketing services
Drivers of premium valuation for agencies
Typical deal structures and valuation multiples
Michael Seidler, Founder & CEO of Madison Alley and Tomislav Car, CEO of Productive answered a number of questions posed by our audience. We bring you the full list and responses from Michael Seidler below.
1. What are the top 5 metrics and KPIs startup agency founders should focus on?
The top KPIs startup agency founders should concentrate on are:
Growth >15%, ideally at least 17-20%
EBITDA margin > 15%, ideally at least 17-20%
Client concentration < 25%
Client tenure over 1-2 years for top 5-10 clients
At least few blue chip clients
2. How would you start your own agency knowing what you are now?
I would find two agencies that fit well together – truly complementary services and/or shared clients – and fit them together with a PE investor that has had success investing in marketing services.

I would ensure that the company is providing strategic consulting – not often competing on RFPs in competitive pitches – OR instead, one that provides a well-defined, differentiated recurring product/offering that can be scaled.

It would need to have a path to at least $5 million of EBITDA where the most M&A and investment activity happens.  At least a few blue chip clients.  Ideally, at least a few $1 million+ accounts.
3. What are the top 3 things you will be focusing on to grow your agency?
To grow your agency, a few key things to focus on should be:
EBITDA margins close to or above 20%
4. What advice would you give to someone if they want they want to build their agency with a mind of selling it in the end?
EBITDA margins close to or above 20%
Establish a diverse portfolio of long-term clients
Offer modern capabilities (data-driven marketing, commerce, analytics, AR/VR, applying AI/ML, etc.)
Find a path to over $3-5 million EBITDA
5. What do M&A companies look for in an ideally sellable agency?
Think of strategic acquisitions like Lego building blocks or puzzle pieces that need to fit together. Growth needs alignment in terms of capabilities, culture and clients to grow. They'll look for founders or management (not outside investors) that own at least 30%, and ideally over 50%, so earn out is applied to team leaders, not outside investors. M&A companies will also look for strategic capabilities that complement the buyer's existing offering and geography that complements and/or overlaps a buyer's position.
6. Are there M&A firms out there that entertain deals for agencies that are generating less than $1M in revenue? 
Deals that are generating less than $1 million in revenue are typically considered "acqui-hires" for people/teams, rather than an M&A transaction which has legal/banker costs. But yes, there are individuals who can advise as an investment banker or a lawyer.
7. We are currently at $3M of Annual Revenue. How big does our agency have to be in order to start thinking about possibly selling our business?
Most deals begin at $3-5 million EBITDA, but it's possible to merge two agencies for a stock deal or a little cash.
8. Are there options for sale for companies with annual income of less than $10M, like $3M?
If you mean Revenue, then as noted above, most M&A deals begin at $3-5 million EBITDA, but it's possible to merger two or more agencies for stock or a little cash and/or deferred payments. 
9. What are the multiples for the smaller companies and what are the main differences in what drives value?
Multiples for smaller companies tend to be 5-6x EBITDA provided that the company is growing and profitable and client concentration is not too high and the CEO is staying for 1-3 years.
10. What Agency Sectors (Digital, MarTech, Content/Production or Data/Analytics) showed the highest deal volume in 2022?
The most number of agencies are creative agencies, so by deal volume that's the highest, but that doesn't mean that there's not a lot of interest in data/analytics, just not a lot of supply of companies with strategic and data/analytic capabilities.  A lot of demand for digital performance agencies, commerce platform development also.

Related: The Best Creative Agency Project Management Software
10. Does specializing ensure a higher acquisition price?
Typically specializing does ensure a higher acquisition prices—provided that the specialty is in a high demand segment. So for example, a Tik Tok specialist agency that is growing well can fetch a higher price while the capabilities are in high demand and low supply. We sold Cardinal Path, an analytics consultancy a few years ago and there were few analytics companies of any scale so it did very well. Often the growth, margins and clients demonstrate the demand for the agency's specialized services.
11. How much does a % of turnover that is retainer-based income effect the acquisition price?
It is helpful to generate more retainer-based, recurring revenue (turnover) rather than project-based revenue. It's hard to tell how much it impacts acquisition price, but more stable, predictable revenue does help attract buyer interest which, in turn, leads to a more competitive M&A process.
12. Why do you recommend accrual versus cash accounting?
All buyers, whether private equity owned or public, need to report on an accrual basis—so they will require any seller to provide accrual-based financials.
13. What are the pros and cons in selling a part of your company as private equity vs. thinking about an IPO?
IPOs are not too common given the scale at which it makes sense (typically, at least $50 million EBITDA to exceed $500M market value), as well compliance, legal and regulatory costs. 

PE is much more common to provide immediate liquidity of 51-75 or 80% equity sale, while retaining 20-49% equity for a second sale ("a second bite of the apple"). PE avoids the burden of public financial reporting. The benefit of an IPO is stock currency to acquire companies; better availability of debt/credit and investors due to the liquidity.

So, it's really a matter of scale at which point it makes sense. Below $50-100 million EBITDA (less on international markets), most companies don't have the option of an IPO, or it's cost prohibitive. In some cases, the public markets don't appreciate the value of an asset. For example, a commerce agency was trading at fairly low multiples. The public didn't appreciate the premium value that strategic buyers would pay for commerce and customer experience agency capabilities.
Madison Alley is led by former global CEOs and strategic Corporate Development executives. The company was founded nearly 20 years ago as the world's first M&A and capital advisory firm exclusively serving the digital marketing, advertising, media and commerce industry. 

Michael Seidler is Founder & CEO of Madison Alley Global Ventures. He is also Founder and Host of MadisonAlley.tv, which broadcasts live exclusive interviews with the prominent leaders of Marketing, Media & Technology.
Join Our Upcoming Webinars
Productive is an end-to-end agency management software built for service businesses of all types and sizes. In our new series of webinars, Productive is hosting M&A and valuation experts and agency business leaders to cover agency valuation topics and processes.

Try the Agency Valuation Calculator by Productive to learn what influences the total value of your agency, plus how you can increase it.