Agency CFO Key Roles and Responsibilities In Productive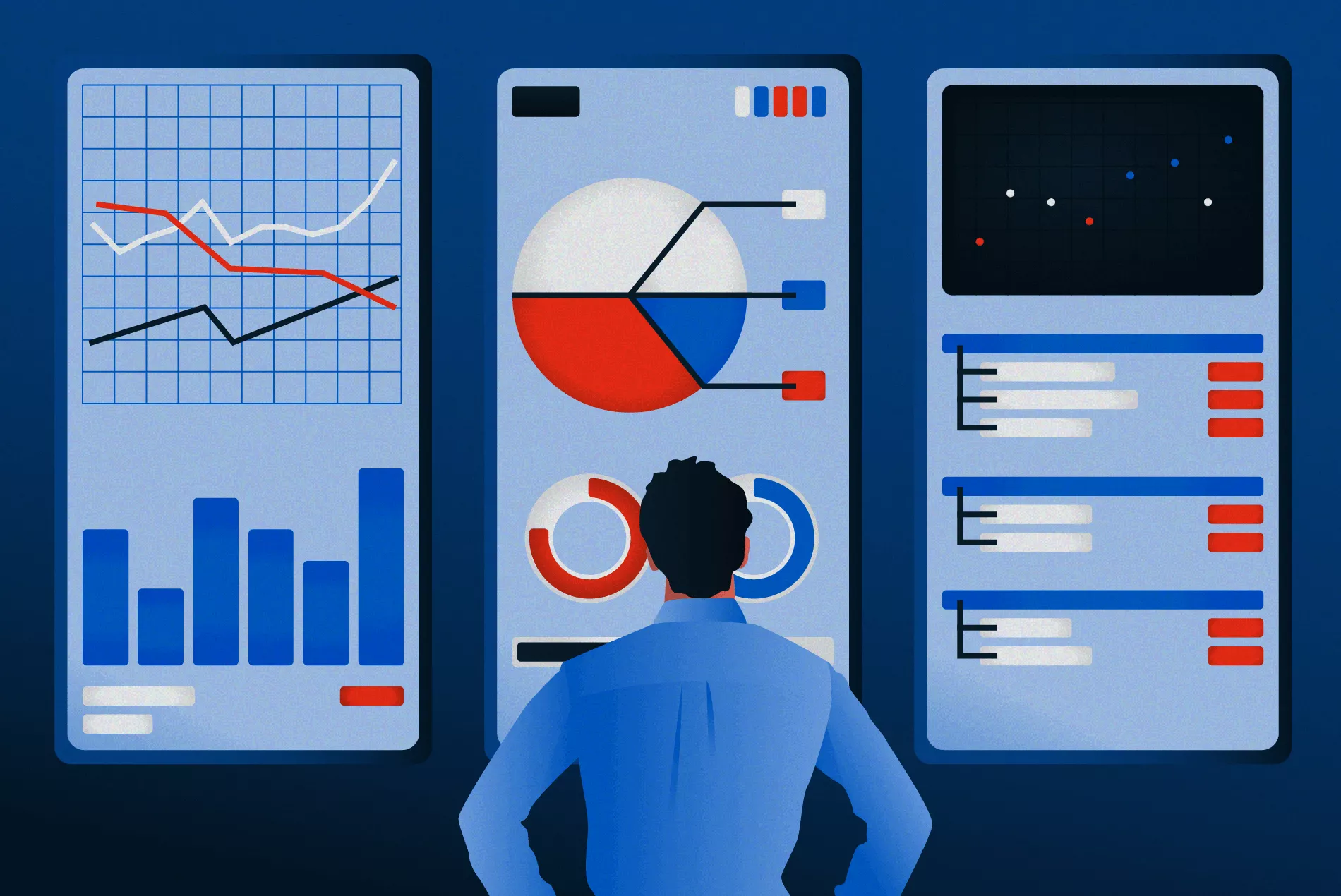 We Help Your Agency Reach New Heights
Switch from multiple tools and spreadsheets to one scalable agency management system.
Agencies are meant to deliver some form of creative work. That's a no-brainer.
So they're hired by brands, individuals, companies or institutions for what they do best—but can they do what they're meant to without being profitable? Not for long.

To deliver successful projects and keep clients happy, financial health is a must. To get that, you need consolidated financial data so that you can optimize investments and continue to grow. That's where the Agency CFO usually comes in. (I say usually because the size of your agency will likely indicate whether or not you decide to hire one.)

Still, even if you're an aspiring agency looking to expand, it's beneficial to get an idea of what the Agency CFO (or Agency Finance Director) does.

Read on the discover the key roles and responsibilities of an Agency CFO. Plus, learn about the main areas used by this particular persona for agency finance management in Productive.
What Does an Agency CFO or Agency Finance Director Do?
We've talked about what agency operations managers, agency project managers and agency traffic managers do. So where does an Agency CFO come into the picture?

An Agency CFO's main job is to manage a business' financial activities and team, plus offer strategic business consulting for the CEO and peers.

An Agency Finance Director will forecast business growth, know how the agency can take on potential market opportunities and avoid risks. CFOs usually have an educational background and professional experience in the fields of finance, business management, or accounting.
The Difference Between an Agency CFO, Agency Finance Director or a Head of Finance
Now you may be asking yourself: what's the difference between an Agency CFO, Agency Head of Finance and Agency Financial Director?

Well, it depends.

Just as each agency is different, titles will vary for similar job descriptions. Likewise, job descriptions for agency finance management positions will be different for each agency's specific needs.

Agency CFO – Key Roles and Responsibilities
The size and organizational structure of an agency will dictate the exact roles and responsibilities of an Agency CFO.

Generally, there are five key areas that an Agency CFO's roles and responsibilities will fall into:
To get more granular, the roles and responsibilities of an Agency CFO will comprise of all, most or part of the following:
Managing the agency's financial planning and activities and determining financial KPIs
In charge of overseeing financial forecasting, budgeting, investments
Preparing financial reporting
Leading the Finance and Accounting team
Performing risk assessment, overseeing investments and liabilities
Providing industry knowledge to benchmark the agency against peers
Offering strategic advice and long-term financial planning to the CEO
Collaborating with members of management and stakeholders
Ensuring legal compliance, establishing formal finance-related procedures
How an Agency CFO Can Get the Most Out of Productive
An Agency CFO's main focus will be making data-driven decisions based on financial reports.

Whether it be forecasting revenue, assessing potential investments, contributing to hiring decisions, or day-to-day cash flow management, all of these answers can be found in Productive.

There are three main areas of Productive that you'll enjoy using as an Agency CFO:
Going over items, tasks, project phases and due dates
Reviewing timelines and schedule changes with account or project managers
Reviewing budget spending with account managers to get client approval 

Planning and forecasting upcoming projects
How Agency Traffic Managers Can Get the Most Out of Productive
As an agency traffic manager, these are the features you'll mostly use in Productive:
Learn more about each below.
Ana G., Executive Financial Officer at BICG
I can safely say that finance and administration is one of the areas that has experimented the biggest change since the implementation of Productive.

The improvement in the efficiency of the processes and the even greater knowledge of our business is clear if you also take into account that you can treat each client, even each project from a client, as an independent unit of profitability.

Without a doubt, in the billing area there has been considerable change. I can say that the hours we dedicate have been reduced in a 15-20%.
1. Set Up Agency Reporting In Productive
Reporting will be the main are an Agency CFO spends time in Productive because reports comprise consolidated business data from different sources (e.g., service rates, employee salaries, tracked time, overhead expenses, budgets, etc.).

To get accurate (real-time) data on everything from budget spending to profit earning, each teammate (including billable and non-billable roles) must track time on the services they provide and projects their work is attributed to.

Speaking of reporting, one of the most popular reports that you'll be looking at in Productive as an Agency CFO are revenue forecasting reports. Forecasting reports can be linked with budget usage, revenue, utilization, profitability—any data you're particularly interested in can be customized as a report.

To learn all about it, check out our webinar on forecasting:
2. Create a Pulse, an Automatic Agency Report
A Pulse is an automatic update you can set up and subscribe to in Productive. It's formed around an insight (report) or view from Productive and sent out to email subscribers daily, weekly or monthly. If you'd like to send Insights to your Slack channels via Pulse, here's a quick guide on how to set everything up.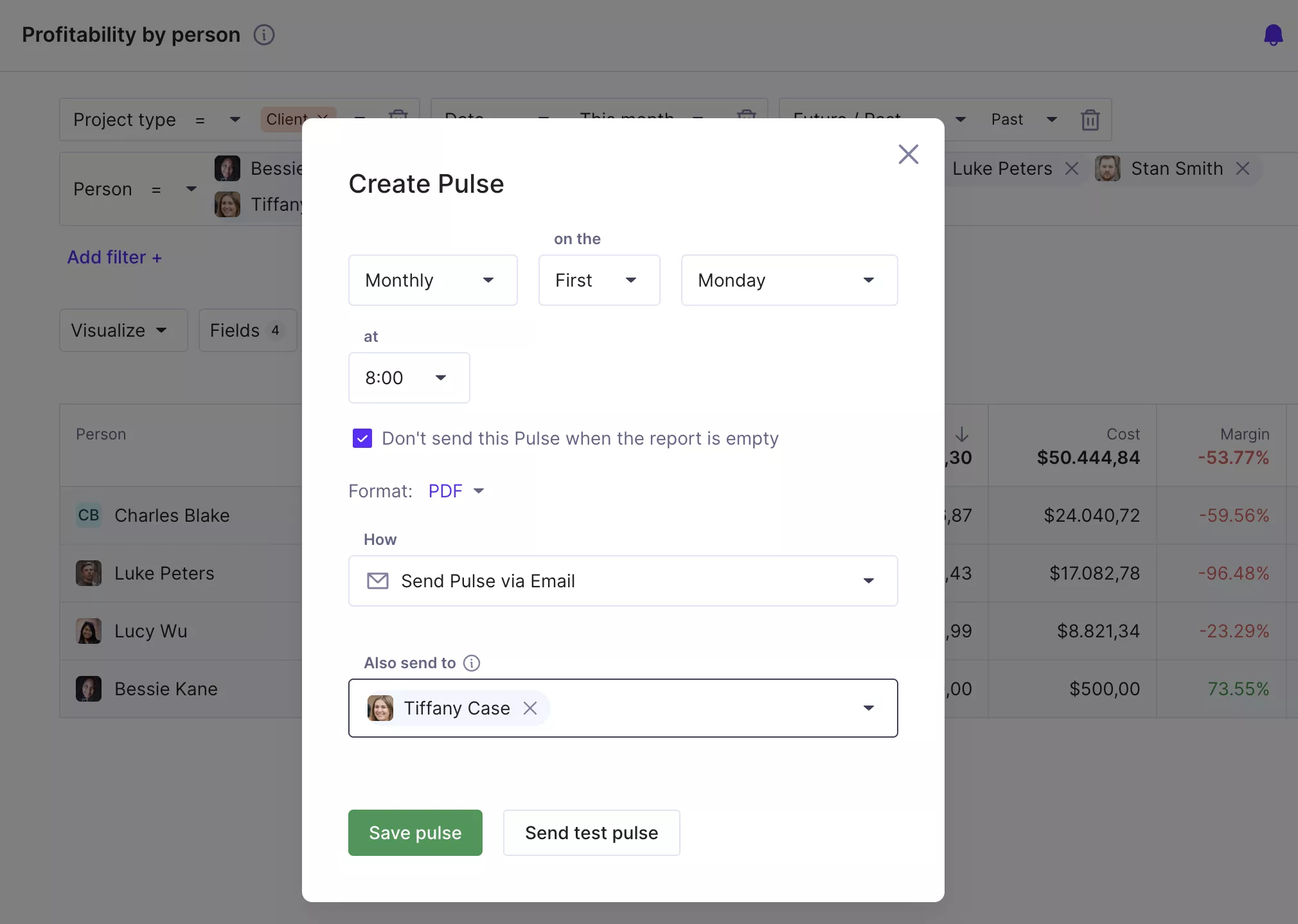 3. Get Visual With Dashboards
Besides ready-made agency-specific reports, as an Agency CFO you'll be keen on creating your own, customized Dashboards that will let you see what matters most to your business. You can think of Productive's Dashboards as the control panel of your agency. Simply combine the data you're interested in and cast an eye at your Dashboard—which is updated in real time.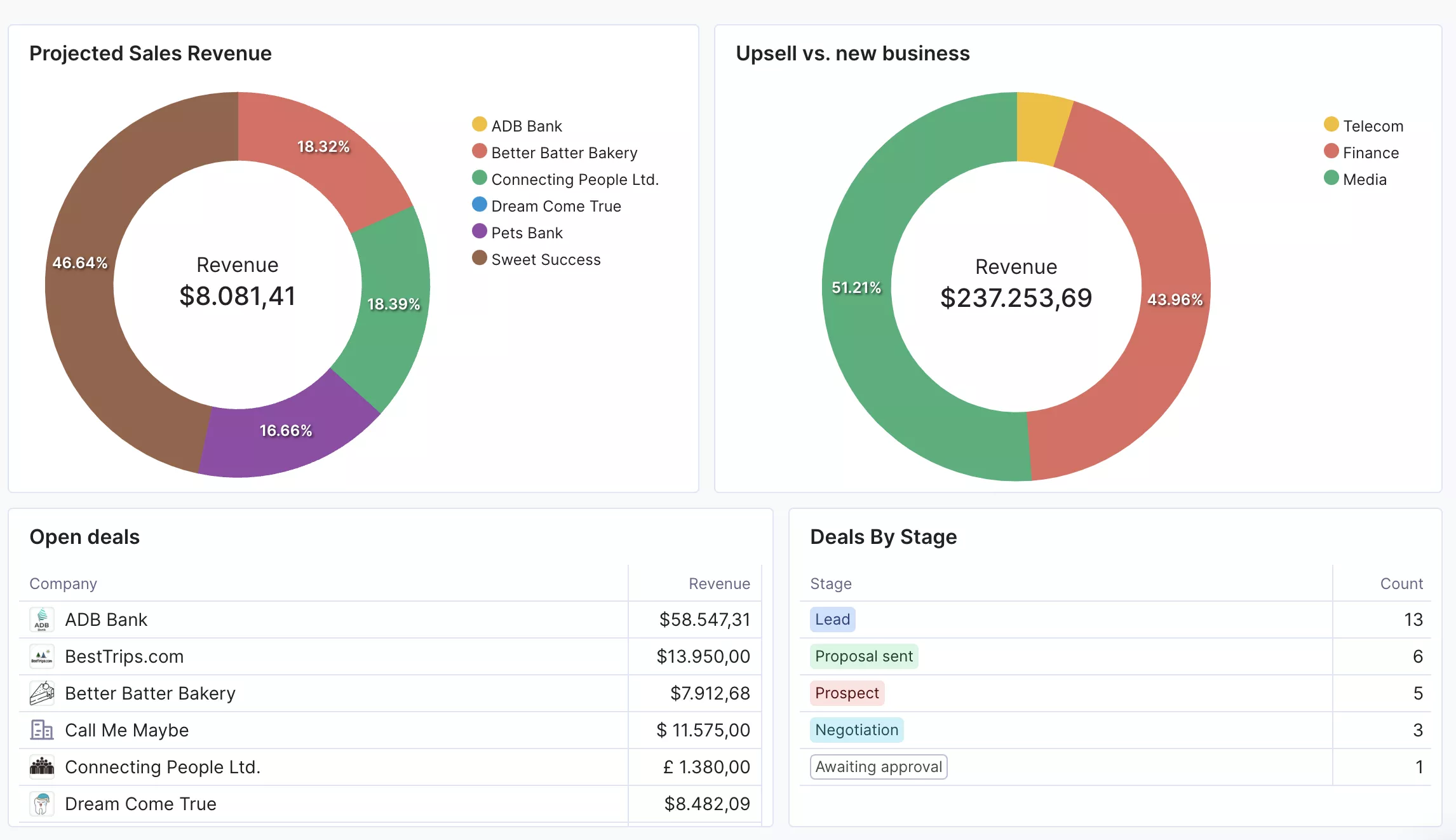 luana C., accounting and financial manager, square1 software
"Productive helps me stay on top of internal and external budgets, manage invoices and payments, and store information for each project. Not to mention the reports, which provide me with crucial data right away."
If You're an Agency CFO, Try Productive
Not all agencies (think they) can afford a CFO. However, as the digital agency landscape is getting more and more competitive, it's becoming commonplace for service business of all shapes and sizes to consider hiring such a role. Why?

Simple: to make the most out of their business without letting anything related to finance fall through the cracks. 

To get a better idea of how Productive help your agency thrive, book a demo with our team.