Agency Project Manager Key Roles and Responsibilities In Productive
Organization is half of the battle, they say.

And what's the daily battle of an agency? Project management.
That's where agency project manager tools come in. 

Since most Productive users work towards successfully delivering projects, we can share a thing or two about the discipline. 

In this article, we zoom in on the most important activities that agency project managers perform. Scroll on for a breakdown of best practices, key roles and responsibilities of agency project managers. Learn how your agency can benefit from Productive's Sales, Resource Planning, Budgeting, Project Management, and Reporting features.

See also: Agency Operations 101: Achieve Operational Excellence

What Does a Project Manager Do In an Agency?
Maybe a better question is: what doesn't a project manager do in an agency?

Generally speaking, project managers, often known as account managers in agencies, are in charge of delivering projects using the resources given to them (people, time, equipment). The role is different than that of an agency traffic manager. To deliver the projects that clients ask for, project managers need to spend the budgets they get from clients in a way that will ensure successful project delivery and profit for the agency.

Keep Your Agency Running Smoothly
Simplify your daily workflows with a full suite of management features, from time tracking to reports.
Is an Agency Project Manager the Same as an Operations Manager?
In short, no. An agency project manager is not the same as an agency operations manager.

Project manager responsibilities revolve around monitoring performance and pushing projects forward towards delivery, while operations management is focused on monitoring metrics from a higher level, plus resource planning. 

Some key roles and agency project manager responsibilities are:
Setting objectives: creating a project scope, estimating costs and developing budgets 
High-level activity, role and task planning and resource management 
Putting together a project team and leading it towards project completion
Preparing project documentation
Monitoring time management and ensuring tracked time on projects
Supervising and coordinating work and approving tracked time
Regularly communicating with clients
Working closely with operations managers in overseeing utilization, profit and other KPIs
Reporting project success to senior management
Assisting HR with recruitment and encouraging top performance
Agency project managers need to have a mix of leadership, negotiation and interpersonal skills, such as:

Now we can zoom in on the most important activities that project managers perform.
As an agency project manager, you can't even begin a project without understanding its requirements and estimating costs. Once you know what your clients expect as deliverables, you need to plan out who will work on which project or task and when, how long each phase will take, figure out if you'll need contractors or have any additional expenses. 

This initial budgeting phase will automatically serve as a blueprint for resource planning, task management and finally—profit that will come out of a particular project. Budgeting is also something you'll keep going back to as a reference as teammates track time in your agency. 


Having a complete overview of projects, open tasks, team occupancy, and profitability—it makes project management so much easier.
2. Resource planning and task management
Even though operations managers will cover a lot of your high-level resource planning, you'll need to collaborate on a daily basis to analyze utilization rates and monitor how projects are moving along. As a project manager, you'll decide on time estimates for tasks and evaluate team availability on a weekly basis. Optimizing resource planning along the way will help you predict and increase your revenue.
3. Time and expense monitoring
A big part of project management is time and expense monitoring. The main question to answer here is how is the performance of the teammates you chose affecting your utilization and profitability?
4. Communicating with clients
Staying in touch with clients throughout a project's phases is one of the most delicate parts of successful collaboration. From a project's kickoff to finish, you need to keep clients informed about progress in a way that will make them happy, but not build up false expectations. To keep clients happy and see profit from projects, you need to monitor how time is being spent and organize regular sync meetings.
5. Reporting KPIs to management
To keep track of the KPIs you need to report to management, you need real-time data. To get the most accurate data possible, one of your main tasks as an agency project manager is to decide whether or not the time that your teammates track is billable or non-billable. 

Tracked time will help you see what your hiring needs are, how you potentially need to adjust future service rates, increase budgets or improve overall operations. The KPIs you monitor will vary depending on the size of your agency and the complexity of your projects.
For us, the biggest selling point was that we were able to use it for the sales funnel along with project management and invoicing—and time tracking, too. Previously, we were using four different tools for all those activities. We were able to cancel a lot of our other subscriptions and invest in one tool. So the sales funnel mixed with the project management, invoicing, and time tracking was what sold it for us, as it was a unique blend. It made sense, and it was simple.
Agency Project Management – Best Practices
1. Set clear objectives and tasks ownership and responsibilities
One of the main downfalls of any project is when its objectives aren't set right. You can't reach concrete goals if you don't have them defined. This is why planning is just as important as the execution phase. Keeping everyone informed on project objectives and being transparent about how they'll be met will result in better project delivery. 

What helps in achieving project goals is setting clear ownership of tasks and responsibilities within a project. This especially applies in a hybrid workplace. Giving teammates more responsibility and ownership will enable smoother delivery in the long run.
2. Manage expectations, from start to finish
Managing expectations begins at a project's launch and ends when it's delivered. When a project doesn't meet the expectations of its clients, teammates and other stakeholders involved, it's probably due to inadequate communication. When setting up the stage of a project, always think about who needs to be informed, when and about what.
3. Look for ways to streamline communication and next steps 
To get everyone on the same page, look for ways to streamline communication regarding project updates. Having one tool to keep everyone informed about project updates will simultaneously serve as a place to keep track of project progress. Though it may seem counterintuitive, it's better to get 15 people on a 30-minute sync call at once than sending out multiple emails or having different time slots for different project teams.
4. Manage (avoid) scope creep
There's rarely a project that doesn't experience scope creep. Every project manager can admit to having experienced delays, miscommunication, insufficient budgets, resources dropping projects (mid-project) and similar roadblocks that all lead to unhappy teammates and clients.

So, one of your main tasks is keeping scope creep under control. How can that be done?
Keep all stakeholders in the loop from the project's kickoff
On a weekly basis, compare actual work that's done with what was agreed upon
Make it a habit to have daily or at least weekly syncs to keep track of the scope
When determining changes within the scope, make sure to update clients on changes and manage their expectations
5. Use time-tracking tools to get consolidated data
Agency Project Management Using Productive
Now let's take a look at project management through Productive's Budgeting, Resource Planning, Project Management, and Reporting features.
Productive was built so agencies can get a strong grip on their budgeting and profitability management. You can easily build fixed-price or hourly-based budgets for your projects in the tool. 

As services are used and your teammates track time against those services and on different projects, your project budgets will start getting used and that's how you monitor the state of each project's utilization and profitability. 

Another option Productive gives you is inviting your clients into projects to see the status of their budgets and give feedback through comments so you can move projects forward faster.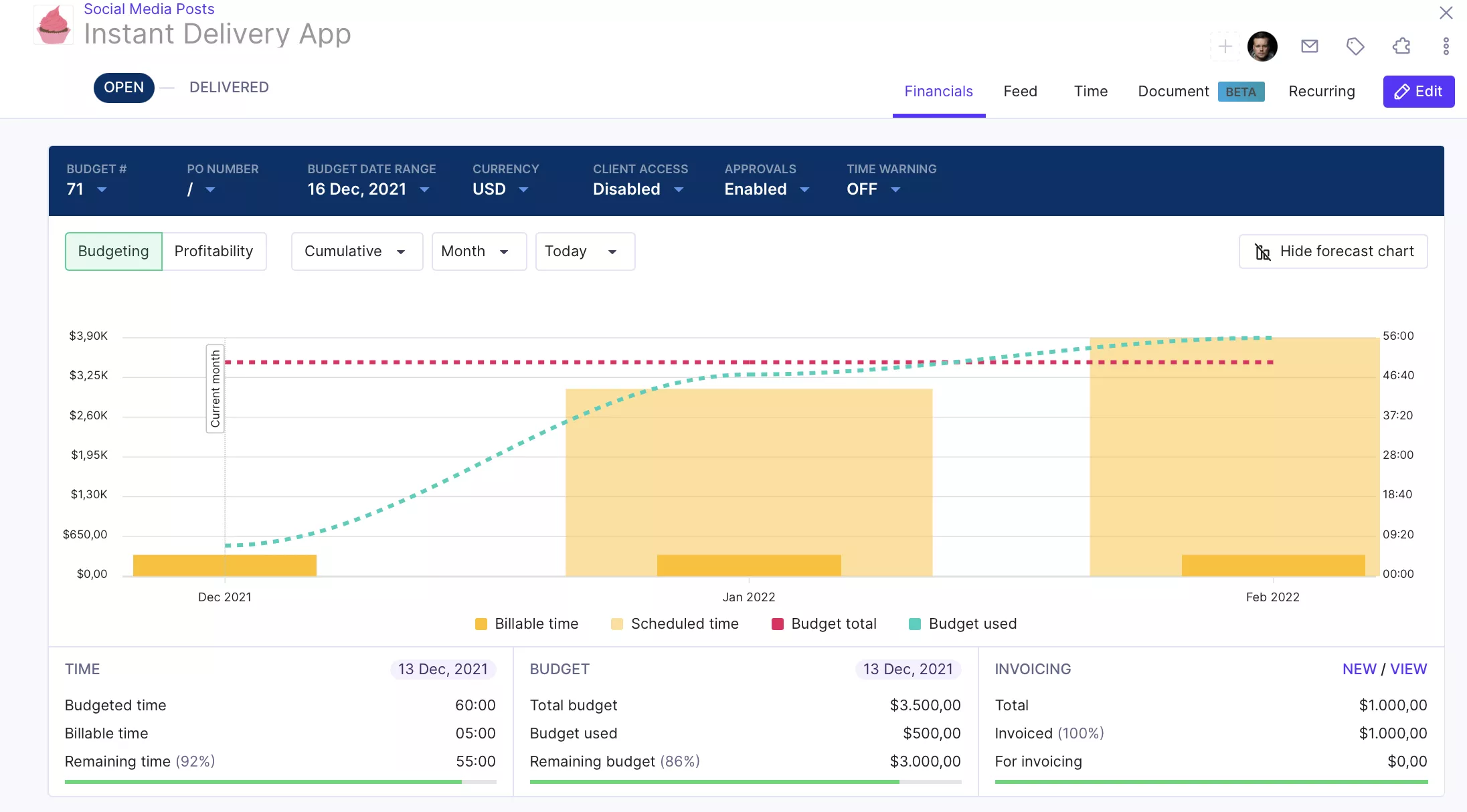 A big part of managing resources and their schedules in Productive is having an all-in-one system that incorporates time off management, too.

In Productive's Scheduling feature you can:
Get a high-level perspective of all your agency's employees and their available time
Manage teammates' workloads easily by moving resources around
See who's overbooked with heatmaps and who needs to join a different project team
Use Placeholders to create hiring scenarios for upcoming project work
Track and manage time off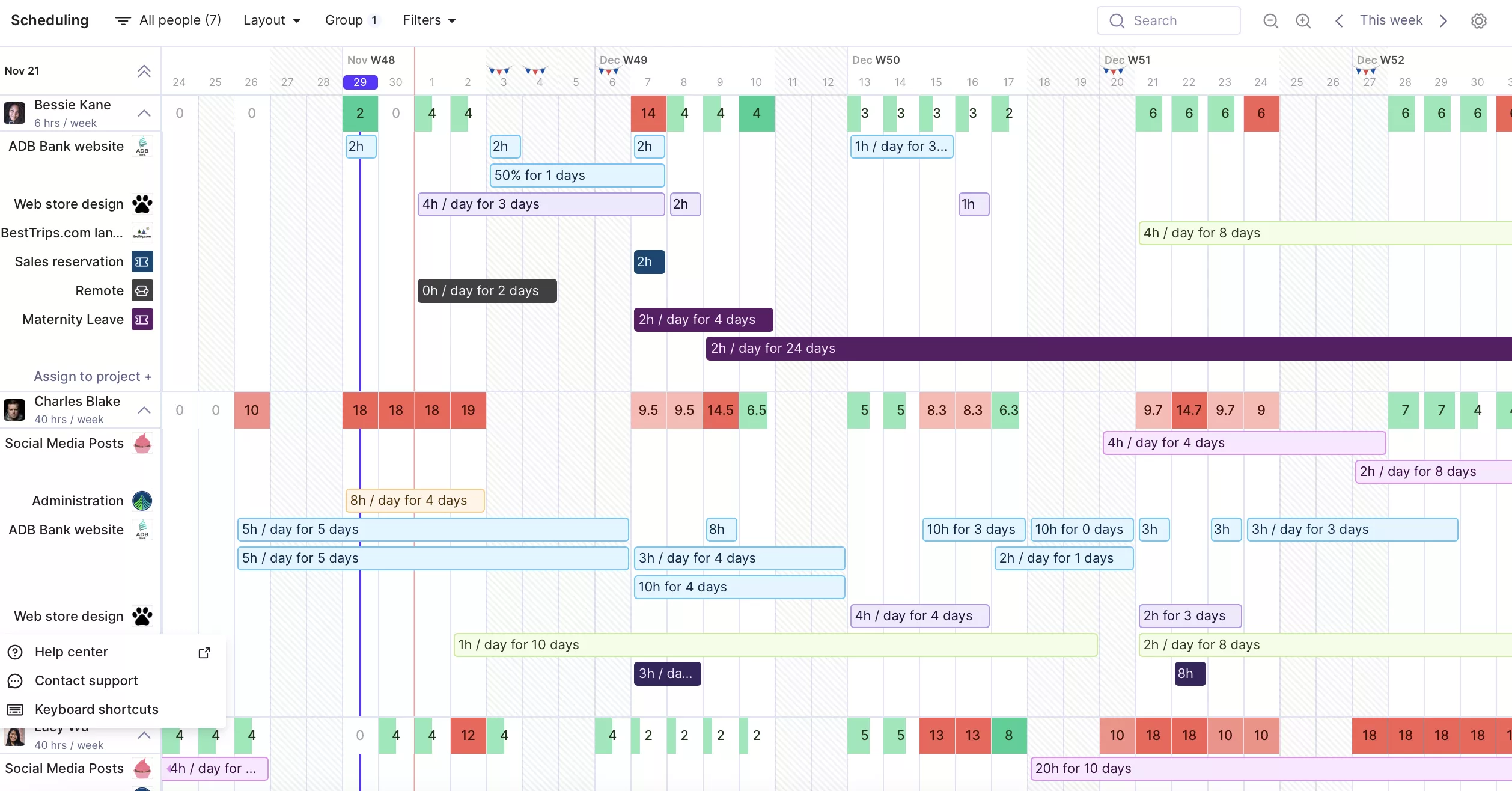 In Productive's Projects you can set up and streamline your project and task work through different views: choose from the List, Table, Board, Calendar, or Timeline view. 

In tasks, you can add subscribers so they can keep track of progress, assign date ranges and deadlines. To keep clients up-to-date with changes, you can invite them into projects, too. This can significantly speed up getting feedback from them and moving projects forward.

Related: The Best Creative Agency Project Management Software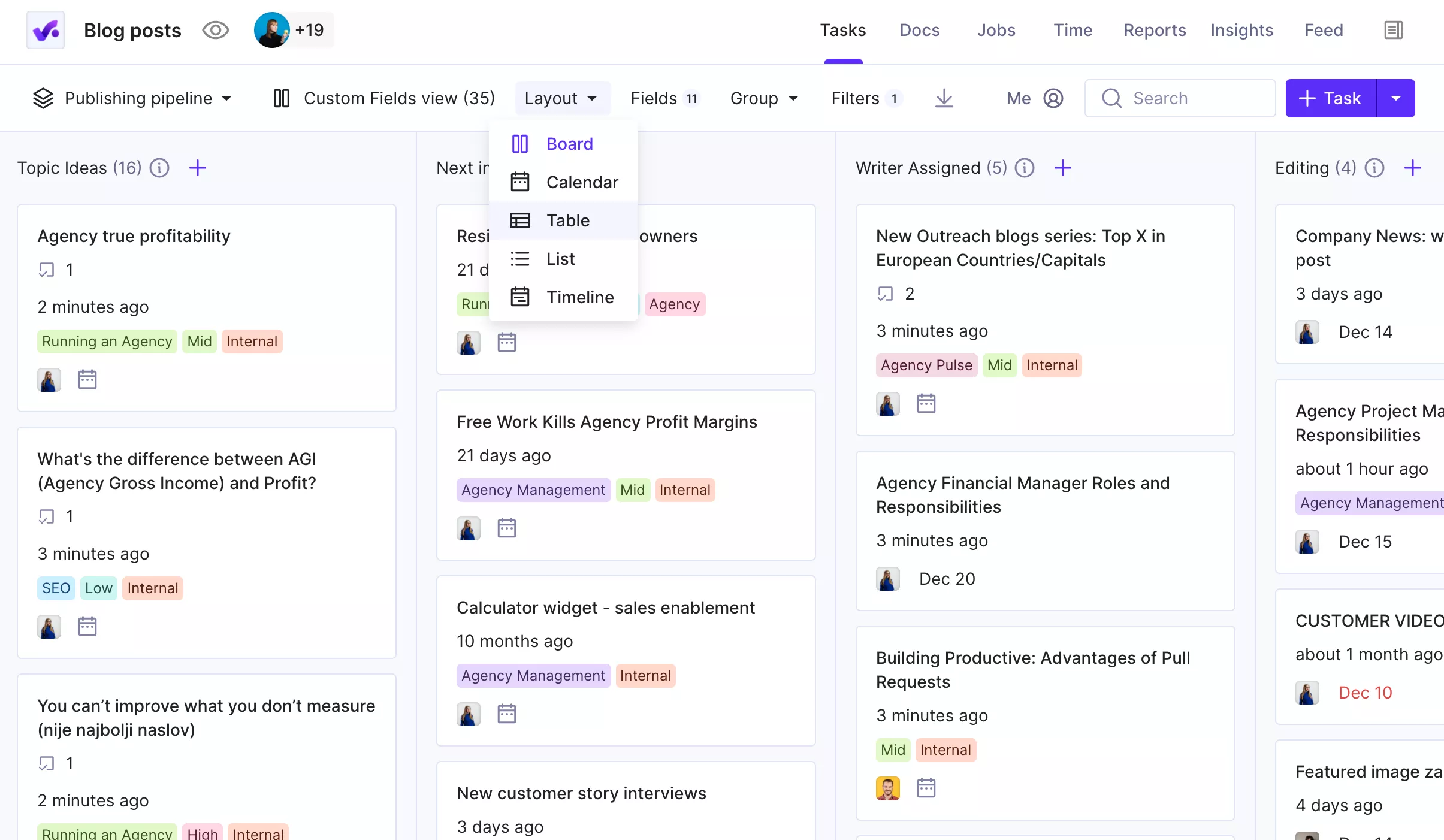 As an agency project manager, many different reports will interest you. Once your agency's budgets are set right and your team members are tracking time daily, you can quickly access reports concerning operations, forecasting, people, payments, and more in Productive's Insights Library. Because these reports used data from various sources (employee salaries, overhead, external expenses, tracked time on services, etc.), you need to have all your costs entered into the system.

There are three ways to get reports in Productive:

By accessing pre-built agency reports in the Insights Library
By building your own custom reports depending on the metrics that matter most to you
By setting up an automatic report update to arrive via email, a so-called "Pulse"

I tried a lot of different software in the past and none had the sales to project management, invoicing to task and resource management in one tool. To me, all those features are the holy grail of an agency management tool.
Set Your Agency Project Management Up In Productive 
Using an agency project management system is inevitable to increase productivity. With your project and budget management set up right, your data becomes more accurate and you can navigate your agency's growth with actual numbers. Book a demo call with our Sales team to find out how to set your agency project management up in Productive.

Keep Your Agency Running Smoothly
Simplify your daily workflows with a full suite of management features, from time tracking to reports.