Revenue Forecasting For Agencies
To run a successful agency, forecasting is essential. It's embedded in the game.
Not so fast, though.

Think about it: for your agency to forecast revenue, you need to be able to forecast a number of other activities. Start with your sales pipeline. You need to be able to foresee demand but to predict demand, your agency also needs to be able to forecast resource availability. With your resources and time allocated for potential upcoming work—you're forecasting project management, too. And finally, you can get a glimpse of your forecasted revenue. 

In this article, we cover all the aspects of agency management that are prerequisites for forecasting your agency's overall revenue:
Forecasting revenue in an agency is so much more than just looking at graphs and numbers. To learn how to forecast revenue in an agency, keep reading.
1. Forecasting Sales Revenue 
When your agency management tool includes a sales pipeline, forecasting revenue and resource planning get easier. 

To get information on resource availability, sales managers consult with project and operations managers to ensure not only that they can deliver a potential project within a proposed time frame but make a profit from the project too.

At the same time, at the start of a relationship with a prospect, sales managers will work with potential customers to get an understanding of their budget, vision, and priorities. With the knowledge of the resources your agency has available, plus the time frame, quality, and budget your prospect has in mind—you can come up with a strategy.

Having an embedded sales funnel lets you quickly turn won deals into projects. It also helps you save time on passing the torch onto project managers. In your sales funnel, you keep a detailed history of your communication with new customers, which can also help with upselling and cross-selling in the long run.
We're able to see our schedule out for the next three months easily, and I can put in tasks where I know we have work coming up. That allows me to make sure that I'm not overbooking people or it lets me know where people are overbooked and that I need to get some resources to help us out with the workload. That's been the biggest shift—at any time Bryan can ask me "Hey, when do we have free time available?" and I can tell him.
How to Forecast Sales Revenue in Productive
By using a custom "Date" field in Productive, you can set up an expected closing date on your sales deals. With that, you can start projecting future sales revenue. 

After your custom field is set up, go to Insights and build a report that utilizes your expected close date and easily translates it into meaningful data. In the example below, we've grouped the report by Expected Close Date / Quarter. 

In this report, you can see how much sales revenue will convert by the end of 2021, and it's broken down into individual sales opportunities: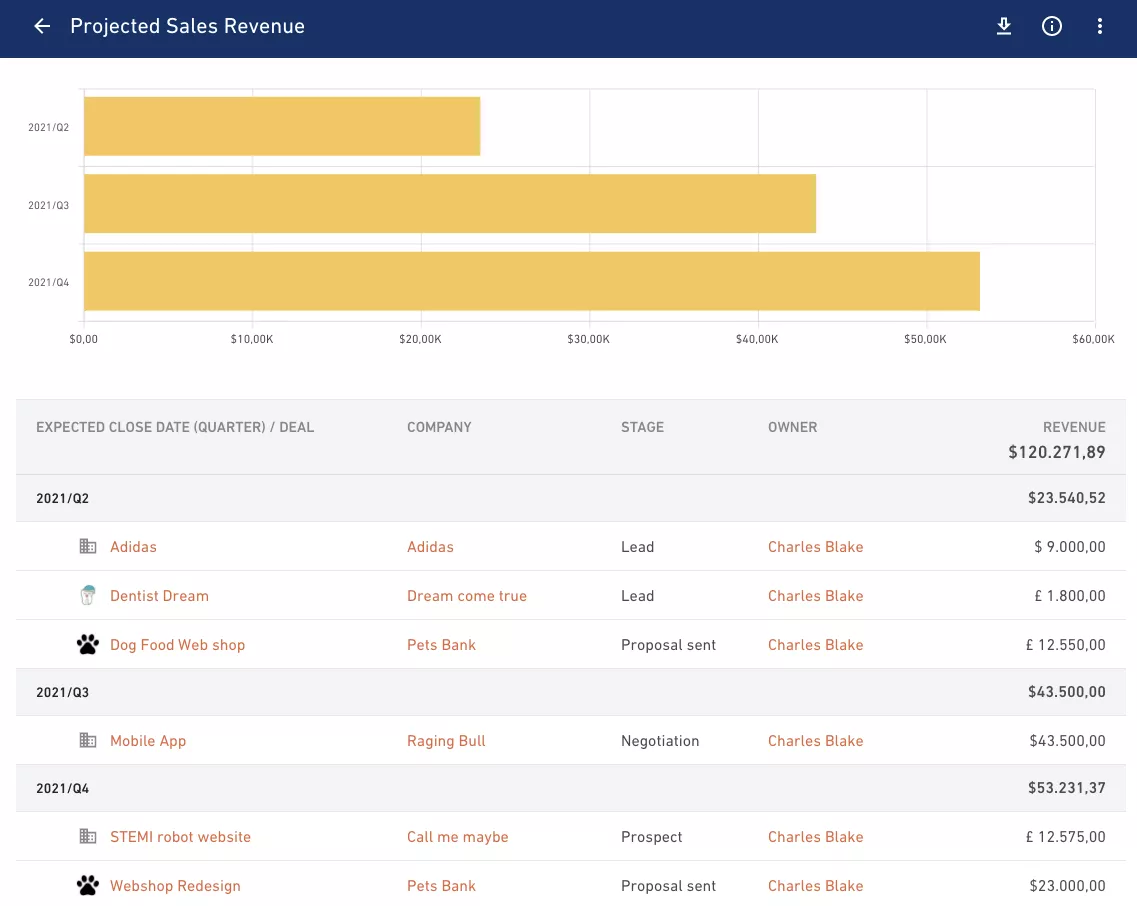 See Into Your Agency's Future
Get robust financial forecasting capabilities to support your agency's long-term success.
2. Forecasting Resource Management
Resource management is one of the most challenging aspects of running an agency. Though resource planning is essential for getting business insights and optimal utilization rates, what makes resource management so complex is shifting priorities and the fact that no two resources have equal capabilities. Many agencies follow gut feelings or past experiences when hiring new employees. This is why forecasting team availability is key.

And forecasting team availability also needs to consider forecasting time off (vacations, unpaid time off) and onboarding. As timelines and requests from clients can change on a daily basis, it's best to keep track of all changes in an end-to-end agency management software.
How to Forecast Resource Management in Productive
Forecasting resources and scheduling teammates on different projects or services will tell you whether your agency needs to hire new talent or contractors in the near future.

Some neat things you can do when forecasting resource management in Productive:
Tailor the look and feel of Scheduling in a few clicks.
Display all your bookings per person or per project.
Edit, duplicate, repeat, split up, or delete bookings.
Use filters to zoom in on what you want to see (particular people, departments, budget).
Turn on heat maps or capacity indicators to see who's overbooked.
Add placeholders as upcoming bookings, for people who are not yet a part of your team.
Allot time for different teammates and turn on Automatic Time Tracking so their time starts getting logged based on the hours you scheduled. 
3. Forecasting Utilization
That's a key thing that we get out of the reports that really feeds into our utilization and resourcing. If we know we're doing 30% on the internal projects, then we know we've got the capacity to take on more work.
How to Forecast Utilization in Productive
In Productive's Insights Library, you can quickly access the following reports:
Forecasted billable utilization by Months
Forecasted billable utilization by People
Forecasted Budget usage by Service
Forecasted Budget usage by Project Manager
What's more, applying custom fields to certain insights allows you to zoom in on a specific metric or set of information that isn't available in an insight template by default. 
There are two ways to forecast revenue in Productive:
In forecasting charts and budget overviews in a Budget: this is better for project managers to get a quick glance at what their forecasted will be per a single budget.
In insights, the central place to look at your entire agency's forecasted revenue.
A. How to Forecast Revenue in Productive Using Forecasting Charts
Forecasting your agency's revenue will be based on project budgets and scheduled resources. Productive can forecast how much budget you will use in the future, and what your forecasted profit, revenue, and billable time will be. All of that can be viewed at a glance, directly from the budgets screen:

As a project manager, forecasting revenue for specific budgets helps you know exactly what to communicate with your teammates and customers.
Forecasting Charts have assisted our organization significantly. The way you can see in a glance that your team is allocated (Scheduled), to how much of the budget you have remaining or to see whether the budget has been invoiced, is obviously extremely insightful.
Watch our webinar about forecasting in Productive and learn how to predict your agency's future.
B. How to Forecast Revenue Using Insights in Productive
To visualize your agency's future and steer it in the right direction, you'll need to access a new custom Financials insight that will be:
Filtered by future revenue
That way, you can forecast exactly how much revenue each project will bring you in each coming month.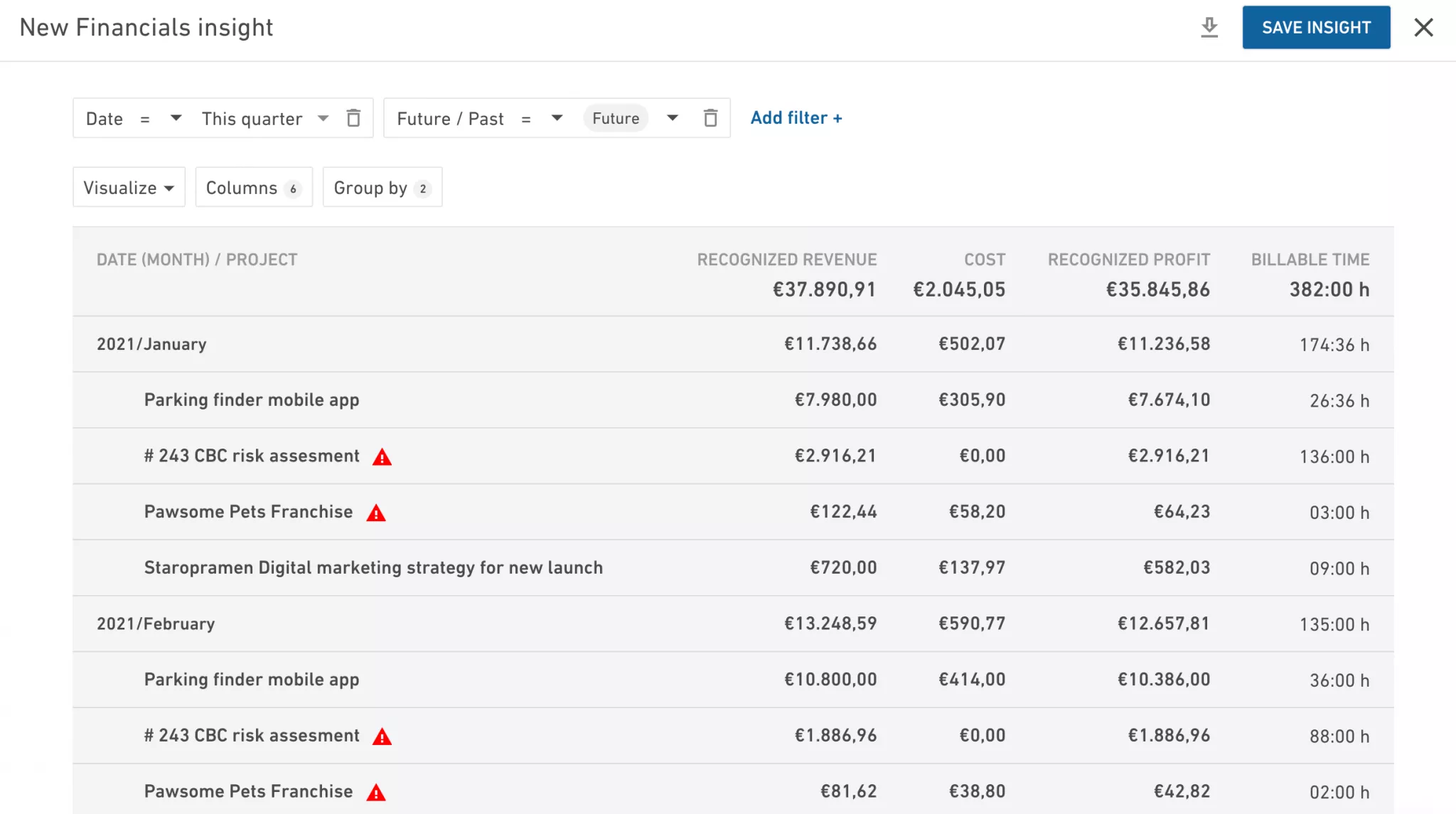 Pro Tips for Revenue Forecasting: Regularly Forecast Your Agency's Expenses
Every month or quarter, take time to identify duplicate or unnecessary costs such as software licenses that you no longer require. 

As an agency, there will come a time when you will need or want to outsource work to contractors or collaborate with freelancers. When collaborating with contractors, it's important to forecast how hiring contractors will affect your revenue. You need to be able to compare the revenue you'd earn without hiring a contractor and by hiring one.

First, to get an idea of your profit with and without the expense of hiring contractors, take a look at some of your similar, completed projects. Then compare the revenue you earned for in-house services with billings for contractors. 

Once you have an idea of the revenue and profit you made by using contractors compared with using in-house talent, you can begin to forecast your agency's expenses. More details and steps on how to do that in Productive in this article: How to Forecast How Much Your Contractors are Costing You.
Revenue Forecasting is Essential for Shaping Your Agency's Future
From sales forecasting to resource allocation and project management and expense tracking—there are many factors that play into the data we use for forecasting revenue and profit.

But how about getting even more specific, like looking at forecasted revenue by client or forecasted profitability by project? In the tricky business of selling services and a rapidly shifting digital economy, it's reassuring to be able to predict your revenue.

Unsure whether Productive can help you shape your agency's future? Read our top three reasons why forecasting is important for your business or contact our Sales team.
See Into Your Agency's Future
Get robust financial forecasting capabilities to support your agency's long-term success.