The Global Agency Landscape 2022: Key Findings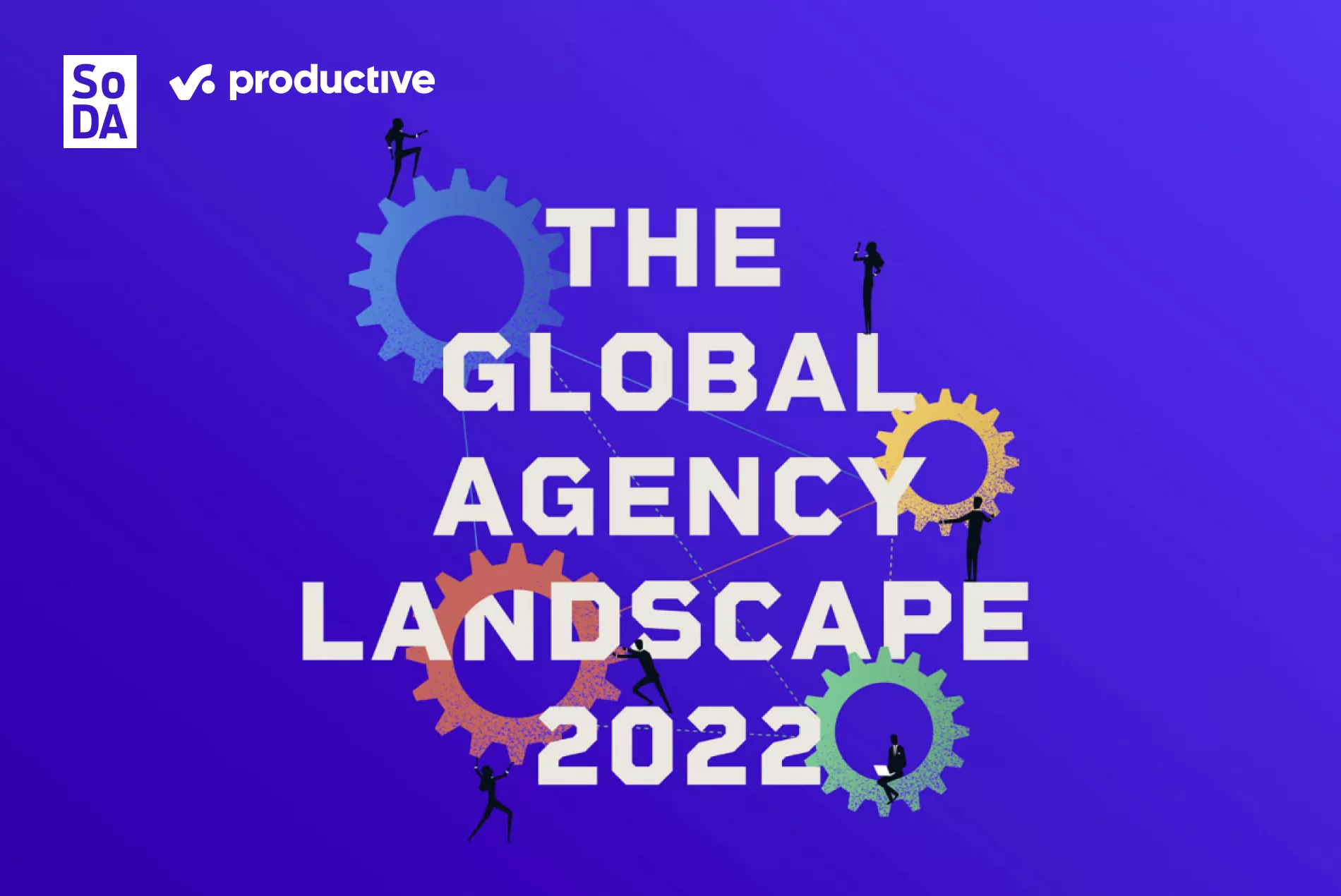 We Help Your Agency Reach New Heights
Switch from multiple tools and spreadsheets to one scalable agency management system.
From November to December of 2021, Productive partnered with the Society of Digital Agencies (SoDA) and surveyed 169 agencies worldwide to get a snapshot of the state of agencies.
The survey results were presented at a live webinar held on February 10th, 2022.

Tom Beck, Executive Director of SoDA presented the study's key findings and was joined by speakers Gabrijela Bosnjak, Senior Business Development Representative at Productive and Jameson Proctor, Partner at Athletics.

Industry professionals and media representatives joined in to hear:
Agency operations and forecasting challenges
A review and plans for sales and marketing activities
Workplace and talent in 2021 and 2022
But before we get into the key findings…
Why Was This Study Important?
Agencies wanted to benchmark themselves in light of global changes in the industry. Priorities shifted throughout the pandemic, and agency leaders needed to assess their business performance and identify room for improvement.

Through this study, Productive wanted to get the pulse on agency business performance around the globe. Each week, we gather feedback from hundreds of agencies and we're always looking to understand the industry even better.

As a global community of agency founders and leaders, SoDA is at the forefront of industry insights, performance and trends and regularly fields industry benchmark surveys.
Who Took Part in The Global Agency Landscape 2022?
Most surveyed agencies are digital agencies (41%) and a smaller part are integrated agencies (14%) and consulting agencies (13%). The majority of agencies are from Europe and the US (80%), while the rest of the respondents are based across the APAC region, Latin America and Africa. The aggregated results were gathered anonymously.
Key Findings of the Global Agency Landscape 2022
Overall, results from the survey indicate that there's a lot of reason for optimism for the industry in 2022, and beyond—51% of agencies say 2021 was one of their best years yet. Agency leaders have also scored a high 82% in confidence that 2022 will deliver even more profitable growth than 2021.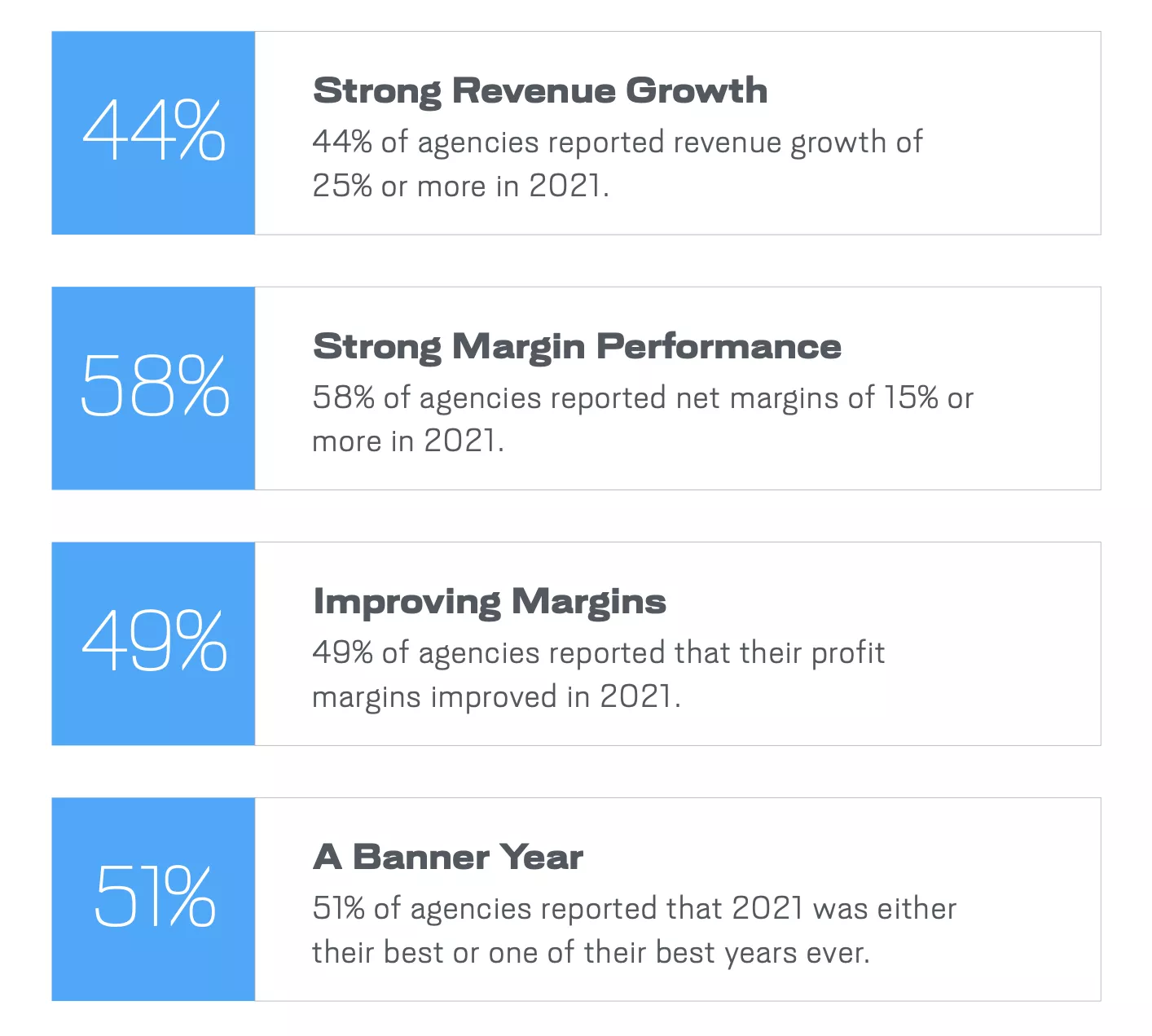 2. Profitability and Growth
Agencies flourished in 2021: 81% of agencies reported revenue growth and 54% reported margin performance of 15% or more. Good financial performance should enable agencies to invest in the most critical areas of their business: talent and development, operational efficiency, plus sales and marketing.
"We learned that less than 50% of agencies use an integrated platform that shows them their financial indicators in real time. That's a sign that room for growth lies in leveraging the right technology."
 
Gabrijela Bosnjak, Senior BDR at Productive
3. Forecasting and Resource Planning
Surprisingly, most agencies work off of metrics that show them their past performance rather than being able to forecast their KPIs: 50% of agencies have less than three months of visibility into their revenue forecast. This makes resource scheduling an enormous challenge.
4. Hybrid Work and Talent Management
Talent management has always been critical to the agency business. 49% of agencies responded that attracting/retaining talent is one of their top strategic investments in 2022. Hybrid work has increased productivity, but new challenges and complexity arise with a global talent pool and employee well-being. Burnout is still an enormous problem, with a whopping 57% of agencies responding that they have experienced it in 2021.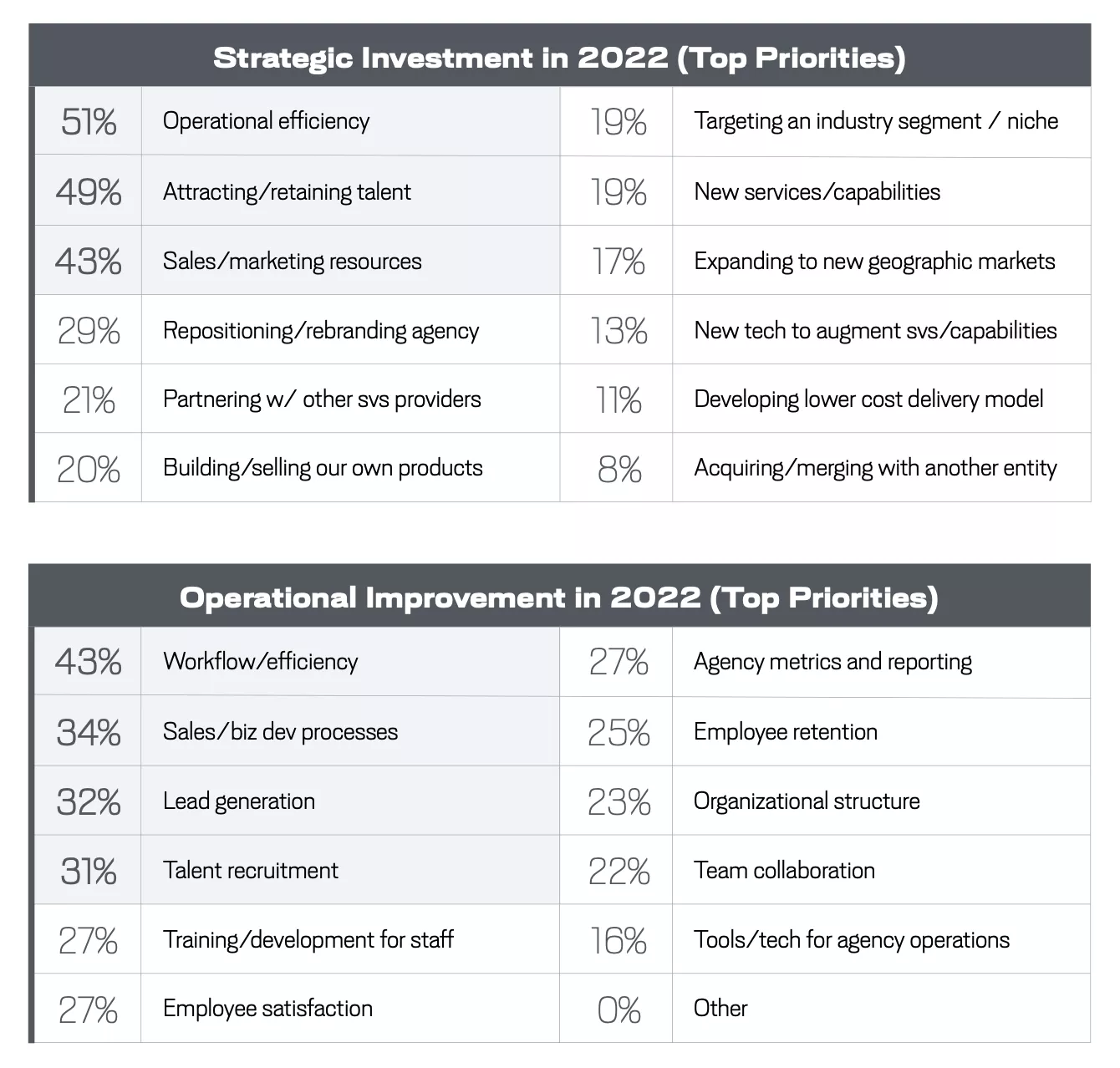 5. Priorities and Goals for 2022
Priorities for agencies in 2022 are inline with top areas for strategic investment. Besides hiring and retaining talent, 51% of agencies will invest in operational efficiency, and 53% plan on enhancing their sales and marketing efforts. Looking back at how these areas were approached in the past year—the majority of agency leaders spent less than 5% of net revenue on business development and less than 3% of net revenue on marketing in 2021.
Culture Eats Strategy for Breakfast
Peter Drucker said it well: "Culture eats strategy for breakfast."

Leveraging technology will enable agencies to gain real-time insight into their financial picture, balance current workloads and adequately plan out hiring. Many agencies rapidly adapted to a different working environment during the pandemic. However, critical areas such as agency culture, team collaboration, and well-being need to be addressed and monitored as an agency's key asset.