Easy Time Tracking for Teams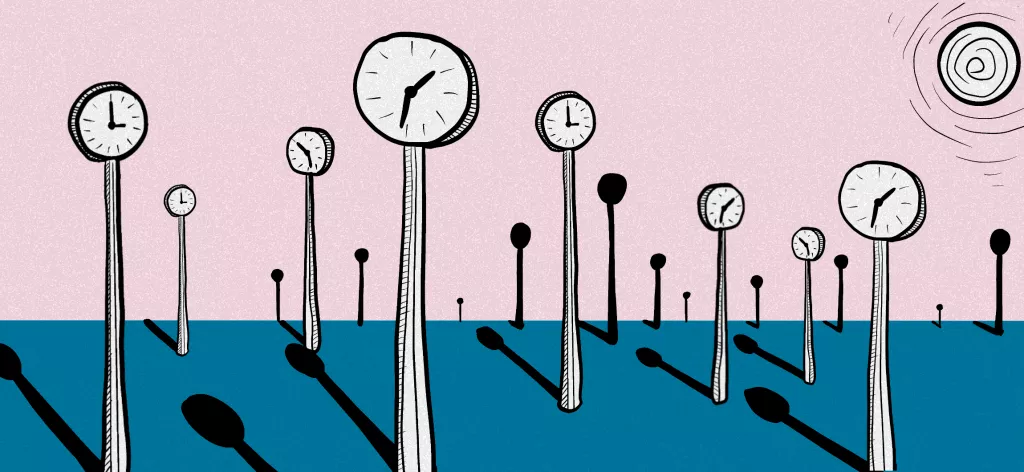 We Help Your Agency Reach New Heights
Switch from multiple tools and spreadsheets to one scalable agency management system.
Project and operations managers, agency owners and finance folk know how crucial it is to know where each hour is being spent. But how to get your non-managerial staff, who generally dislike tracking time, to understand the same? 
No matter which method you'll use to get your teammates to punch in work, finding the best time tracking software for your agency will give you more precise utilization reports. 

In this article, we go through some of the questions you should ask yourself before choosing a time tracking software for your agency and show you how easy time tracking for teams can be in Productive.
How To Find the Best Time Tracking Software For Your Agency
There are certain questions to answer when seeking out the best time tracking software for your agency. 

One of your first concerns will be what the user experience is like. Literally:
1. Is time tracking easy? 
Because most teammates really can't stand the task, your time tracking software of choice needs to be easy to use. This especially goes for your creative teammates, who sometimes may feel that they're losing time switching between multiple different projects or experience a creative block now and then.

For some advice on that, read this: Struggling to Get Creatives to Track Time? Here Are Four Foolproof Tips.
2. Can I approve and deny submitted time entries from teammates? 
What's important is that as a manager, you can decide whether or not tracked time is billable or non-billable. Maybe you need more details to understand where exactly time went, so you can share timesheets with clients.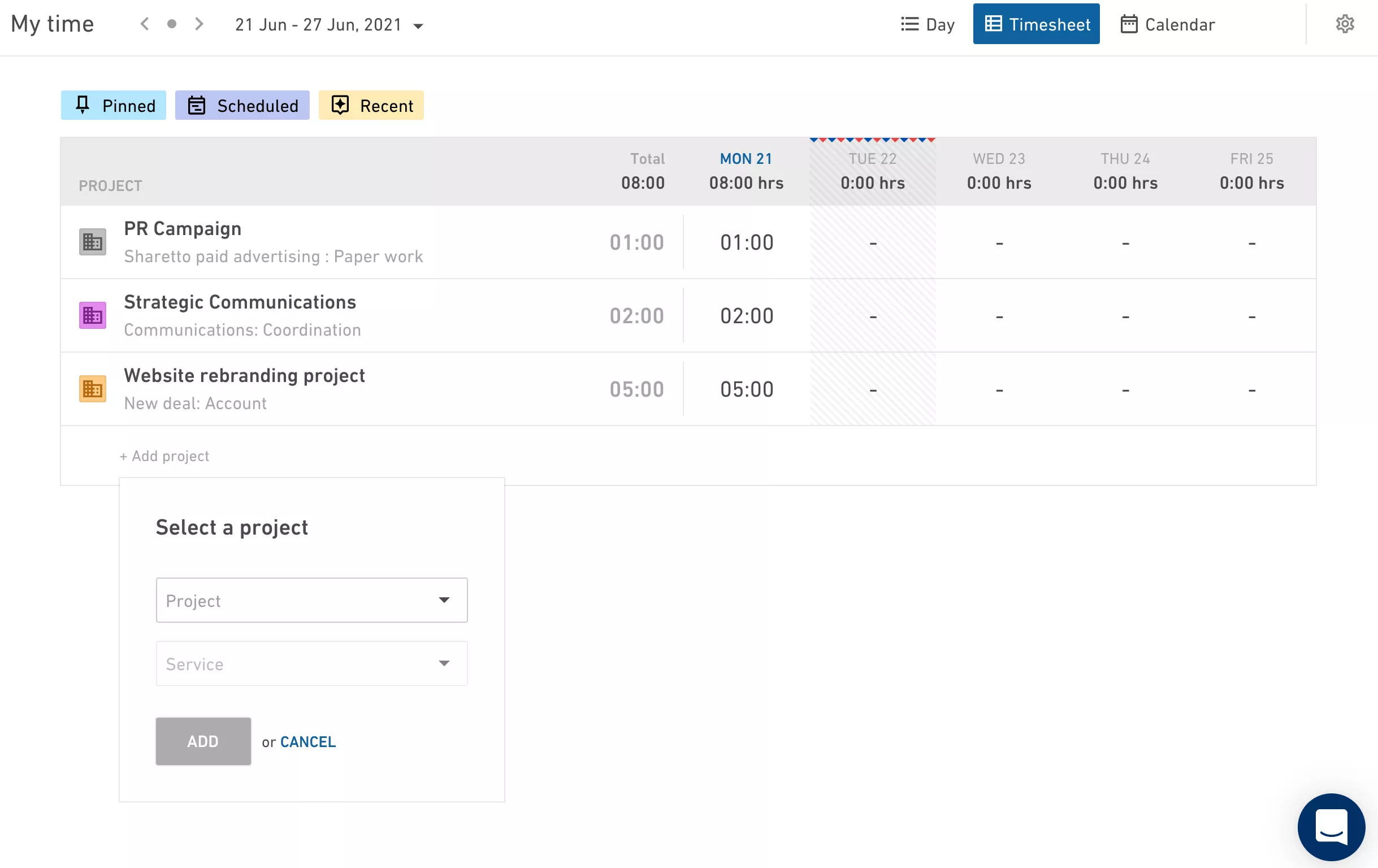 This brings us to question number three.
We Help Your Agency Reach New Heights
Switch from multiple tools and spreadsheets to one scalable agency management system.
3. Can I share time logs with my clients?
Certain clients will want to understand where time was spent in relation to the budgets they've given you for projects or campaigns. That's reasonable. So why not give your clients access to time logs if you've approved the hours your teammates have tracked?

Next, you'll probably want to check if this time tracking software is a place where you can manage time off, too.
4. Is PTO management linked with time tracking?
Since time tracking enables you to manage your operations and resource planning better, it'd be ideal to find a tool in which you can manage time off.

The benefits of having a time off management feature in your agency management software: 
It saves admin time for your employees, i.e. there's no need to send an email to request time off
It saves time for your HR team, as you don't need to integrate with another HR tool or
It'll streamline your agency's workflow
It'll help you make wiser decisions regarding project and operations management 
It'll help you with business forecasting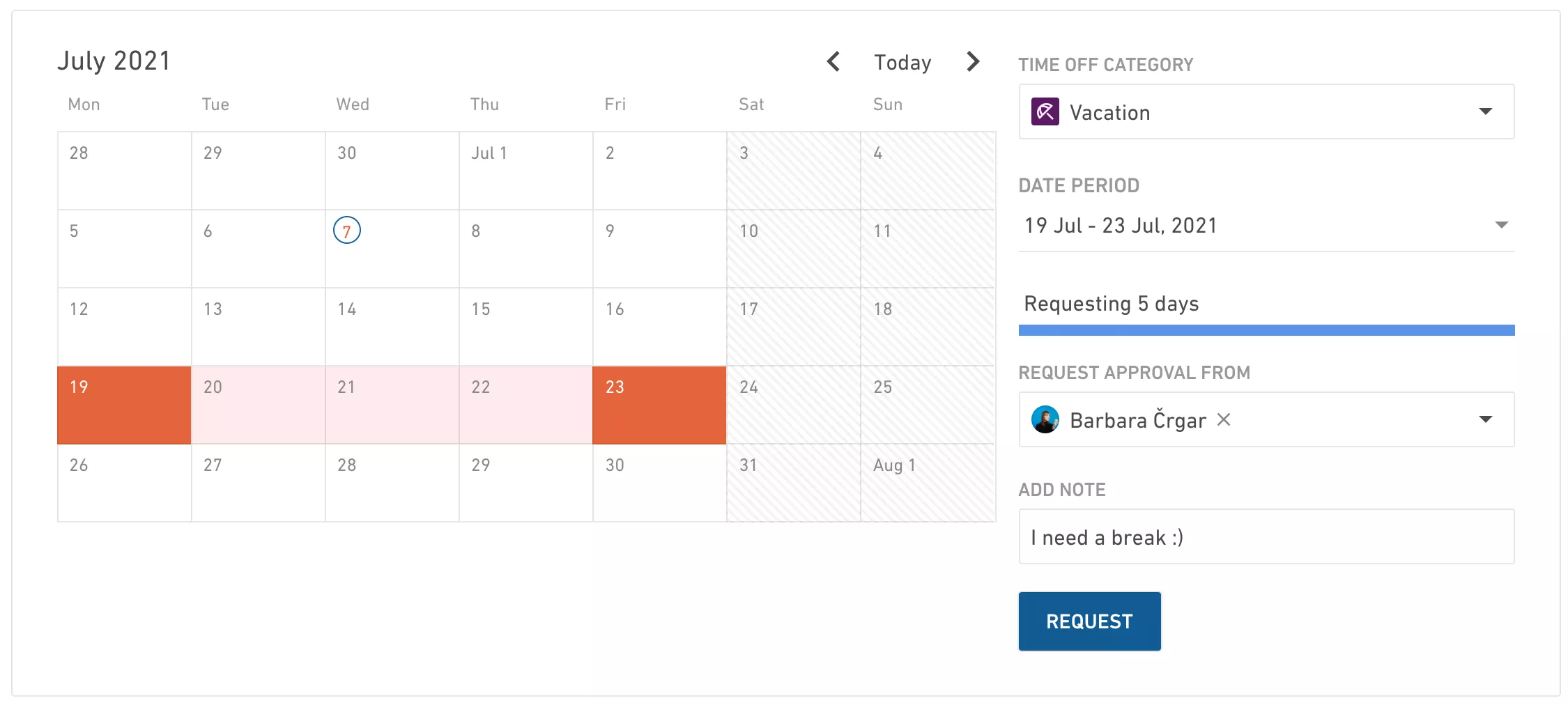 Patric Osburn
Service Operations Manager,
Quintica
"With scheduling and timekeeping in Productive, we're able to understand what our managers are doing and when they forecast doing what. Productive has also alleviated a lot of the meetings that we used to have to discuss resourcing. We had different sheets all over the place."
Now, let's move on to how easy time tracking for teams needs to feed into your agency reporting.
5. Does tracked time automatically feed into profitability reports?
Tracked time should be linked with specific services within different projects. As soon as your teammates track billable and non-billable time against services, your profitability reports should automatically get updated as well. You shouldn't be wasting time on additional calculations or formatting endless cells and spreadsheets.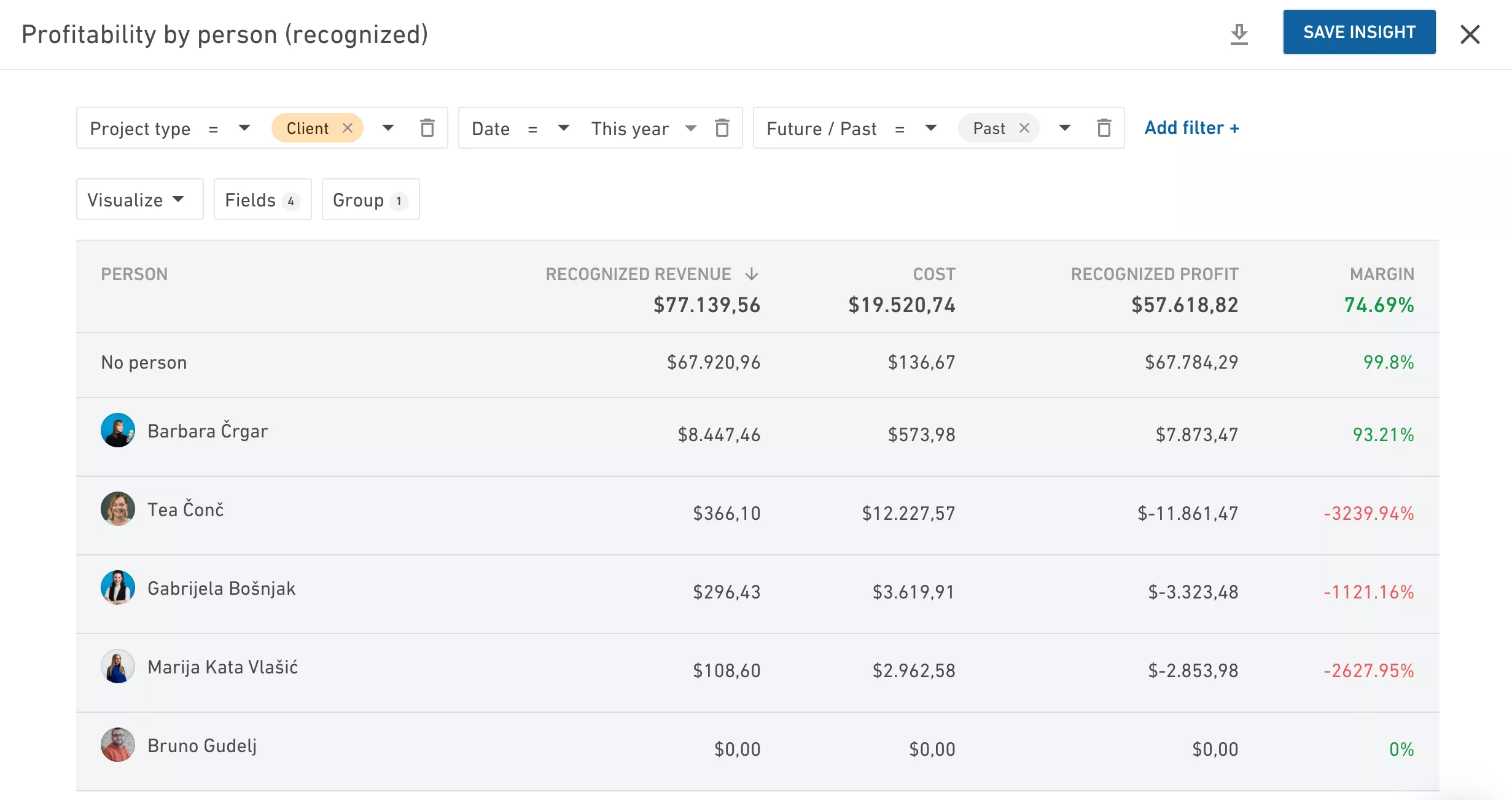 Amy Nichols
Director of Operations,
Seven2
"Before I had to manually pull numbers from our intranet, copy and paste them into a spreadsheet, and then reformat all of the numbers. Now I just go to reports and my numbers are waiting for me!"

6. Is time tracking linked with billing?
To save time on figuring out which tracked hours you need to bill your clients, aim for a time tracking software that's linked with your invoicing.
In Productive, you can pull in uninvoiced time tracked on hourly priced projects, or you can automatically invoice remaining amounts on fixed projects.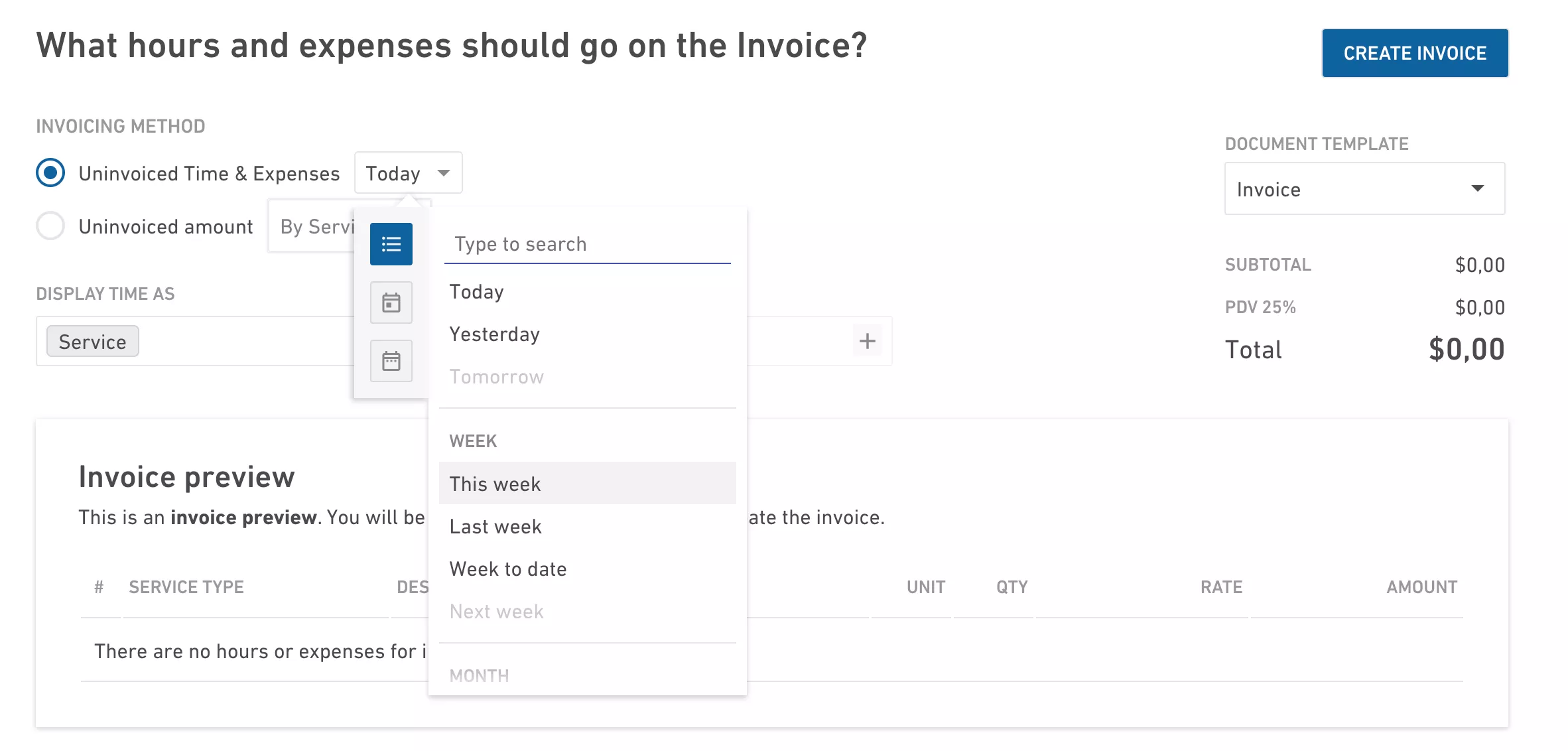 Bonus question for tech teams: Can the time tracking software integrate with Jira?
Easy Time Tracking for Teams In Productive
Productive's philosophy around time tracking revolves around three ideas: 
To ensure easy time tracking for teams 
Time tracking is the foundation of resource planning and forecasting
Time tracking feeds into reports so you can monitor your most important agency KPIs
We made it that you can choose from six different ways to track time in Productive.
At the end of each workday or preferably—as you finish each task, log your work in My time.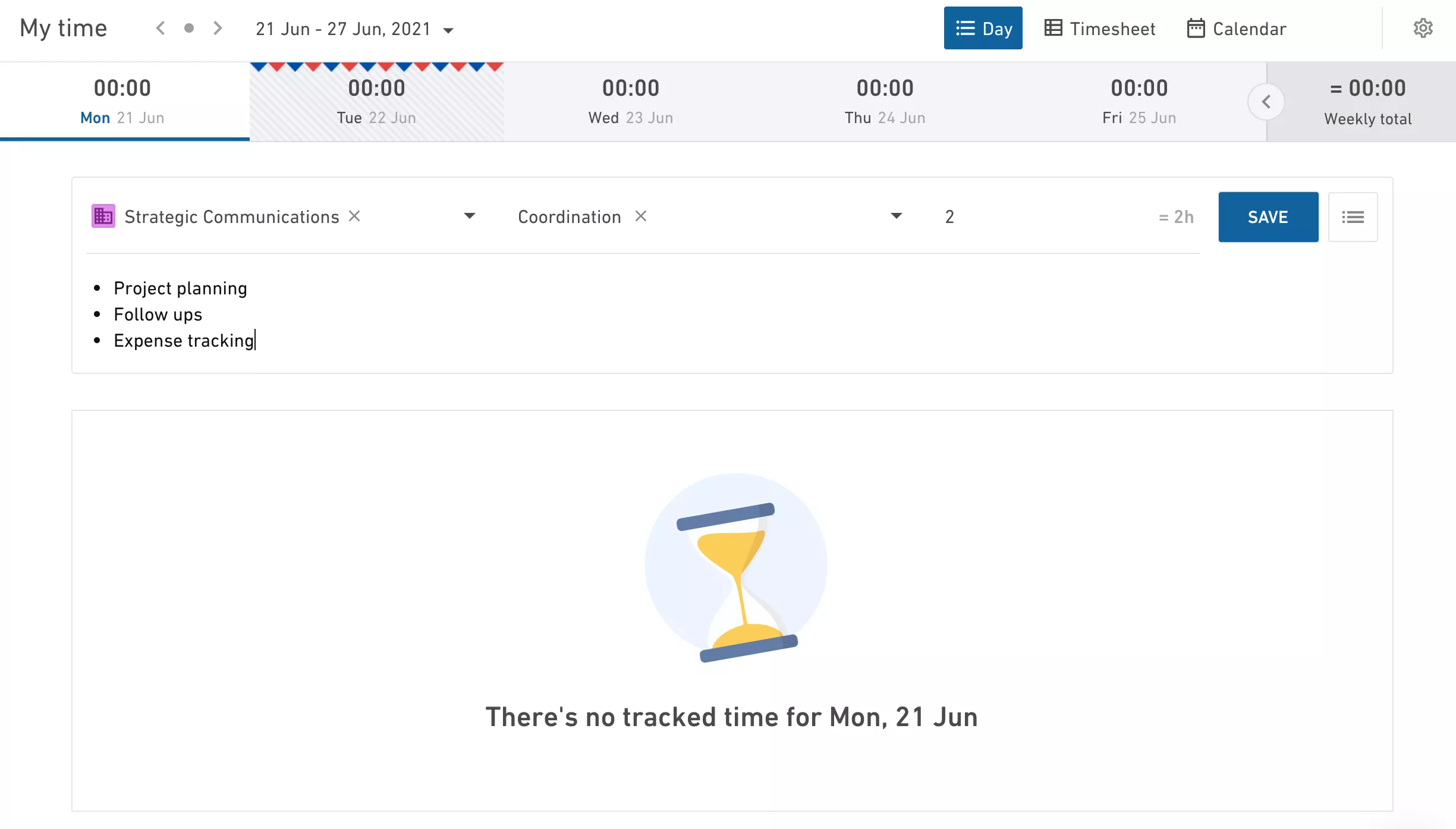 If you're into weekly timesheets, we've got you covered. In Productive you can go into the Time section and log your work on a weekly basis.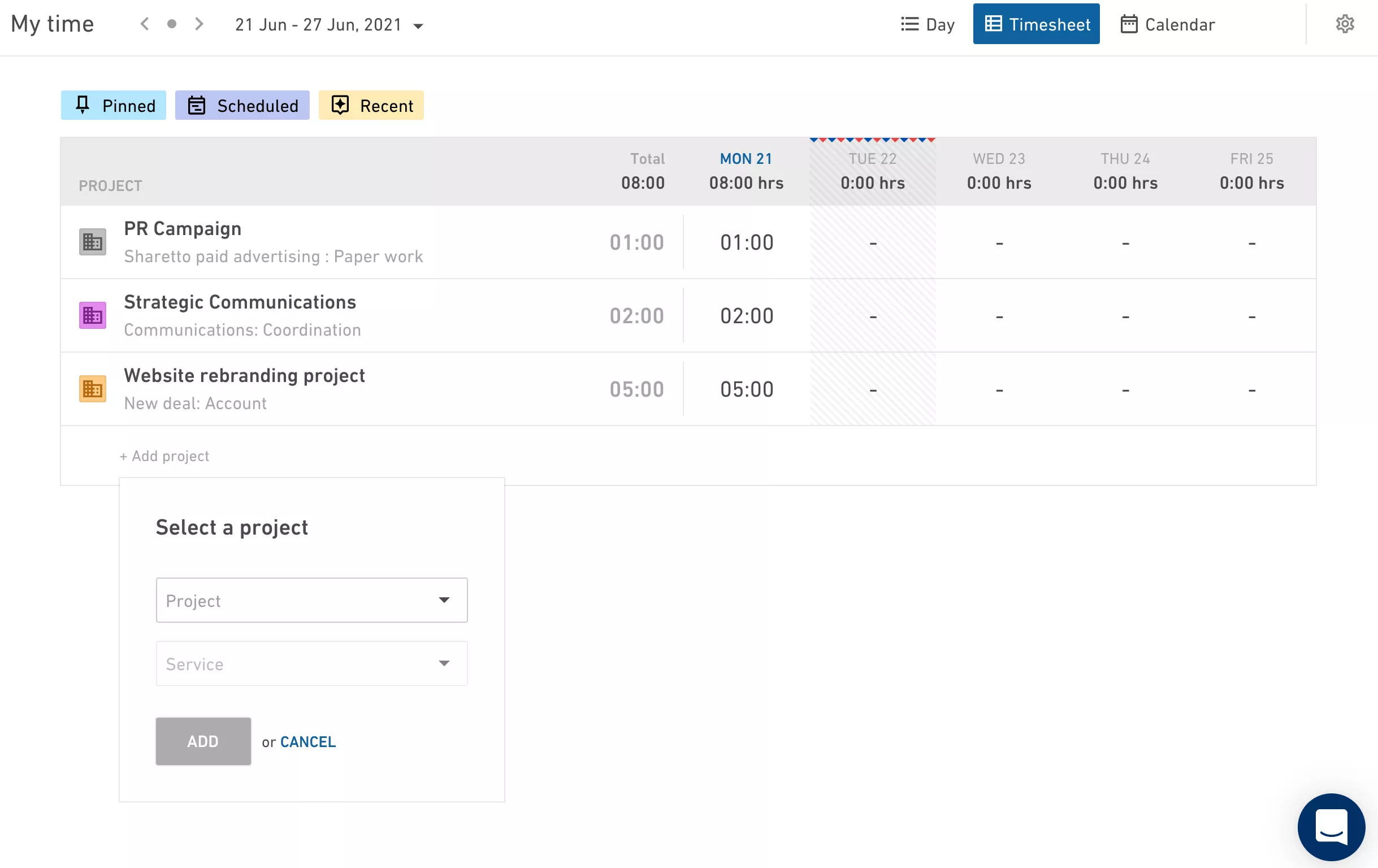 3. Track Time Quickly With the Timer
Once you have your time punched into the desktop timer in the lower-left corner of your dashboard, activate the Desktop timer as you start working on different tasks.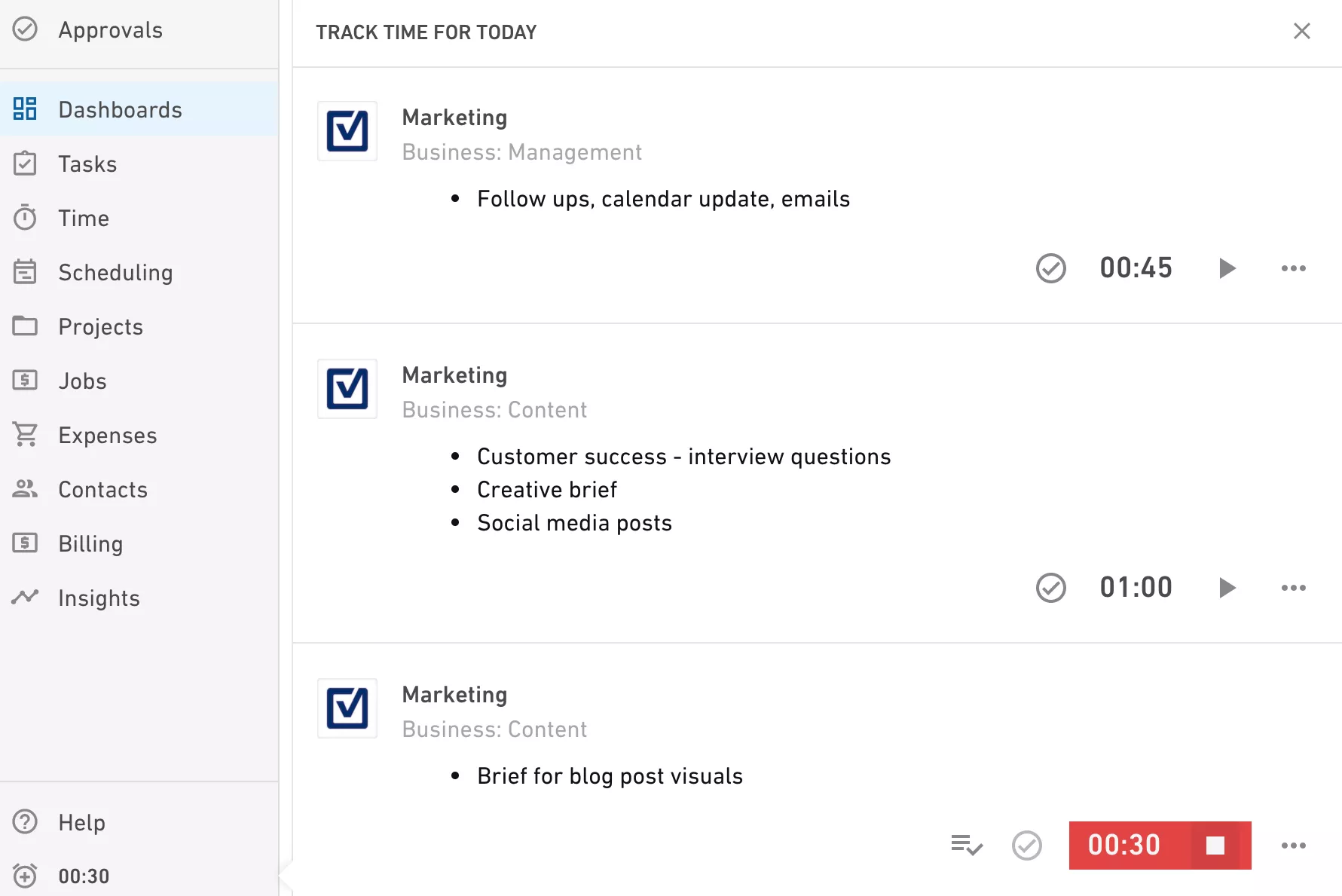 4. Automatic Time Tracking
Another time tracking feature Productive offers is automatic time tracking. The idea behind it is that your manager or team lead pre-schedules your work and all you need to do is press play on the Automatic Time Tracking button.

5. Calendar Time Tracking
Productive's Calendar layout lets you easily add time entries to a certain day. Simply click, drag, and drop a time entry where you want it in your calendar and decide which service it belongs to.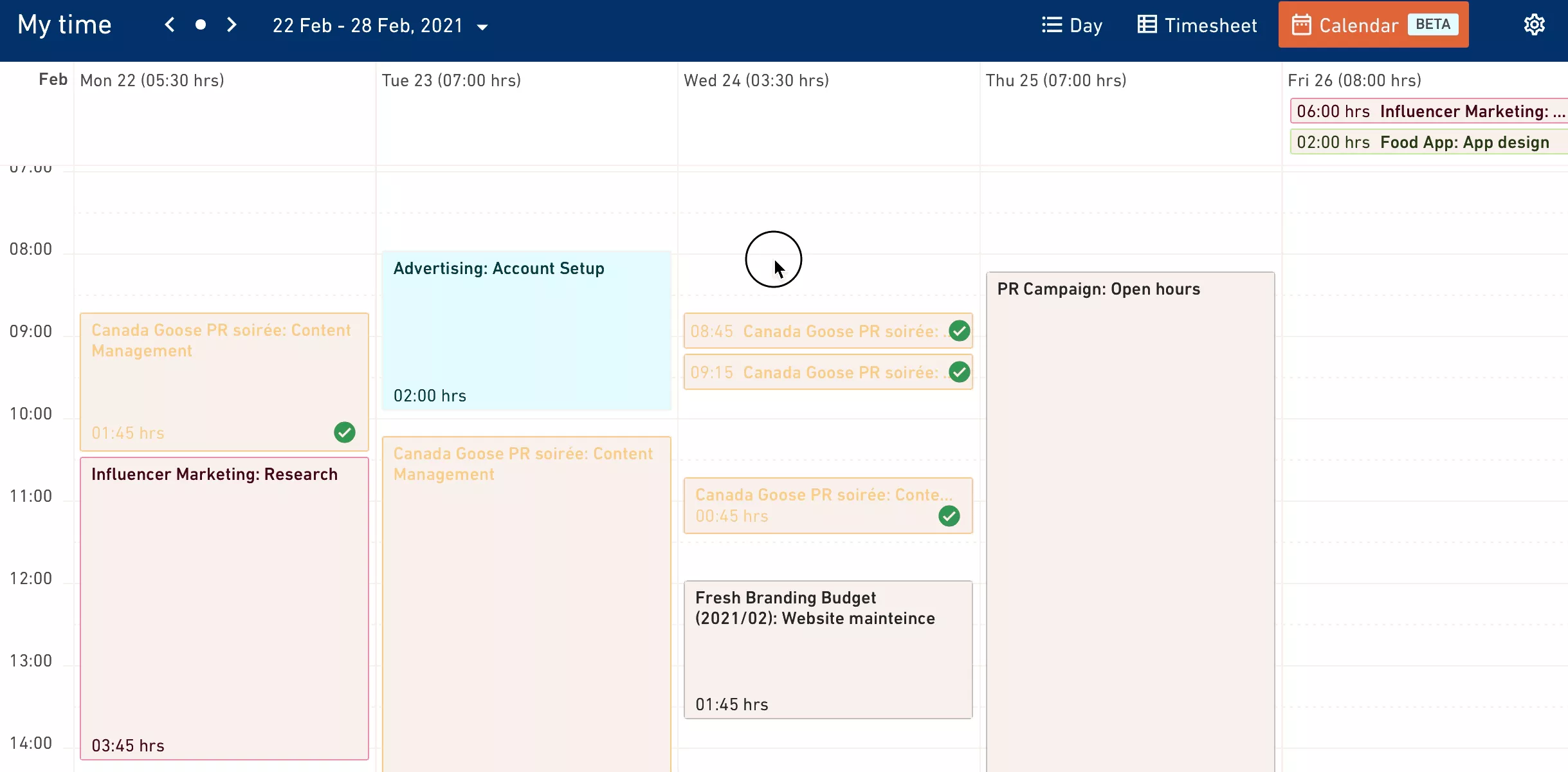 What's more, you can integrate your Google or Microsoft Calendar and Productive and events from your calendar will be represented as "ghost" bookings. Then you track time against those bookings by clicking on them and then assigning them to a project. 
To learn more about Calendar time tracking, watch this video.
6. Tracking Time on Tasks
If you want more details in time entries, Productive lets you track time directly within tasks, too.
Last, but not least: with Productive's app for Mac, you can track time using the Desktop Timer located in the menu bar.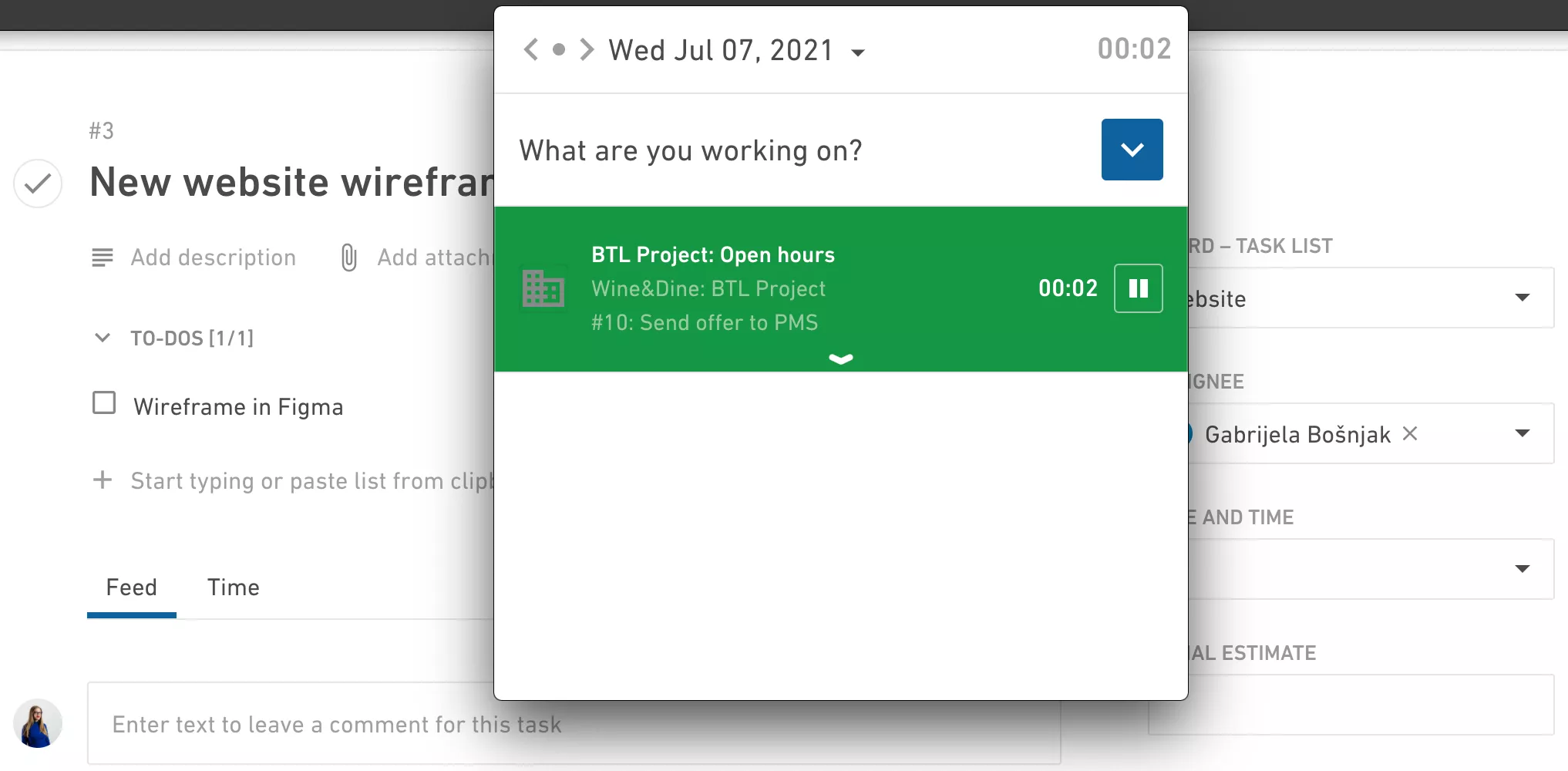 Recap: What Will a Time Tracking Software Give Your Agency?
When your time tracking software is easy to use and an integral part of your agency management tool, here's what your agency can expect through time:
More streamlined processes
More informed decision-making
Improved utilization rates 
Vedran Marušić
Operations Manager,
Typeqast
Our mission was to find a solution and establish processes that would be easy to use throughout the company. Tracking time needed to be as simple as possible. Productive offered that right from the start. By doing a hard cut-over to Productive, we had the whole company tracking time within a week—with minimal supervision and need of assistance.
Easy Time Tracking For Teams: Key Takeaways 
Here's what you should take away from this post:
Tracking time needs to be as simple as possible
Tracking time needs to be as simple as possible
Whichever time tracking software you choose for your agency, your team needs to track time so that you can get utilization and profitability reporting
Schedule a demo call with our Sales team to learn how Productive can help you with time tracking for teams