Pro Tips: Master Resource Management Using Productive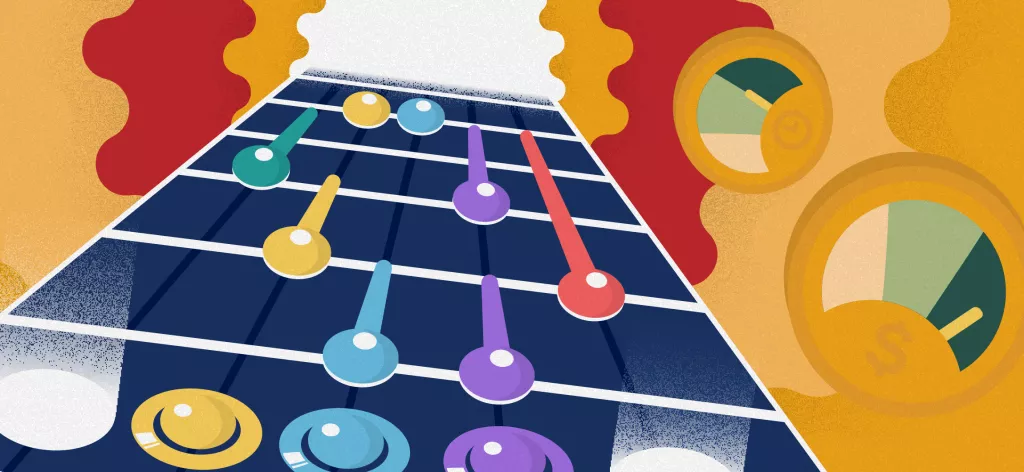 We Help Your Agency Reach New Heights
Switch from multiple tools and spreadsheets to one scalable agency management system.
By now, you probably know why it's essential to master resource scheduling for your business to thrive.
But if you've got all the theoretical knowledge one could ask for and lack practice, you came to the right place. Here, I'll explain how to use Scheduling in Productive, you'll learn a few neat tricks, and you'll discover how this Productive feature can help you predict the future. No crystal ball needed.

See also: Resource Planning Guide: How To Optimize Your Project Planning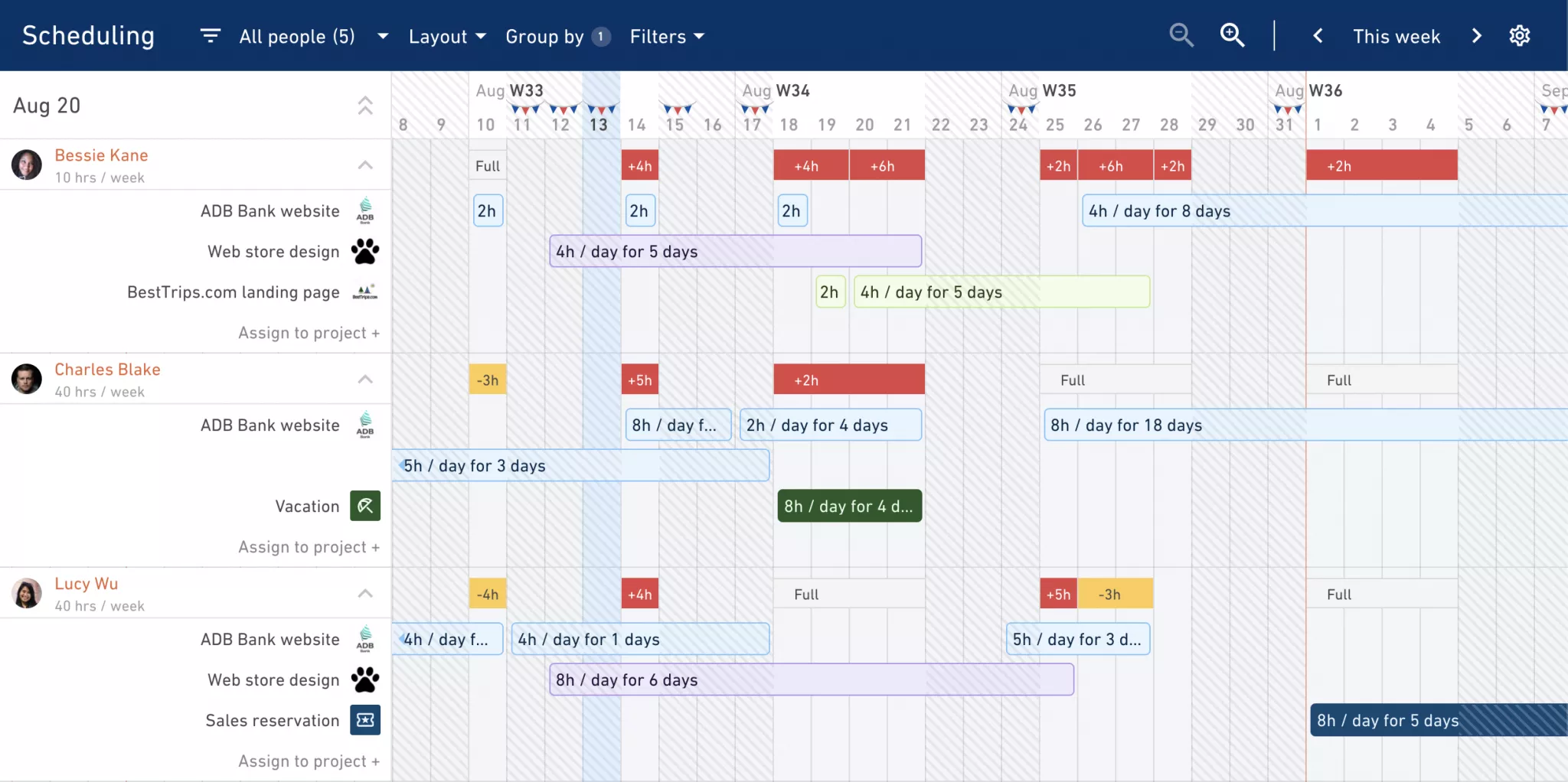 It all starts with the main view. It may look a bit intimidating at first, but I assure you that once you get the hang of it⁠—it'll be a piece of cake. In fact, by the time you get through half of this article, you'll know what I'm on about.

Let's start with a couple of basics: You can tailor the look and feel of Scheduling with just a few clicks. The sidebar can be resized, and you can display all your bookings per person or per project (Group By > Person; Group By > Project).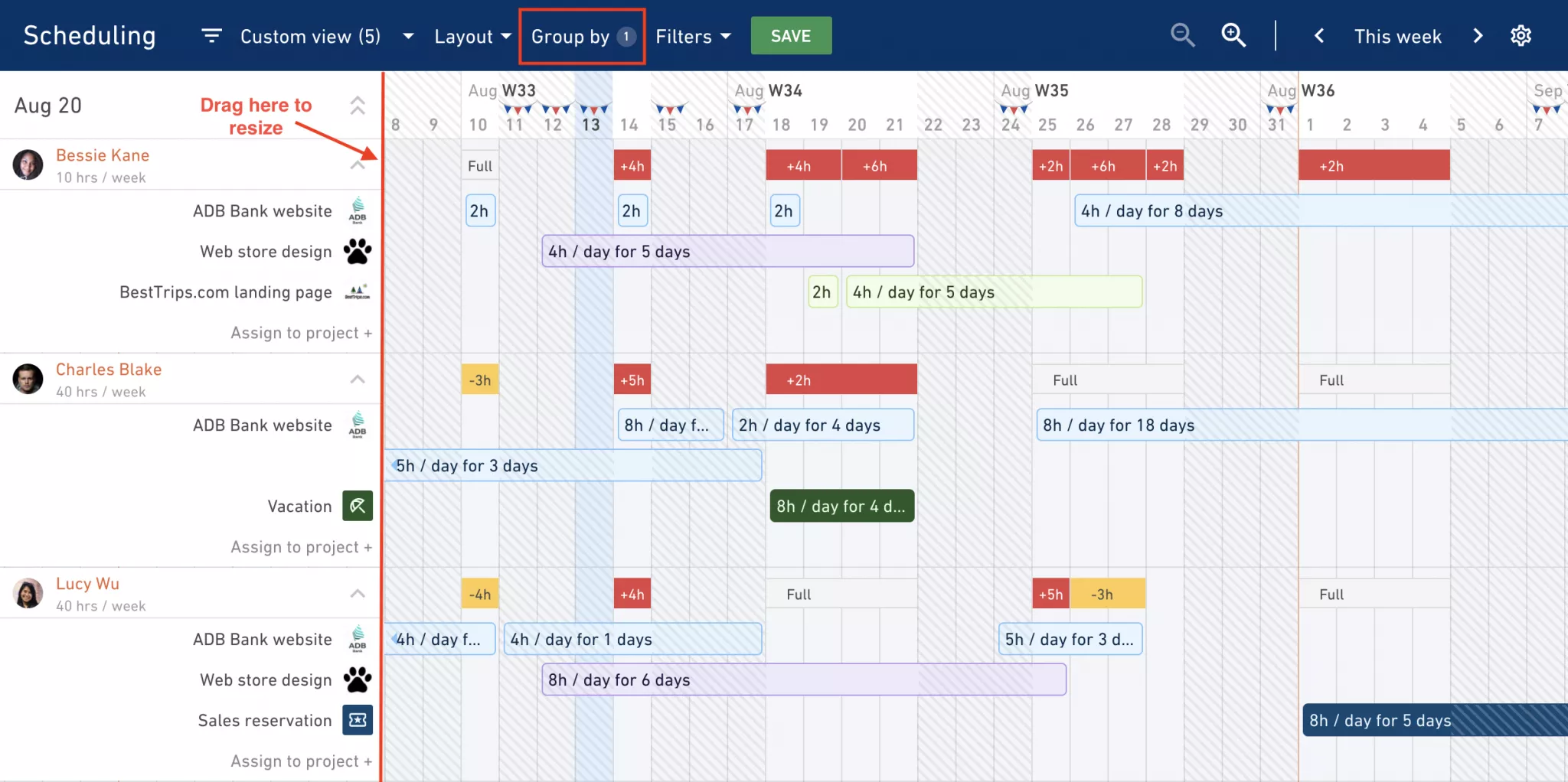 Tip: Select Group By > Time Off Category to instantly see only teammates who are on vacation or using sick leave.

Once you've customized your view, it's time to create a booking. Each booking will appear as a colored bar in the timeline. To do that, click on the place in the timeline where you want to add the booking or hit "Assign to project" located under the person you want to assign to a project:
Whatever option you choose, the same window will appear. First, select a project, then a service and how much time you want to allocate. You can instantly check how much time you can allocate to that project, like this: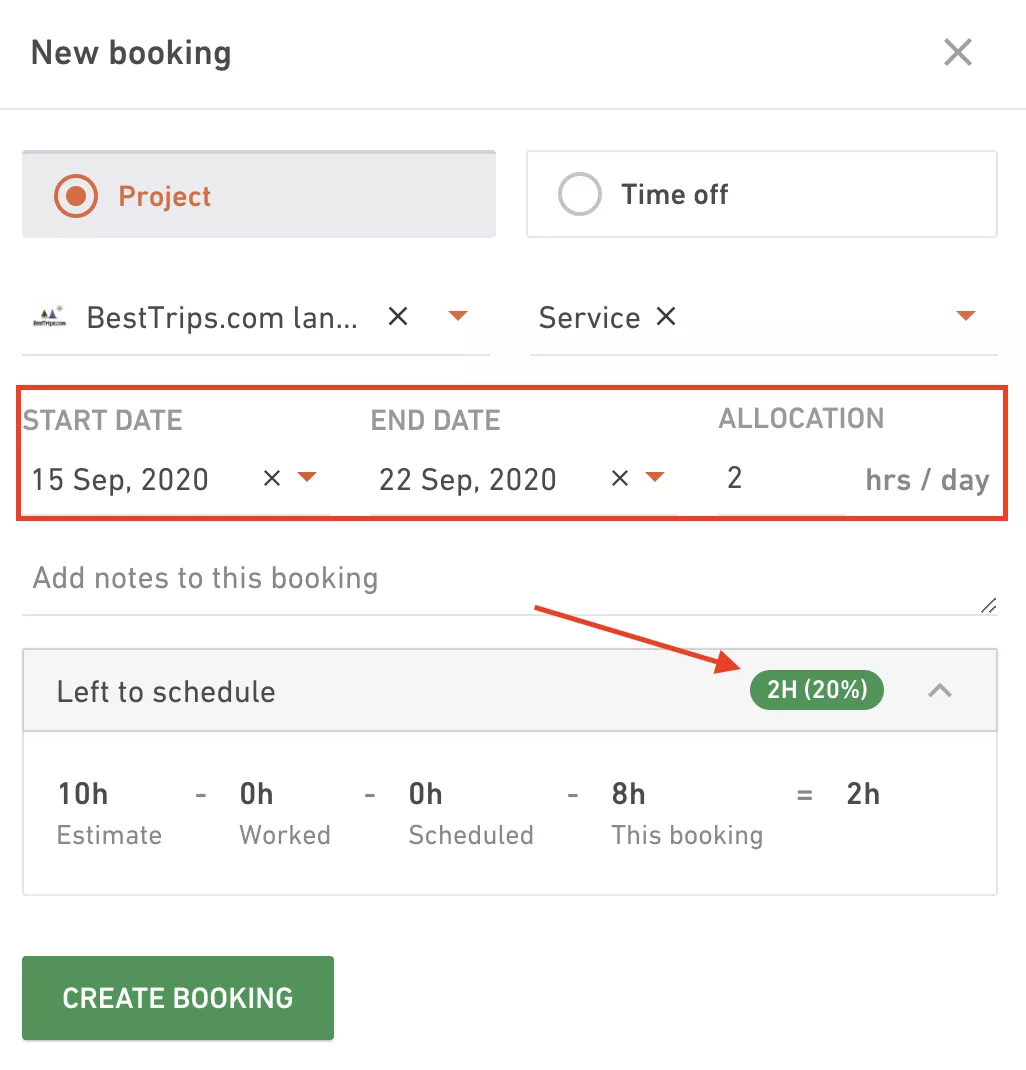 Luke is now scheduled to work on this project for three days, and a handy popover shows the name of the company and the name of the budget:

When you click on the bar, you can edit, duplicate, repeat or delete it. You can also change the duration of the booking and assign it to someone else with a few gestures:

So let's take a look at the very first screenshot for which I promised it would look less intimidating now: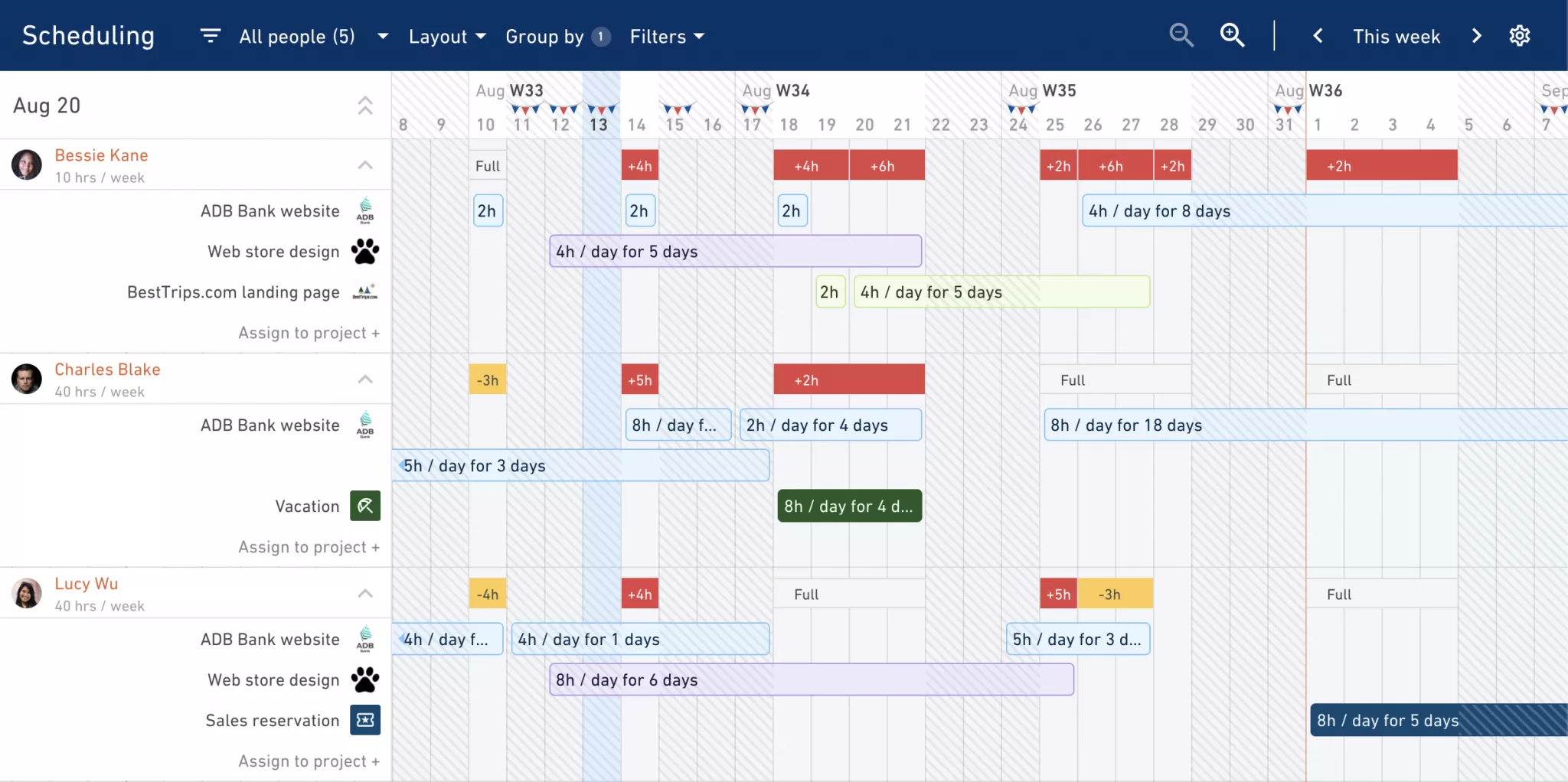 Hit Filters to fine-tune what you want to see: certain people, departments, or a particular budget. 

One thing I should mention now are heat maps or capacity indicators which you can toggle on and off by clicking on the cog icon in the upper right corner. They'll tell you which teammate is overbooked, who needs more work, and who's doing just fine.

Now it's time to talk about the future. To do that, first let's introduce Placeholders, your future-facing, virtual teammates. Say you've negotiated a project that will start somewhere in the future, or you have a project that may require scouting for new talent. With Placeholders, you can add bookings in for people who are not yet a part of your team, the same way you would book your teammates. 

Here, I can check if the project for ADB bank will need a designer. By the looks of it, I'd have to utilize them for more than just that project, if I decide to hire.

Of course, the main information I want to know is: is this client profitable? Is this project making money or losing money? Using the data from Scheduling, Productive can forecast how much budget I will use in the future, along with the revenue and profit. All of that can be viewed at a glance, directly from the budgets screen:

But we didn't stop there. What if I wanted to check out utilization forecasting per staff member for a future project?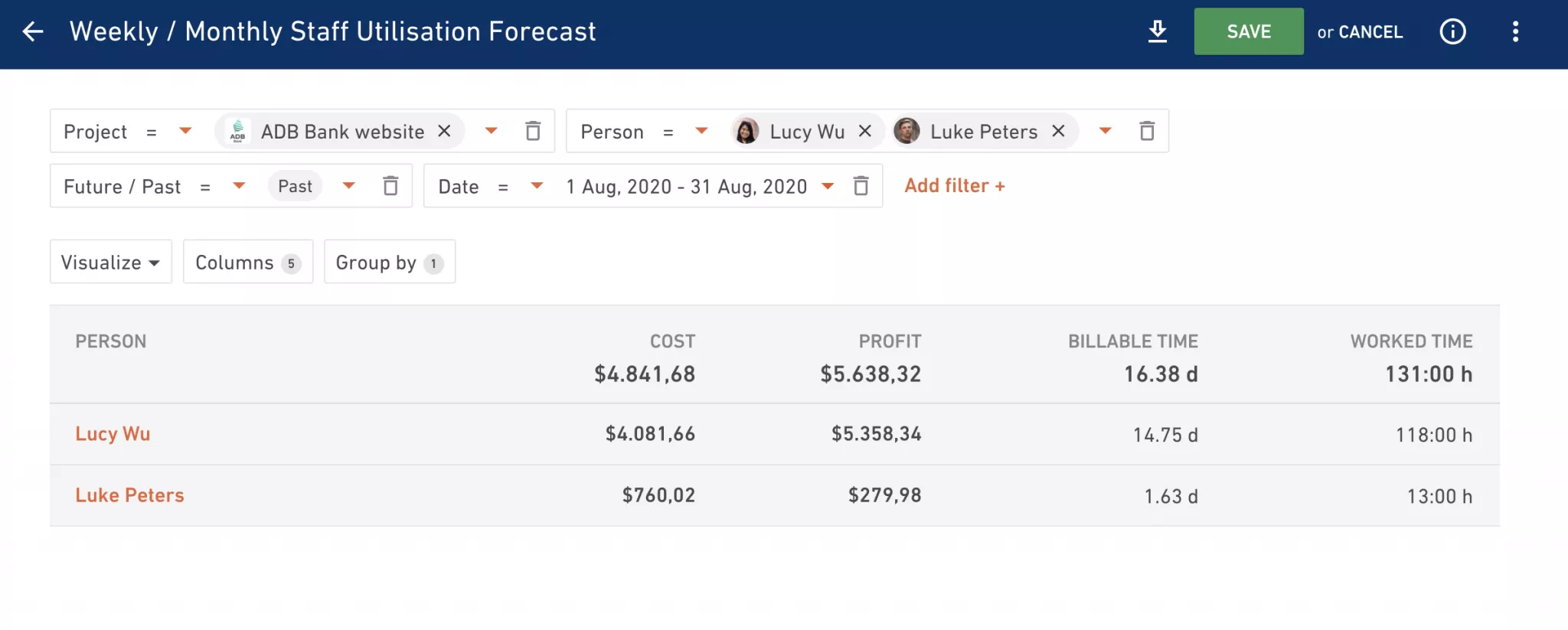 In this report, I can see what will be the forecasted cost per employee and forecasted profit per employee. 

There is so much more coming your way as Productive is working hard to future-proof your finances with new major Forecasting features coming this fall. 

Feeling eager to find out about our new updates? Let us know, and we'll sign you up for beta access!

For any other questions or support you need in using Budgeting, Scheduling, and Placeholders, as always — don't hesitate to reach out.

See also: 12 Best Resource Management Software Solutions