Five Features In Productive Scheduling You Should Really Use
Scheduling in Productive can help you with most of your resource management challenges; from planning your future work to managing workloads and handling time off for your teammates.
To make sure you're using it to its full potential, check out these five advanced features that are easy to implement, yet could be a lifesaver in some situations.
Streamline Your Resource Planning
Manage your agency's resources and optimize your utilization with an all-in-one agency management tool.
1. Edit Multiple Bookings At Once
You've done your homework – you've created tons of bookings for your teammates and all of their work is planned for weeks (perhaps even months) ahead. But then, something happens— someone gets sick, a project gets postponed or cancelled. Yikes, it seems that you'll have to do it all over again.

Despair not, as there is a quick and easy way to edit multiple bookings in one take. Just hold the shift key on your keyboard and select the bookings you want to edit. You can shift them to the left (into the past), to the right (to the future), or extend the length of the booking.

2. Custom Fields For Bookings
Need to differentiate bookings in a certain way? For example, you've assigned someone to a project, but you're waiting for the budget to be approved, or you need to confirm with the person that they can take on the job.

For that purpose, you can use Custom Fields—your custom classification of data. Just create a set of custom fields and apply them to a booking.

This company is using Custom Fields to see which bookings are approved so that the work can start soon. Note that only the bookings that are labeled with the selected field are being shown. 


While Scheduling can help you with managing work for your existing team, sometimes you want to see if you should be looking for new teammates, or perhaps hiring a contractor for a limited time.

With Placeholders, you can add virtual people to Scheduling and plan the work easily: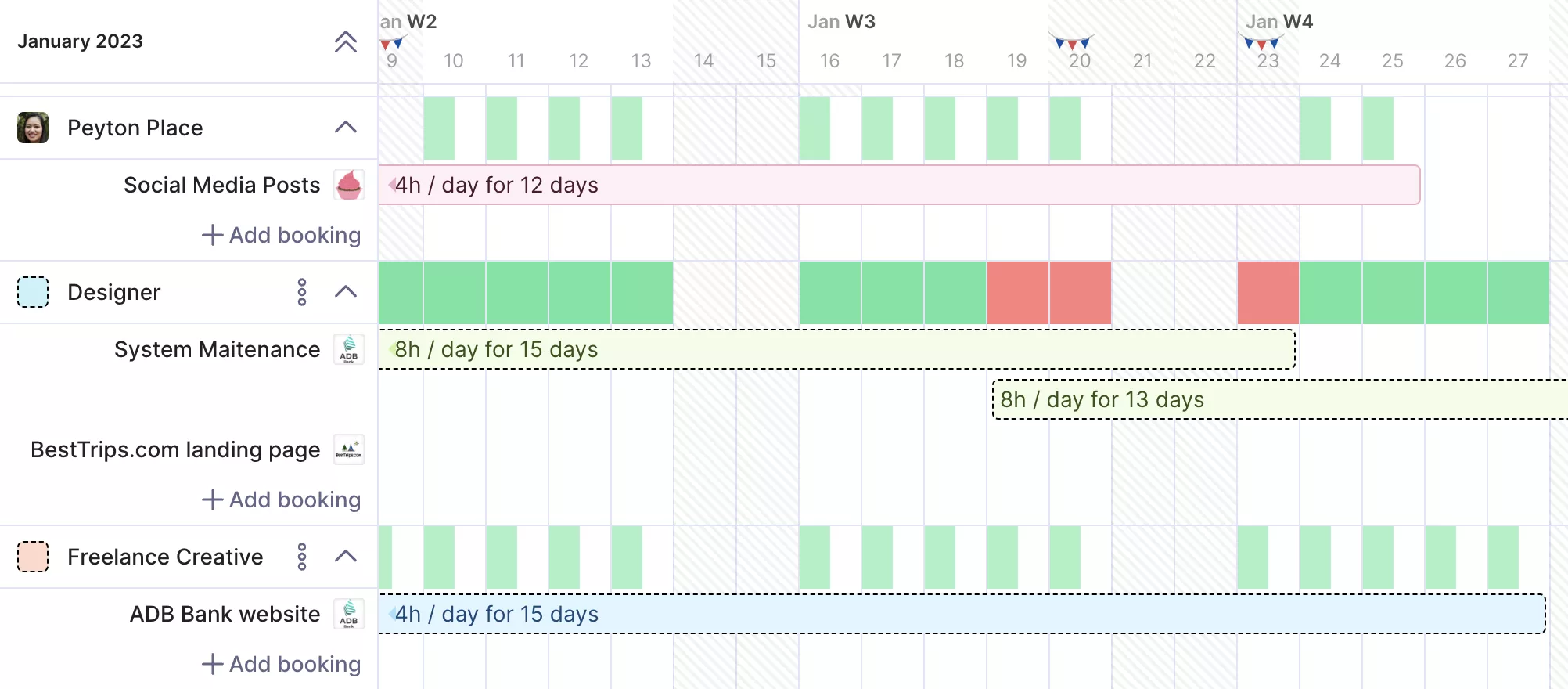 You can also set up a cost rate for them to see if hiring new staff makes sense for you financially, and you can check if you have enough work for them to begin with. If all the data seems to be in favor of hiring a new teammate, you can assign the bookings from a Placeholder to an actual person, so there is no double work.

Usually, the Scheduling screen shows you all the basic information you need to know, but you can also take a deep dive into the data with live insights. To do that, just add the fields that interest you the most. In this case, you can see the ratio of scheduled and available hours for this person, in the selected period.

This allows you to make adjustments right in the Scheduling screen without the need to create a separate report.

Check out this article to learn more about Live Insights.
It makes sense to keep your project work and time off in one screen, and the reason is as straightforward as it gets: if a person is enjoying their vacation, is sick or is prevented from working for any other reason, you want to see how it will impact their project work.
Also, Productive's easy-to-use interface makes it quick for employees to request time off, and know, in every moment, how many days they can use for a certain period.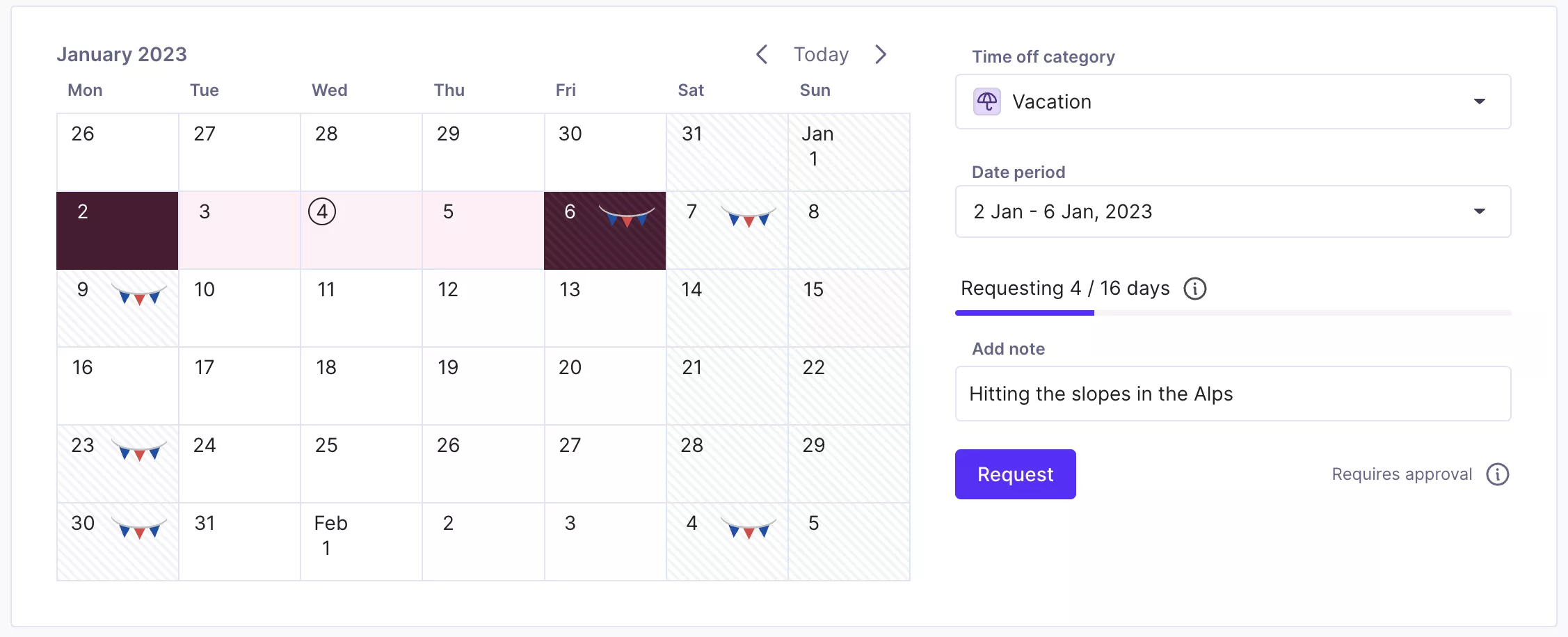 You can also connect with popular HR apps like Bamboo, Charlie, Factorial and Personio (with more to come) if you're already using them.

Learn more about Time Off management in Productive.
Bonus Tip: Booking Conflict Resolution
When adding a booking for a person that already has a time off confirmed, Productive will automatically split the project booking for the duration of the time off. This means that you can still plan the work even if the person is not available, and the length of the time off booking will be taken into account when a project booking is planned.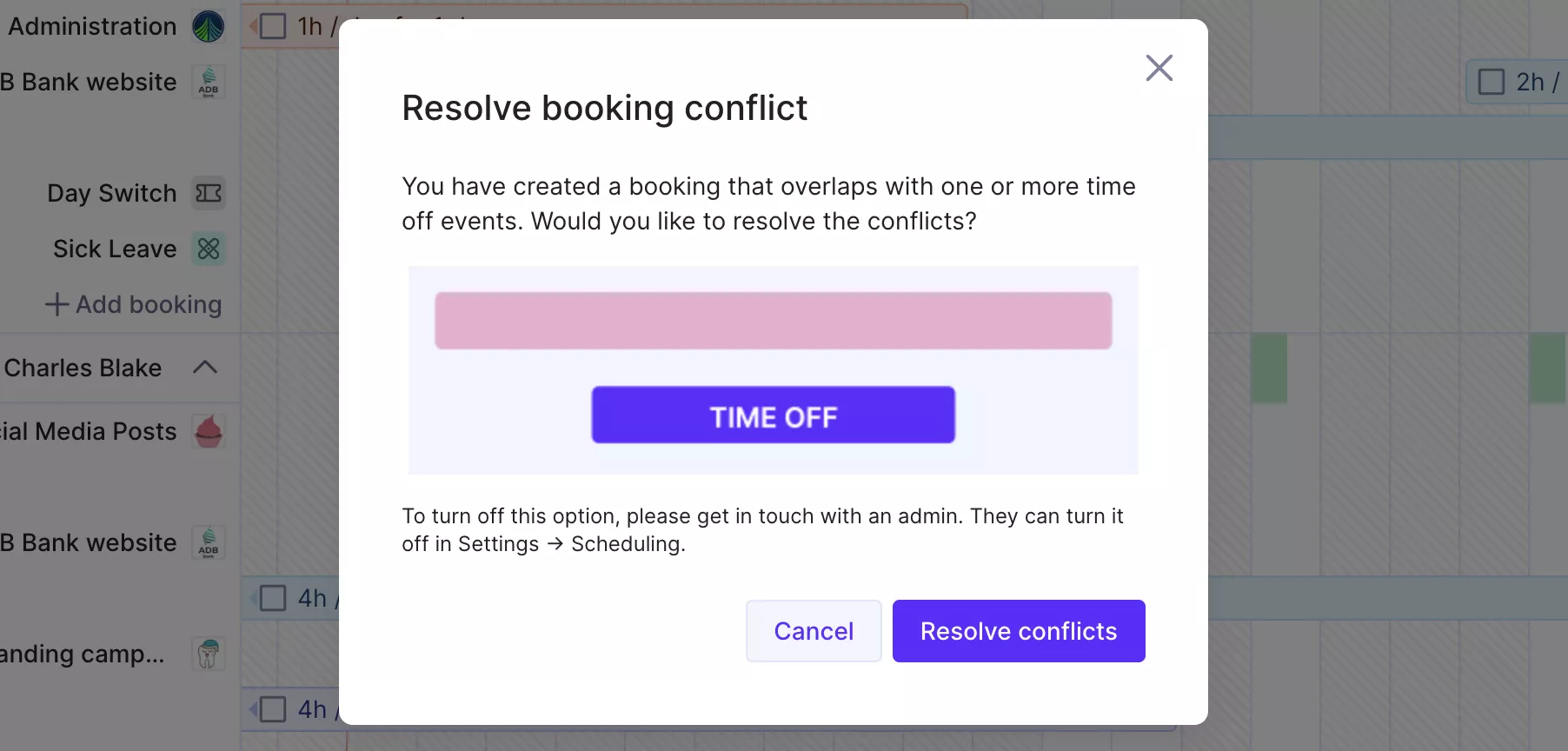 Got questions about this article, or are you looking for a specific use case? Feel free to reach out to us via the in-app chat or via email.
Streamline Your Resource Planning
Manage your agency's resources and optimize your utilization with an all-in-one agency management tool.