Team Productive Enjoyed Four-Day Work Weeks All Summer Long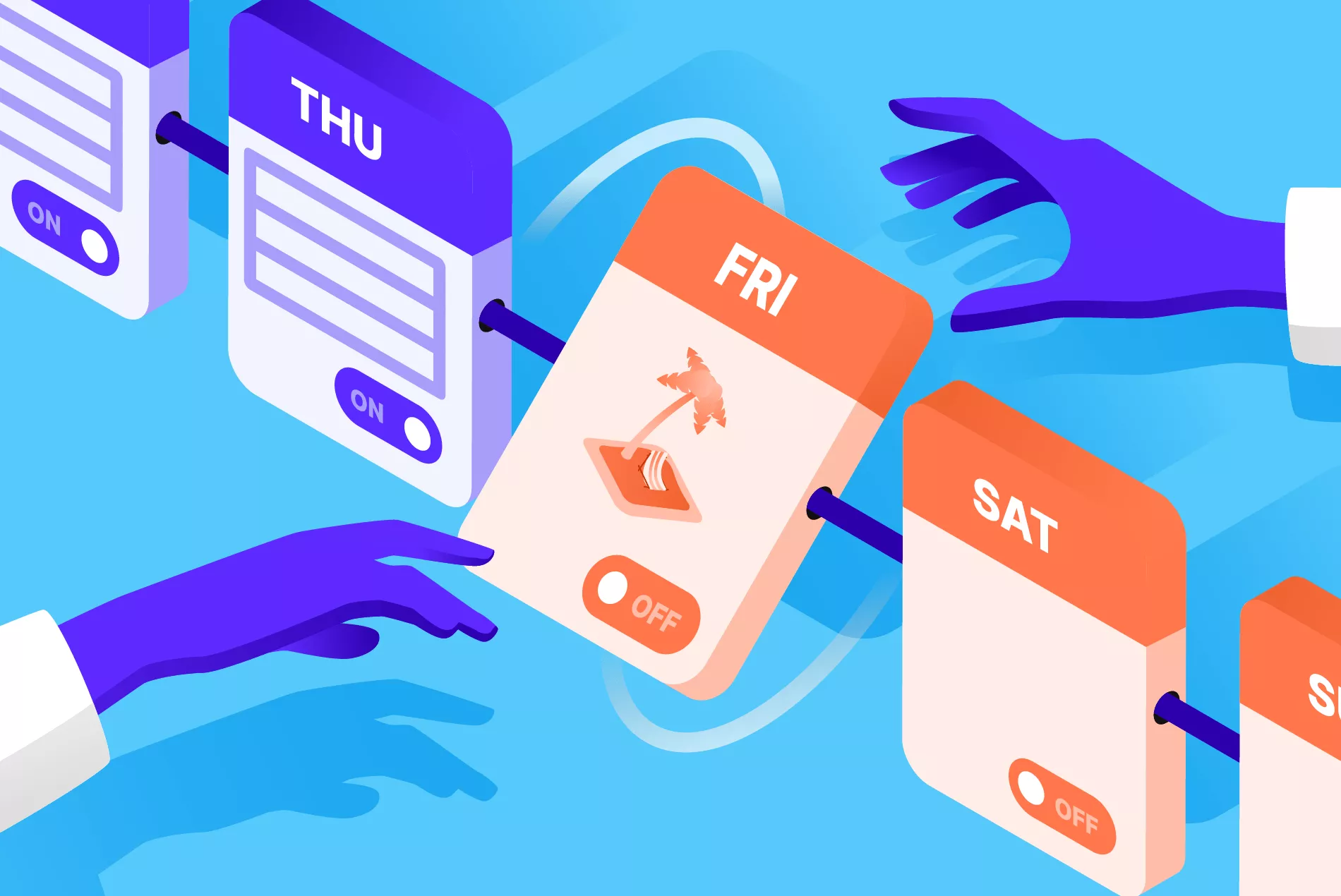 We Help Your Agency Reach New Heights
Switch from multiple tools and spreadsheets to one scalable agency management system.
When Management announced we'd be testing a four-day work week this summer, I'm not sure what was greater:
Excitement between coworkers
Envy among other colleagues, family and friends
Yup, we got all Fridays off throughout July and August.
What's the Four-day Work Week?
Typical questions that popped up when the four-day work week was introduced were:
Do we need to work 10-hour days from Monday to Thursday and then we get Friday off?
Will my salary decrease by 20% because we work four days instead of five?
Will we be expected to accomplish the same amount of work in 32 hours as we did in 40?
The answer to all of the above: No.

The four-day work week is a concept in which employees work for 32 hours a week during four days rather than 40 hours throughout the traditional five days and still get paid the same salary as if they worked for 40 hours.
So, instead of working the standard Monday-Friday, Productive opted for Fridays off throughout July and August, giving employees three-day weekends all summer long.

Generally, pros of the four-day work week include:
Improved well-being and work-life balance
Greater overall satisfaction with work
Improved employee retention
Benefits like this have been trending throughout the past decade, but the four-day work week is not feasible for all companies. The majority of the world still talks business from Monday to Friday, and not all companies serve the same market needs. 

So we tested. How did the team take this pleasant perk imposed on us? I asked around.
Marija: So what do you think, will you be able to get everything you planned done in this first four-day work week? I've actually decided to take this Friday morning to finish a couple hours' of writing without Slack notifications piquing my interest.

Matilda: Well, I won't really get to finish everything by Thursday afternoon because I'll be off for vacation next week, so I want to finish a bunch of things. But at least I'll work casually, I think that's cool.

Mešin: For my first non-working Friday at Productive, I've decided to finally assemble the IKEA wardrobes that have been waiting for me on my apartment floor for months.

Hrvoje: Now I can drink three days in a row, instead of just two.

Stjepan: When it was announced, I immediately texted my trainer to tell him that leg day now moves to Friday morning. Also, being able to run errands while everyone else is working is amazing.
Krešimir: For me, this is great. On Fridays my calendar is simply blocked, so no one can book me for anything that day. I take care of work for the week by Thursday afternoon. I'd say that the end of the week arrives quickly, but I think it's definitely sustainable. 

Fran: Everything can get done on time, even if a little more is squeezed in during the beginning of the week. On Fridays we have the fewest number of calls anyway, usually just one or two. I actually found out that a lot of UK companies already work like this. 

Ana-Marija: When our CEO first presented the concept, I was speechless. It's a really big deal and I hope it stays. As for the specific work on the support side, it's great because there's always someone on duty. There's no piling up of conversations or customers getting nervous because someone has ignored them for days. Plus, the workload is usually lighter on Fridays in general. On Mondays we do have slightly more customer requests, but the team quickly addresses everything to keep users happy. Personally, I got everything I planned done, and even if there were some critical situations or inquiries—I was always able to hop online to see what it was.

Tibor: The rush is no bigger than usual—only now, instead of catching up on some things I want to finish over the weekend, I do it on Fridays. So I'm a little more rested overall, and it seems like I'm solving tasks a little faster. I could get used to something like this.

Marko: I managed everything I planned, but I worked a couple of hours extra (due to vacation). There's surprisingly a lot of work for this period, but I'll still accomplish everything that's planned. Maybe it's different with us in Business Development because we can get demo calls scheduled at various hours of the day, so we may choose to work a little longer sometimes to wrap up.

Stjepan: The Friday Leg Day decision wasn't a good one as I was limping for the rest of the weekend. Other than that, everything was perfect. The first week I felt like I probably missed something, but could not put a finger on it. Turns out I was actually faster in delivering certain tasks, but I'm not sure if I could pull off a four day work week during the rest of the year as I usually spend my days having meetings with customers and teammates. During the summer, everyone is vacationing anyway, so the absence of certain people was expected.
Is the Four-day Work Week Sustainable?
While the pros of such a concept are pretty clear for both employers and employees, the cons vary. 

A few general negative sides of the four-day work week for Productive as a SaaS company are:
Customer-facing teams need to be available for users on Fridays
In the event that a critical issue arises, developers are needed on Fridays too
There's a potential for slower response times for any type of customer request
It's unrealistic to squeeze 40 hours of work into 32, so managing expectations is key
Still, the negative effects were sort of hard for us to measure. Summer vacations got in the way, plus many of our customers had slowdowns due to the seasonality of agency work. 

While we can't say we were equally productive, here are some interesting findings: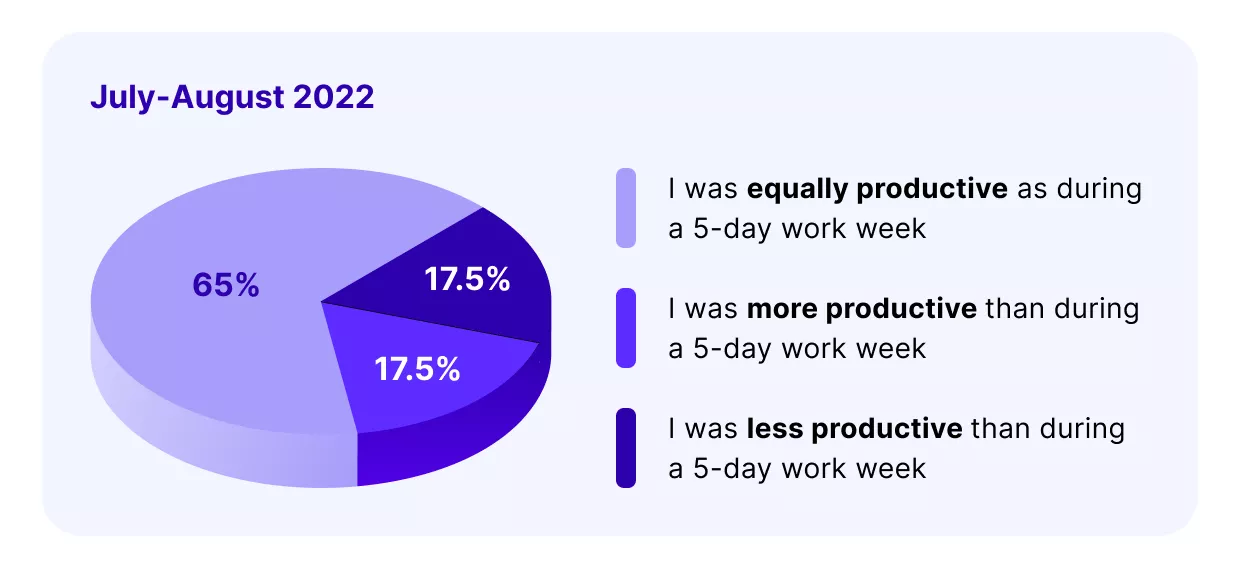 Over 82% of our teammates felt they were equally or even more productive than during a traditional five-day work week
41.5% didn't work at all on Fridays, the rest occasionally had to work, mostly between 1-3 hours
7% of people worked more than 32 hours each four-day work week, 27% never worked over 32 hours, and 29% very rarely
52% of our colleagues who worked here last summer as well claimed to have experienced less work-related stress this summer
63% of our respondents think that their tasks were achievable within a four-day work week
If There's a Will, There's a Way?
The four-day work week was an interesting trial. We learned a lot. It's not really a modus operandi you can implement overnight, or expect will be easy to handle. Though our workloads did take a hit, there wasn't any real drama to report.

And, seeing as the team liked this workplace benefit more than anything introduced so far, we'll probably continue trying it out down the road. Maybe the beginning of 2023 will bring in another round of Friday Leg Day.