How To Eliminate Hours Spent on Invoicing

We Help Your Agency Reach New Heights
Switch from multiple tools and spreadsheets to one scalable agency management system.
No one talks about it much, and frankly—we don't know why. For agencies, invoicing is a pain. 
Many hours get wasted between account managers and the finance department. Sometimes even days. And no one is really to blame. The nature of the task is just hard to handle.

Related: Top 5 Business Budgeting Software Solutions for Agencies

To solve this issue and save time for agencies, in Productive you can automatically track invoiced amounts and generate invoices using tracked time on billable services. What's more, by doing this you get the most accurate data possible for your agency and a real-time overview of where your agency financially stands.
 
Now, keep scrolling to learn all about Productive's Invoice Builder.
Lore Hamilton
Program Manager,
Rietta
"Between the recurring templates that I use and standard line item options, doing the invoicing for 30-40 clients each month in Productive takes me a couple of hours tops."
How To Build Invoices in Productive: Step by Step
1. When you start creating a new invoice, first you have the Preview stage. In the preview, you can see items of the invoice you're building and edit anything you'd like.  

2. There, you can edit information in the line item generator and group line items around a Person, Service, Time entry, Project, Task and so on.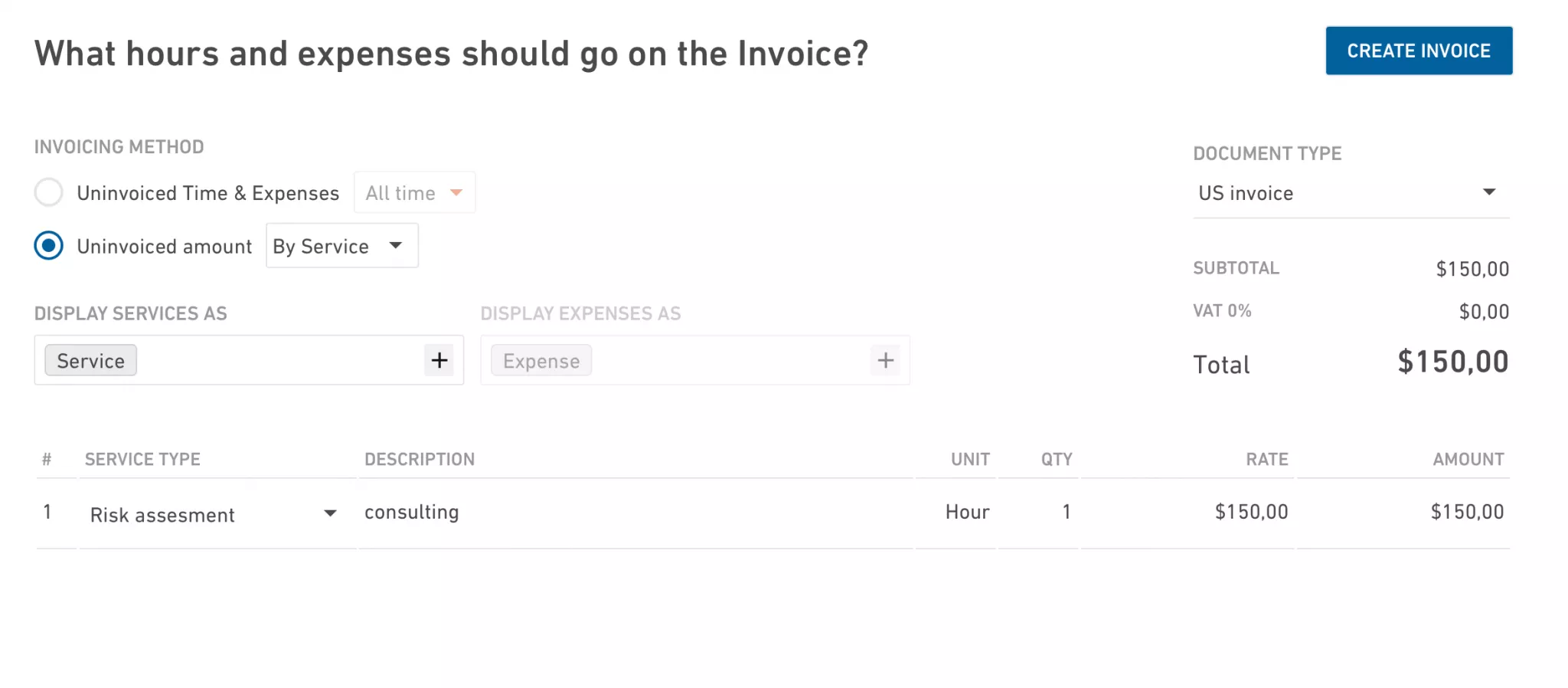 Example: If you want to group a service around a project or a person, you can do this by editing project or person information in the line item generator, like this:
3. Next, you can invoice a budget in two different ways; by pulling up:
To bill "Uninvoiced" time, use the date picker and choose the time entries that were approved for that specific period. Alternatively, you can bill any leftover difference in fixed-price services that you haven't invoiced yet  – an "Uninvoiced" amount.

The great thing about Productive's Invoice Builder is that it calculates and generates the data on its own, which reduces the chance of human error. 

4. Next, go to "Create invoice", then send the invoice via email, or forward it to Quickbooks or Xero. 

5. Once the invoice is paid, your accounting tool will notify Productive about that, too.

For step-by-step invoice building in Productive, watch this:
Nika SerdonerProject manager,
enkI

For me, the Invoicing part is amazing. It gives me an overview of project budgets and I can't miss that there's an open budget left after delivering a project.
How To See Which Time Entries Have Been Invoiced

To see which Time entries have been invoiced, you can do that by creating a New custom Time Entries insight. Make sure you have the column "Invoiced" visible in the table view. And there you go—you can see which hours haven't been invoiced yet.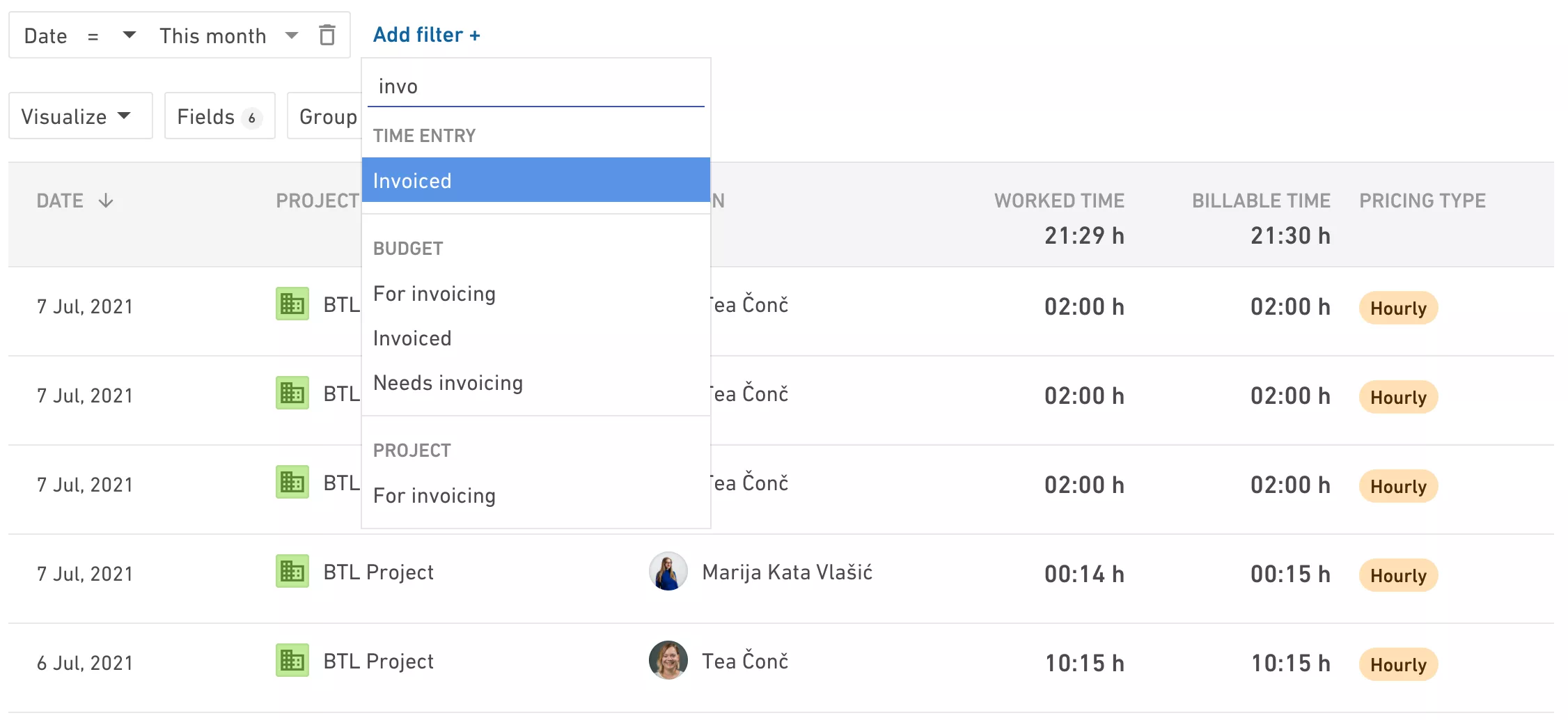 Integrate With Your Accounting Tool To Improve Your Invoicing Workflow
If your agency uses QuickBooks, Xero, or Exact as its accounting tool, you can streamline your invoicing workflow by integrating those tools with Productive. Here's how it goes:

1. Track Time: After your teammates track time and you approve it as billable, you get the ability to invoice that tracked time.

2. Build an invoice: Choose which services you want to bill.

3. Copy the invoice into your accounting tool: Copy the invoice into QuickBooks, Xerom or Exact for further processing.

Find out more about Productive's integrations.
The Benefits of Using Productive's Invoice Builder
Here's a drill down of the benefits you experience as an agency when using Productive as your agency management tool:
You enjoy invoicing flexibility. You can combine different services and projects and add from multiple budgets to one invoice.
You can bill an entire project or just a part of a project. You decide how much of a budget you want to get paid for.
Retainer invoicing is easy. Let Productive remind you about your recurring budgets that are ready to be invoiced.
You can get a high-level overview of your invoicing in reports. Check out data like amounts already invoiced, amounts left for invoicing, or overdue amounts. 
You can manage billing for multiple branches through your Productive organization. Easily build invoices for your different subsidiaries through your account.
You can invoice in multiple currencies. No worries if you receive payments in different currencies, Productive supports that too.
You can generate branded invoices in Productive. For a symbolic fee, our team can fully customize your PDF templates, so that your invoices keep your desired look and feel.
You can send your clients invoices from your company email, from inside Productive. You don't even have to leave the tool. Send invoices to your clients directly out of Productive.
You can streamline your work by integrating Productive with the world's leading accounting tools. Do you use Quickbooks, Xero, or Exact? Great. Connect any of those tools with your Productive account.
Get Paid Faster Using Productive's Invoice Builder
All this makes invoicing faster and easier. It also helps you when clients want more detail regarding the projects they've been billed. If you need any help with invoicing in Productive, read this article, or book a demo call with our Sales team.