How to Custom-View Agency Profitability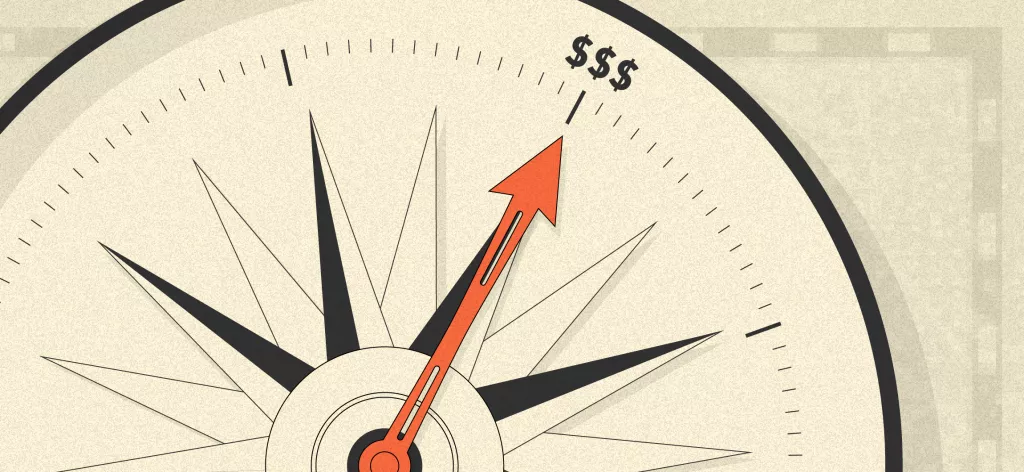 We Help Your Agency Reach New Heights
Switch from multiple tools and spreadsheets to one scalable agency management system.
If there's anything a company needs to track to make sure it stays in business, it's profit.
aturally, the same goes for agencies and service businesses.

Tracking profitability helps you grow, invest in your business, your talent (the most valuable asset you have)—and forecast your future.

Tracking your agency's profitability can be super simple. Let's deep dive into Productive to see how to custom-view agency profitability in real time.
One of the most granular and easiest ways to figure out your profitability is to look at it on a project level.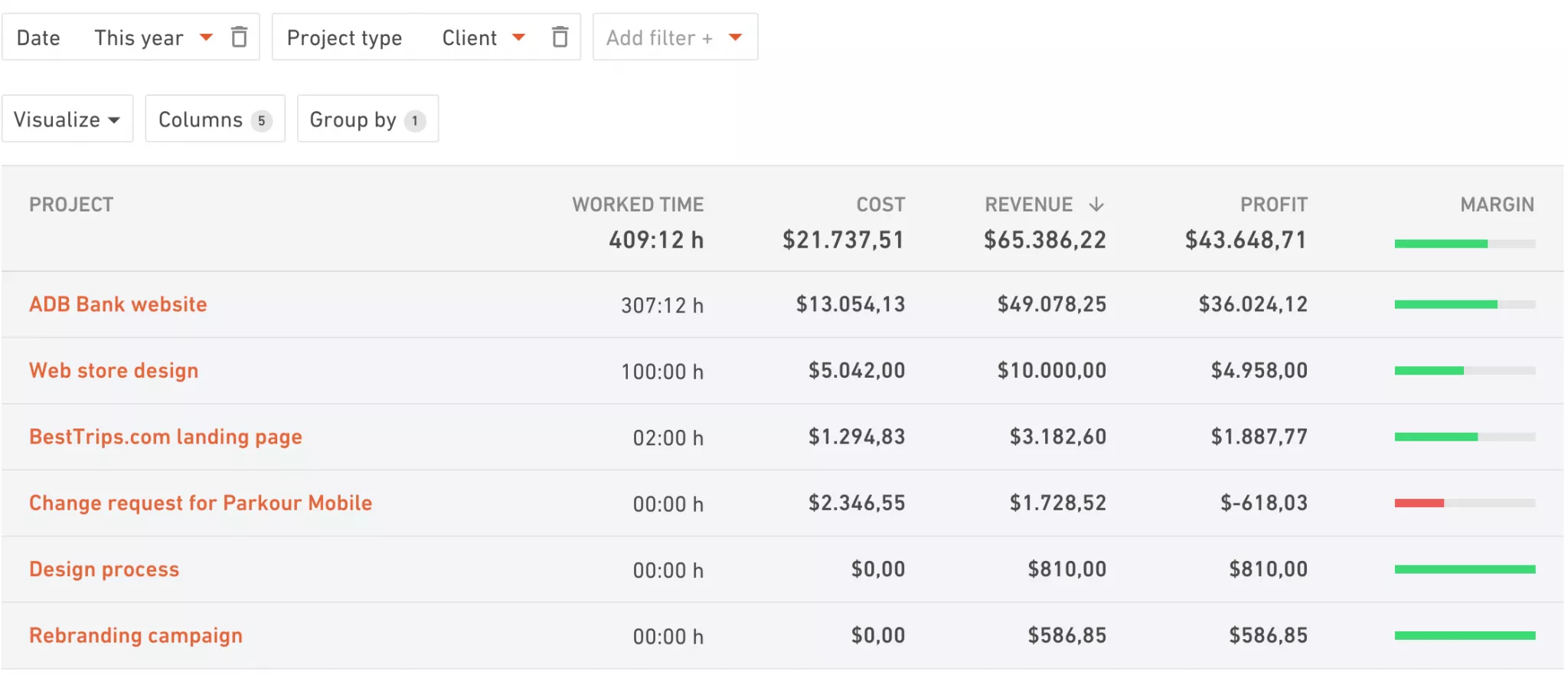 By comparing the actual cost of the time you're putting into your projects with the revenue you've received from the client, you get to view your profit in real time.

Don't forget to factor in the cost of salaries of your team members and add your agency overhead on top of that. Productive does that for you automatically.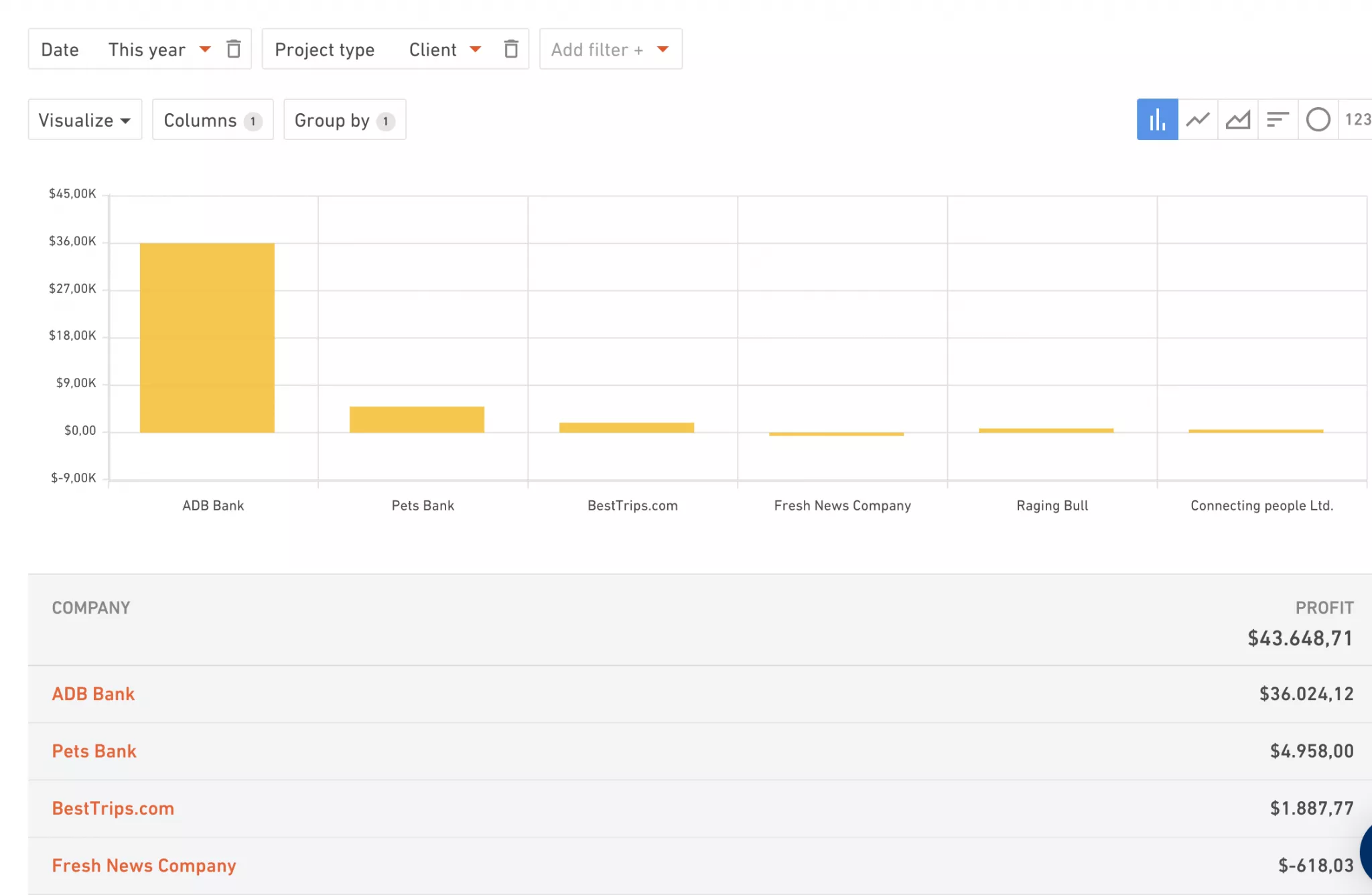 If you want to be proactive instead of reactive, look at the forecasted profit of your projects. It includes the cost of all the resources you've planned for projects. If you're not happy with your current profit projections, you still have time to react and put less expensive resources, or cut some time.
Viewing Profitability By Client is often surprising and eye-opening for many agencies.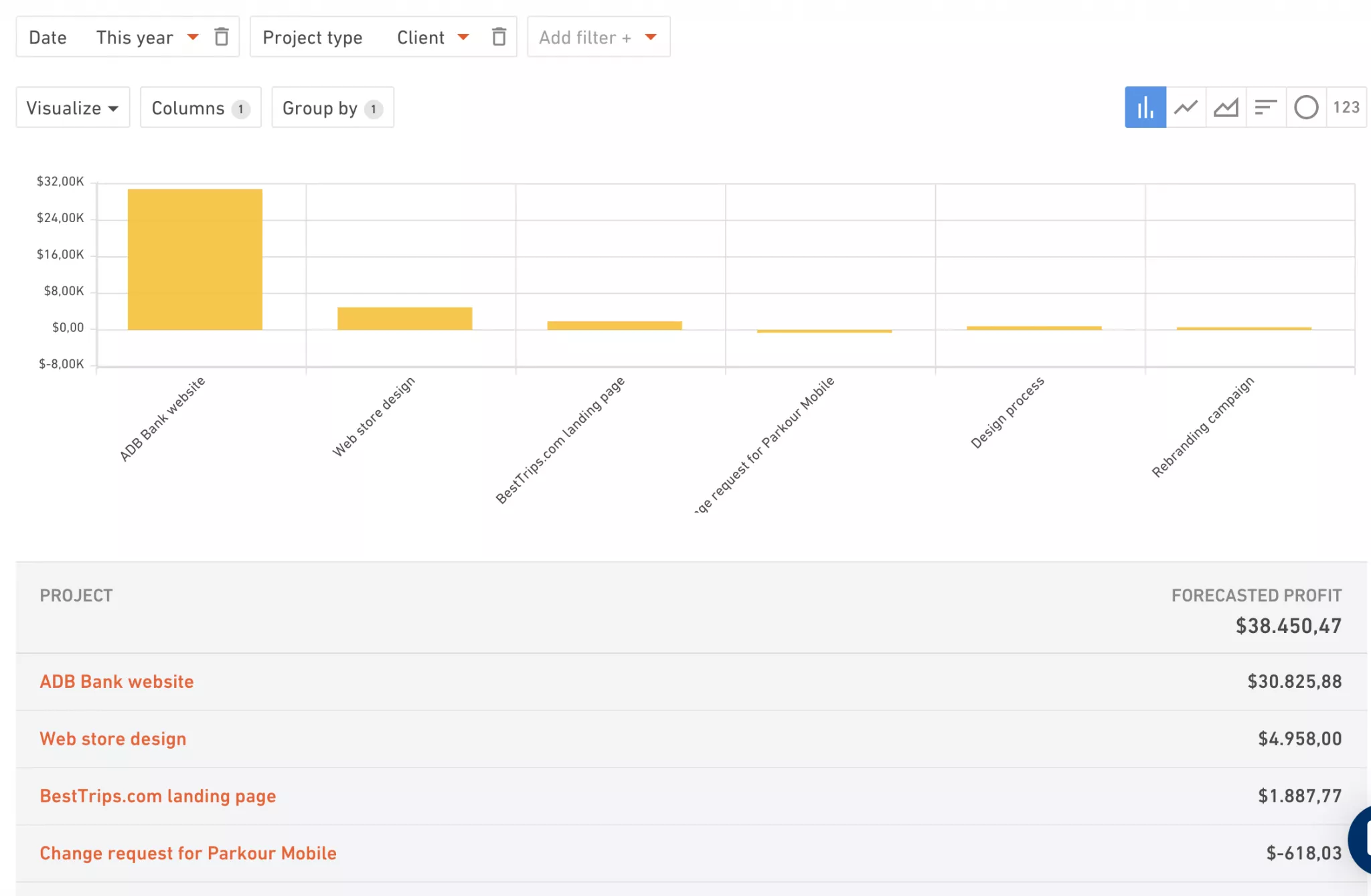 High revenue can blur your vision and lead to assumptions that big clients are the most profitable ones. In fact, agencies often overservice bigger clients to make them happy. By doing this, you also eat your own profit.

This should be an important factor when deciding which clients you will continue working with in the future, or where you need to increase prices.
Profitability by Service Type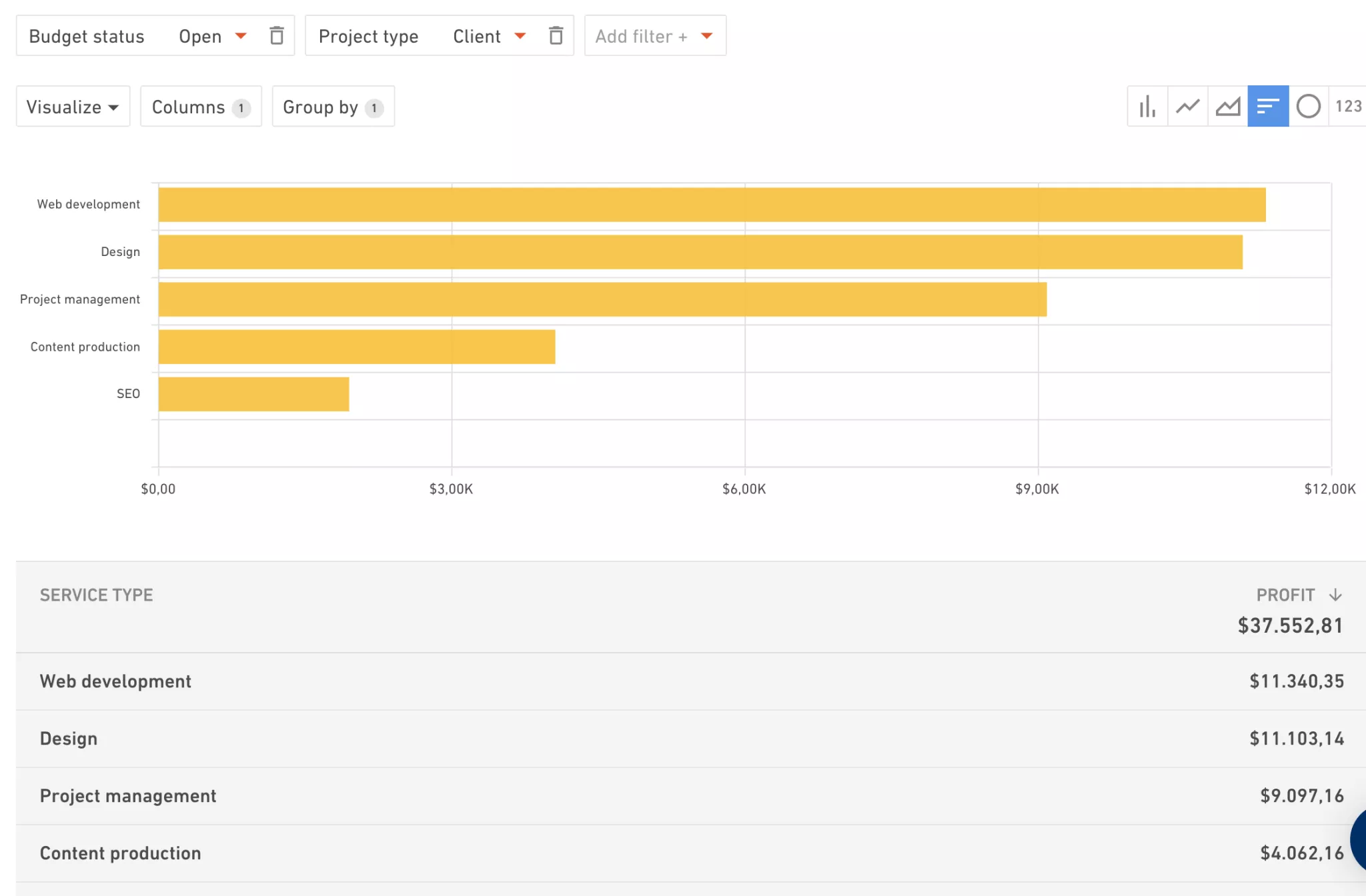 If you're offering a wider range of services, it's important to know which ones are your cash cow.
Those are the services you should continue investing in by hiring more people with similar skills, investing in their education, and equipping them with the right tools and processes. 

On the other hand, services that are causing loss or low-profit margins might be giving away a lot of free time, so make sure you check their pricing and the number of hours that end up billable.
Like everything else in the agency business, profit is volatile, too. It's important to learn from historical data and spot trends. That way, you can know what you can expect in certain time periods.
For example, if September is the month when you have the highest profit and April is always the lowest, you can assume when you're fine to make big investments.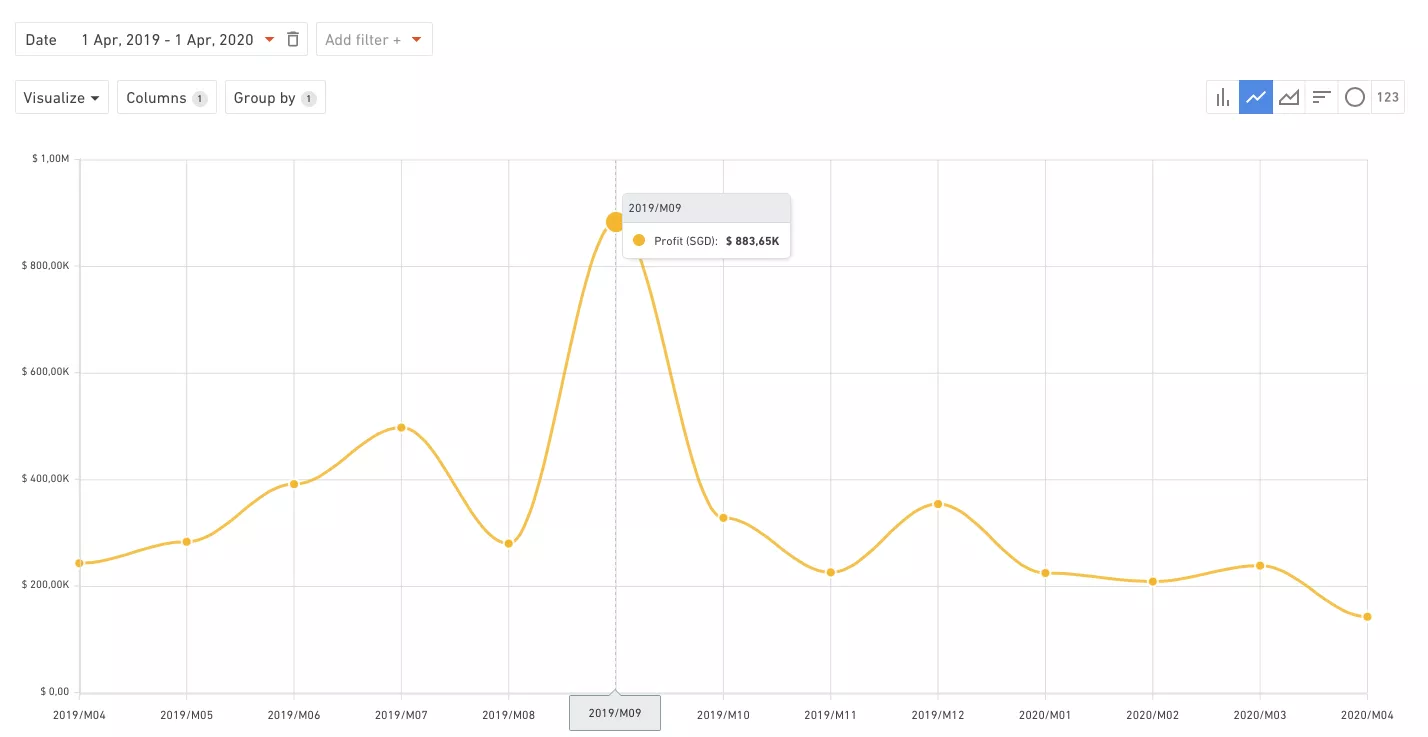 Get the Most Out of Productive Using Insights