Performance Marketing Specialist
Want to work in a dynamic product team and keep developing your marketing skills? This could be the job for you.
Productive's aim is to provide agencies with a complete and real-time overview of their operations.

We're looking for a Performance Marketing Specialist to join our Marketing team and help us in executing our marketing strategies. You'll be responsible for the execution and implementation of paid digital marketing campaigns. That includes: paid search, video, display, and social advertising.

At Productive, we're all committed to growth and trailblazing. We're always finding new paths for acquisition and opportunities to reach potential customers. Our motto is: "Testing est mater studiorum."

This role pays a range of:
EUR 1800-2400 gross for an employment contract
Performance based bonus: up to 30% of gross base salary
Your Day-to-day Responsibilities Will Include:

Campaign management and detailed analysis, including optimizing and monitoring campaigns, allocating budget, etc.
Identifying new acquisition opportunities (new campaigns, new markets, new channels)
Working closely with Marketing and other teams using a performance and data-driven approach to execute a holistic growth strategy
Conducting competitor analyses and industry trends research
Acting as a key contributor in our weekly A/B testing meetings (yes, we run a lot of A/B tests on our marketing website)
Ensuring that Productive is presented in an effective and consistent manner in ads
Ensuring content promotion campaigns are in line with other acquisition campaigns
Contributing in testing new tools as Productive's marketing budget and marketing needs grow
Performing in-depth keyword research for campaign enrichments
Let's See If We're
a Match
The ideal candidate for this role has at least 2 years of experience working as a Performance Marketing Specialist or a similar role. If you recognize yourself in some of the following characteristics and skills, we'll be happy to receive your application.
Proficiency in Google Stack (Google Ads, Search Console, Google Analytics, Google Tag Manager)
Experience in Facebook and LinkedIn advertising
Experience in managing five-figure acquisition budgets (with a trend of 100% budget growth Year-on-Year)
Advanced Excel/Google Sheet skills (you get excited when you hear "Pivot" and "Subtotal")
Basic understanding of SEO and knowledge in using tools like Semrush/Ahrefs would be a plus (e.g. keyword research)
Excellent English skills, both written and spoken
Strong analytical and problem-solving skills
A highly motivated individual, willing to pick up marketing skills as we grow
Excellent organizational skills
The Team You'll Be Joining
Productive's Marketing team consists of six roles, each of which own their field of specialty: acquisition, content creation, design, web and conversion optimization, product marketing, plus a strategist and team lead. Together, we work on brand consistency across all campaigns, improving advertising performance and helping Productive expand on the global market. 

On a daily basis, the Marketing team also uses:
If you think we can live up to your expectations, and you're willing to share your experience and knowledge, apply using the form below. Please send us:

your CV and cover letter (.pdf)
If you have any questions, you can contact us by sending an email to careers@productive.io.
Here's a Sneak Peek of What You'll Be Working On
Curious about the look and feel of Productive? If you made it here, we know you are.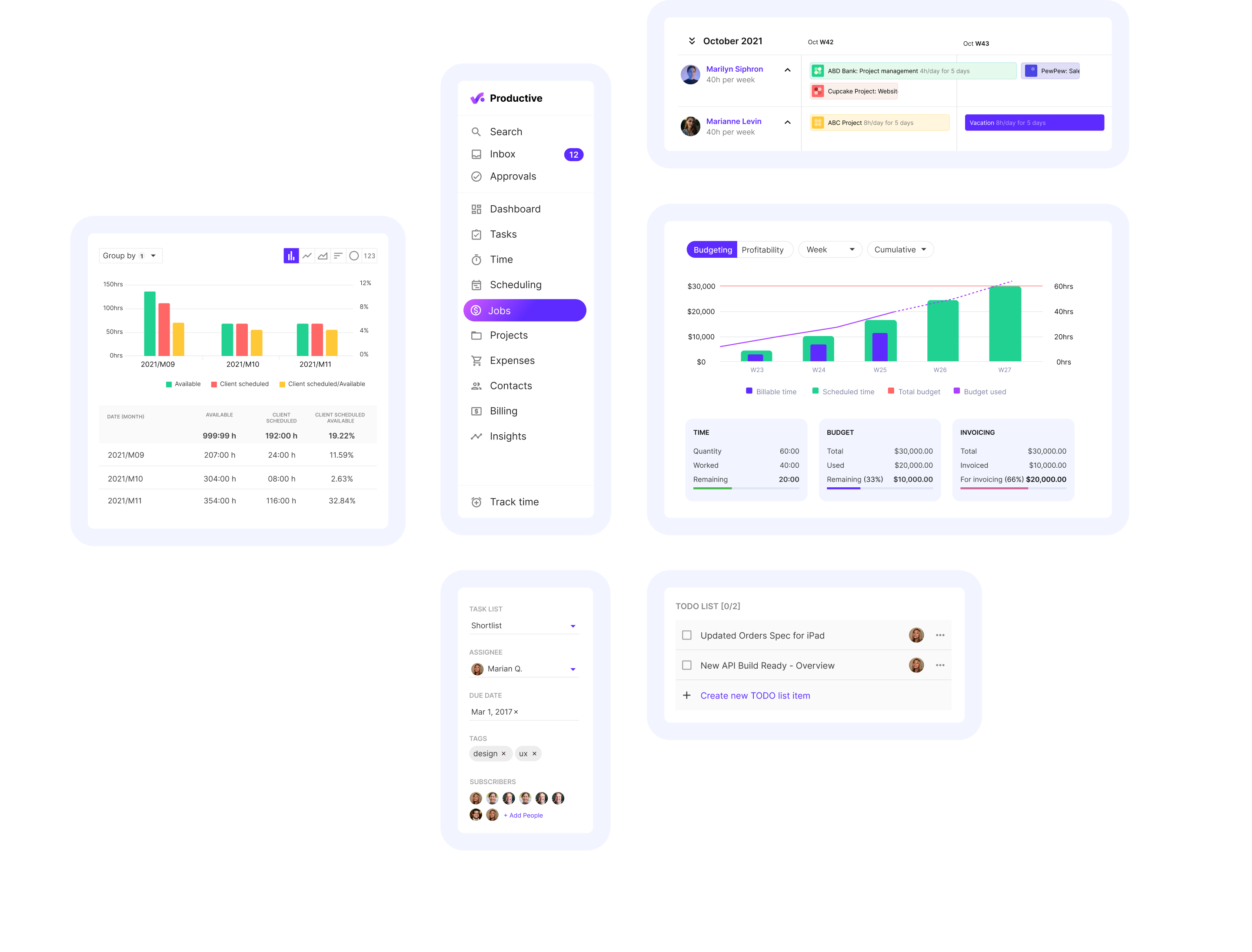 Honest, two-way feedback is the foundation of our growth. Every six months, we do 360 reviews to discuss what's good and what could be better.
We're on a mission to be the best tool for running an agency – in the world.
Join us in developing one product.
If you're eager to learn, we're eager to help. Each teammate gets an educational budget to buy books, attend courses, or visit conferences.
Our product is in English and our customers are based all over the world. Paid courses help us master foreign languages.
We support career switches from one position to another.
Depending on the role, our teammates hop on a plane from time to time to help our clients out with onboarding.
Each quarter you choose where you want your office to be.
Tailor Your Working Hours
Productive syncs your work every moment, in whichever app you choose.
Each year you get a full check-up at a private clinic. It's on us.
Free Snacks at the Office
Coffee, tea, fresh fruit, sweet and savory snacks galore at the office.
We wouldn't have it any other way.
Each month, your team gets a new budget to hang out and have fun.