Want to work in a dynamic product team and keep developing your marketing skills? This could be the job for you.
Productive's purpose is to provide customers with a complete and real-time overview of their business.
Productive, a B2B SaaS software company, is seeking a talented Content Writer to join our Marketing team.

The ideal candidate will be responsible for creating engaging, well-researched content to boost our online presence and help us rank on Google.
This role pays a range of:
Monthly salary — EUR 1,400 – 1,700 gross
USD 12,500 – 13,500 in stock options
(4 years with a 1 year cliff)
DAY-TO-DAY RESPONSIBILITIES
Research, write, and edit compelling and informative blog posts on various topics related to our software and industry
Optimize content for search engines by incorporating relevant keywords, meta tags, and formatting techniques
Collaborate with the content team and other departments to ensure content is aligned with our brand voice, style, and target audience
Proofread and edit content for grammar, punctuation, and readability
Let's See If We're
a Match
The ideal candidate for this role has at least 2+ years of experience working as a content writer or in a similar role (SEO writer, copywriter, blogger, PR specialist, community manager or content specialist).

If you recognize yourself in some of the following characteristics and skills, we will be happy to receive your application:
Must-have: Excellent (C1, C2) English communication skills with solid writing, editing, and proofreading abilities
Strong research and analytical skills to gather accurate information from reliable sources
Ability to effectively research topics using various online resources, databases, industry reports, and expert interviews
The candidate should have the ability to analyze complex information, extract key insights, and present them in a clear and engaging way. This includes successfully breaking down technical jargon and complex concepts into easily digestible content, while maintaining accuracy and nuance
Ability to work independently and collaboratively with team members
Prior SEO experience is a plus but not necessary, as training will be provided
Experience with content management systems (CMS) is a plus
Let's See If We're
a Match
A competitive salary in a fast-growing SaaS business
A well-organized and relaxed working environment
An interesting product to work on, in a highly competitive global market
Focusing on one product and one website—no need to handle multiple clients
A huge space for professional growth and improvement of your skills
Work remotely or at our Zagreb office
If you think we can live up to your expectations and you're willing to share your experience and knowledge, you can apply using the application form below.

Please send us:
A short cover letter explaining why you think you'd be a perfect fit for this job (.pdf)
A portfolio of 5 texts in English that you're most proud of (try to include a mix, with a maximum of 1 social media post)
Our hiring process is simple and discrete. During a phone call and two video calls, you'll meet our team and have an opportunity to ask them anything about Productive. We'll try to get to know you and assess your skills. If we're a match—you can expect an offer in no time.

If you have any questions, you can contact us by sending an email to careers@productive.io.
Here's a Sneak Peek of What You'll Be Working On
Curious about the look and feel of Productive? If you made it here, we know you are.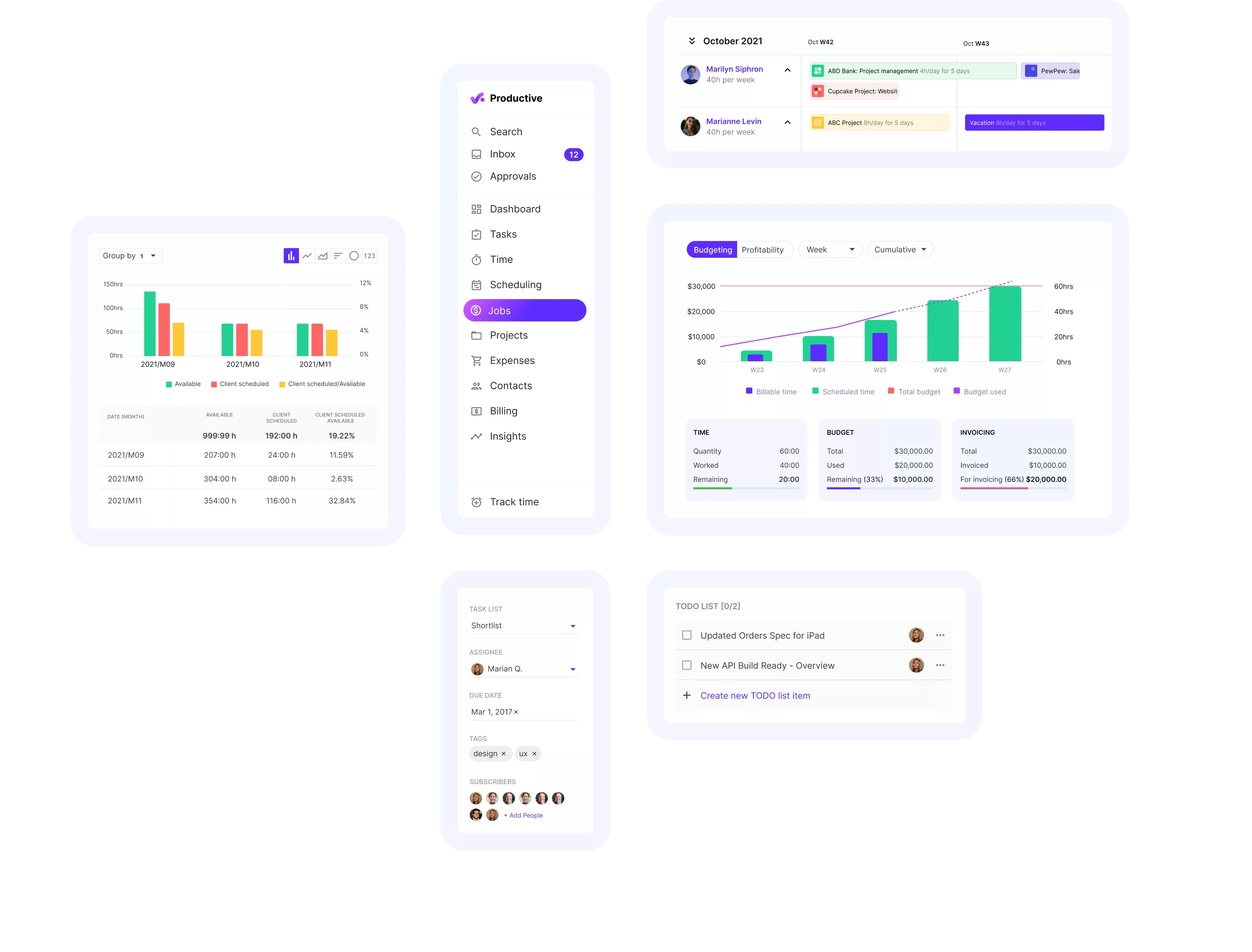 Honest, two-way feedback is the foundation of our growth. Every six months, we do 360 reviews to discuss what's good and what could be better.
We're on a mission to be the best tool for running an agency – in the world.
Join us in developing one product.
If you're eager to learn, we're eager to help. Each teammate gets an educational budget to buy books, attend courses or visit conferences.
Tailor Work Hours and Your Location
We're flexible with your working hours and where you work, as long as you align with your team's priorities.
Each year you get a full check-up at a private clinic. It's on us.
Each month, your team gets a new budget to hang out and have fun.
Free Snacks at the Office
Coffee, tea, fresh fruit, sweet and savory snacks galore at the office.
We wouldn't have it any other way.